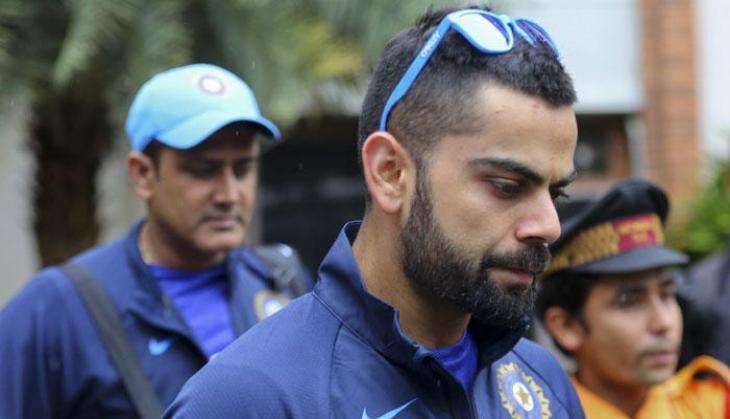 Despite Indian contingent failing to still open its account at the medals tally at the ongoing Rio Olympics, Indian Test cricket skipper Virat Kohli has backed country's athletes, saying they need to given credit for putting their heart and soul while preparing for the prestigious quadrennial event.
Speaking to the media after an emphatic win over West Indies in the third Test in St. Lucia, the Indian skipper lauded the contingent and said the athletes should not be judged harshly.
"In an event like Olympics, we have to understand; firstly we need to look at how these athletes prepare. They give their heart and soul and for some people to just ignore what they do, I think it is very hurtful. We need to give credit," Kohli was quoted as saying by the BCCI.tv.
The right-handed Indian batsman, who is known for his aggressive style of play, said that even in cricket, nobody can perform in every game and win every series.
"These guys go and give 100 percent effort in what they do, we understand that. Some people don't even have 10 percent of the facilities that sportsmen from other countries have. And then they sit and compare in our country," he said
Kohli insisted that an athlete should not just be judged on the basis of the medals he wins, but on his performance and commitment
"They're giving their 120 percent effort, and at the end of the day, that is what matters. Once someone wins a medal, that's a big deal because we understand that we don't have those kinds of facilities, but still these guys work as hard as anyone else in the world. They try and go and win a medal for us," he said.
The 27-year-old cricketer also called on the Indian fans to stay positive with all the events that are left.
"Hats off to the guys who go there and compete and are there in the mix because it's so hard with no preparation and facility, it's so hard to be at that level. But still they go out there and give their heart and soul for the country and we should appreciate that."
Prime Minister Narendra Modi and Indian batting legend Sachin Tendulkar have also come in unison to support the Indian contingent in Rio.
"Bharat Ratna @sachin_rt & one of India's most admired sportspersons wanted me to speak on India's athletes currently in Rio, on 15th August," Prime Minister Modi said in a series of tweets.
The Prime Minister then asked the legendary batsman why he should wait till 15th of August to speak about Indian sportspersons, adding he wanted to do so now.
"India is phenomenally proud of all our athletes in Rio & their hard work that got them there. Victory & setbacks are all a part of life," PM Modi said, while urging the remaining participants to give their best without being burdened by the outcome.
"The endurance, determination & dedication of every Indian athlete who is in Rio makes us very proud. They are India's pride," he added.
India, which has sent its largest-ever contingent of 119 athletes in Rio Olympics, is yet to open its medal account in the ongoing Summer Games.