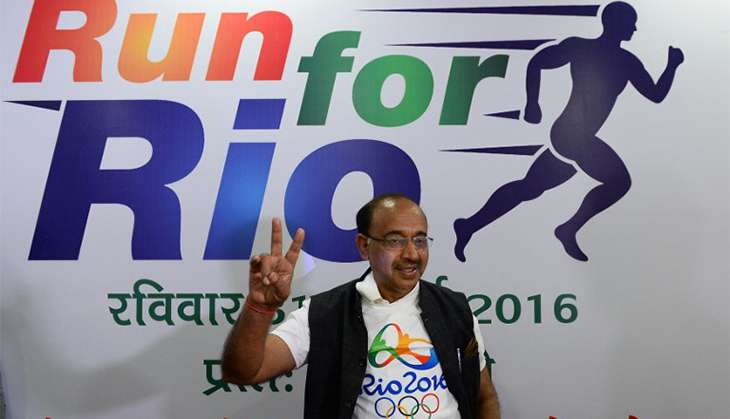 At every wedding, there's always one long lost, fairly aged relative, who shows up to the festivities and, in a bid to prove he actually belongs there, manages to do the exact opposite. Our sports minister, Vijay Goel, is exactly that sort of person.
He showed up to the Rio Olympics allegedly to ensure the security and welfare of India's athletes. But, if his constant bumbling has proven anything, it's that India's sporting future is far from secure, and, with halfwits like him in charge of sports, our athletes will probably need welfare.
Also read - Rio 2016: Organising committee threatens to cancel India's sports minister Vijay Goel's accreditation

In his attempts to prove he knows or cares about sports in India, he's gone about proving he knows absolutely nothing. Last night, just before Dipa Karmakar's historic women's gymnastics vault final, Goel put out this tweet:
As if it wasn't bad enough that the tweet was emblazoned with his own smug mug instead of Karmakar's, he managed to get her name wrong. Considering she's been the toast of the country ever since she qualified for Rio, it was an appalling mistake.
Also read - Rio Olympics 2016: Sports minister Vijay Goel denies row, blames 'misunderstanding'

Ironically, the only two people who haven't been able to grasp Dipa Karmakar's name have been our goodwill ambassador to the Olympics (and ace shooter) Salman Khan, as well as our sports minister.
Perhaps Salman's general idiocy rubbed off during this photo-op:
But, as if to prove his stupidity was no one-off, but evidence of a far more profound sporting ignorance, Goel tweeted this:
Selfie champion BJP">@VijayGoelBJP cudnt recognise @DuteeChand ! Calls her Srabani Nanda !
And he's our Sports ministr 😕 pic.twitter.com/GF3aieGXxt

— कोमल :) (@Komal_Indian) August 15, 2016
For those less inclined toward sports, you're forgiven for not knowing that the woman pictured in that tweet is Dutee Chand and not Srabani Nanda. If you're the sports minister of the country, however, that mistake is far less forgivable.
We know that Goel has a sizeable entourage along with him (yes the ones who've been censured for being boorish), surely he could have also found room for a single intelligent, sports-inclined person in that group as well? Evidently not.
Also read - Rio Olympics 2016: Twitter lauds Dipa Karmakar, slams Star Sports
What's even more worrying for the future of sports in India, is that Goel's stupidity, at least with his Srabani Nanda tweet, isn't all his own doing. He was merely tweeting out a graphic prepared by no less than the Sports Authority of India. If, at this point, you're still wondering why India hasn't managed a single medal at Rio so far, now is when you stop.
Vijay Goel is symbolic of everything that is wrong with Indian sports - boorish politicians who know nothing about sports and destroy it through apathy, while using it to pad their pockets or egos. These latest displays of idiocy should serve as the final realisation that if Indian sports is to succeed, the Vijay Goels of Indian sport need to be cast out like the parasites they are.