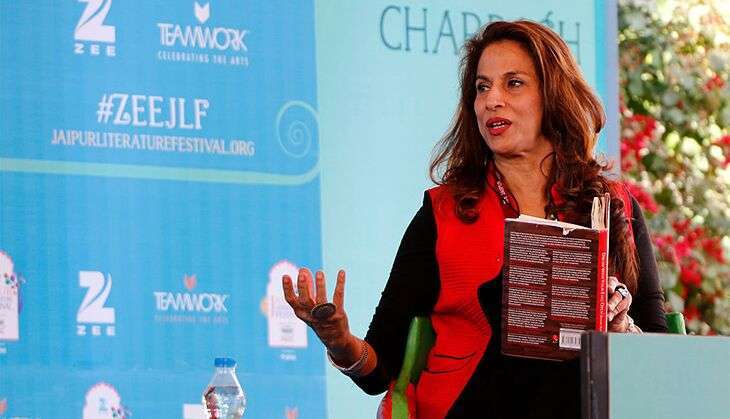 India has sent its largest-ever contingent to the Olympics this year. And while Indians on social media have been cheering on the contingent at the 2016 Rio Olympics, writer Shobhaa De has drawn flak for tweeting that sending the sportspersons to Brazil was a waste of time and money.
She tweeted:
Goal of Team India at the Olympics: Rio jao. Selfies lo. Khaali haat wapas aao. What a waste of money and opportunity.

— Shobhaa De (@DeShobhaa) August 8, 2016
Why do we bother with the Olympics ?

— Shobhaa De (@DeShobhaa) August 7, 2016
Her tweet came even as star shooter Abhinav Bhindra lost by a narrow margin of 0.5 in the shoot out to come fourth in the finals of the 10m air pistol.
Many users slammed De, accusing her of dismissing the hard work that the athletes have put in to qualify for the sporting event.
On her part, De clarified saying that her tweet was a dig at the Sports Ministry and was an attempt to provoke them into improving the infrastructure for the nation's sportspeople. She said that while she was supporting the athletes, she would not apologise for her tweets.
A number of celebrities, athletes and social media users took to Twitter to criticise De:
@DeShobhaa that's a tad unfair. You should be proud of your athletes perusing human excellence against the whole world.

— Abhinav Bindra (@Abhinav_Bindra) August 9, 2016
@Abhinav_Bindra And do so despite of and in spite of there being no infra & institutional support, and no sporting culture @DeShobhaa

— Gul Panag (@GulPanag) August 9, 2016
Lots of lament about medal tally, but no lament about lack of fitness culture (which builds a sporting nation) @Abhinav_Bindra @DeShobhaa

— Gul Panag (@GulPanag) August 9, 2016
@DeShobhaa maybe things will change when the attitude of people like urself change!!!!😐😐 #Proudindian #proudsportsperson

— Gutta Jwala (@Guttajwala) August 8, 2016
. @DeShobhaa you are a stupid human and a terrible waste of oxygen. I'm not even trolling you. I'm genuinely asking you to stop thinking.

— Sahil Shah (@SahilBulla) August 8, 2016
Ms. De, kindly run on the hockey pitch for 60 mins & hold a rifle like Abhinav and Gagan. Bit tougher than u think https://t.co/XwZFKqZJjn

— Viren Rasquinha (@virenrasquinha) August 8, 2016
Those from #India mocking our players #Rio2016 watch Dipa Karmakar do the toughest, Produnova. U may just applaud https://t.co/hOuFfIergU

— Shekhar Gupta (@ShekharGupta) August 8, 2016
Not even worth a selfie. If scaring babies was Olympic sport, @DeShobhaa would strike gold! https://t.co/NLNEOtR6Jh pic.twitter.com/7KjQQGAipl

— Nishant Gambhir (@madnish30) August 8, 2016
Goal of @DeShobhaa : Twitter par aao. Bakwaas likho. Gaali khao. Wapas jao. What a waste of Internet and Oxygen pic.twitter.com/ABmiaqFxVv

— गीतिका (@ggiittiikkaa) August 8, 2016
. @DeShobhaa still better than pretending to clean an already clean road pic.twitter.com/1L6sHyHa8s

— Good Guy (@gooljaar) August 8, 2016
If they had #Olympics for Authors, this lady wud hv evn stood beneath those from Somalia on points table!@DeShobhaa https://t.co/SpmIAEh0tq

— Satvik Patel (@DrSatvikPatel) August 8, 2016
@tishtriya @DeShobhaa Someone like Shobhaa De wouldn't understand what it's like to become a part of the Olympics.

— Bangalore Bullet (@BengaluruBullet) August 8, 2016
Goal of Shobhaa De at the Olympics !#RioOlympics2016
. pic.twitter.com/D45lOAoTU4

— PhD in Bak*****!! (@Atheist_Krishna) August 8, 2016