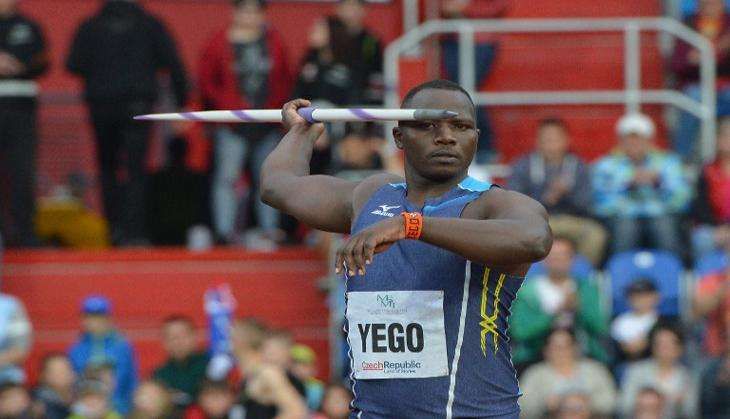 The epilepsy-inducing opening ceremony of the Rio Olympics taught us many things: like how Brazil\'s early slaves were the original Cirque du Soleil and that the Tongan flag-bearer was so oiled up that America now thinks he needs a taste of democracy.
But amidst the flashing lights, bright costumes and the gigantic cheese graters that were the centrepieces of the event, we were also introduced to the actual protagonists of the event - no, not Zika - the athletes themselves.
Also read - These 10 Olympians can double India\'s tally at Rio 2016
While the athlete parade left most viewers with crippling body complexes, there were some we were introduced to whose very stories left us inspired. Here are 4 athletes whose journey to the Olympics will make you wonder just what you\'re doing with your life.

Photo: Courtesy Twitter (@nepalnews_com)
Most of us spend our 20s telling ourselves that we'll achieve something big by the time we're 40. Most Olympians however, make it to the Olympics by the time they're 20-something. In fact, the average age at this year's Olympics is 26.
Gaurika Singh, who's representing Nepal in aquatics, is half that age.
At 13, she'll be the youngest Olympian at this year''s games. She'll be competing with athletes who've been training far longer than she's been alive. Gaurika, who stands at just five-feet-one-inch tall was even denied entry to the Olympic pool because security couldn't fathom that she was an athlete.
Still, Gaurika's story could have been very different. In 2015, she was in Nepal when the quake that killed over 9,000 people struck. Gaurika took refuge under a table and, miraculously, the building she was in didn't collapse. Unshaken by the event, she went on to compete in the South Asian Games a few months later, winning one silver and three bronze medals for Nepal.
I could've been an Olympian... if only I'd had the proper training and support. Or at least that's what I tell myself. Julius Yego though, blows that excuse straight out of the water.
Yego, a Kenyan athlete, is the current world champion in javelin... and he learnt his craft through YouTube. While the rest of us were busy watching cat or fail videos, Yego, who'd always felt drawn to javelin, was watching videos of javelin greats. He didn't have an internet connection, so he had to do this at internet cafes.
Using sharpened sticks for javelins, he then attempted to replicate what he saw. I once used a YouTube tutorial to roll up a pair of socks. Julius used it to learn how to throw a javelin over 90 metres.
Also read - Indian paddlers Mouma Das, Manika Batra crash out of Rio Olympics
In 2010, he won bronze at the African championships. Two years later, probably with increased internet bandwidth, he won gold. Two years after this, he was the Commonwealth javelin champion. And a year later, the world champion.
It's 2016 now and we wouldn't be surprised if Yego managed to spear an unsuspecting animal in some remote part of Brazil's Amazon... during his warm-up.

AFP PHOTO / FRANCK FIFE
When the Iranian contingent rolled into the Maracana stadium for the athletes parade, one of them was actually rolling. Because Zahra Nemati, their designated flag-bearer, is wheelchair bound.
While most athletes at the Games are focussed on the Olympics, Nemati will be pulling double-duty - competing in both the Olympics and Paralympics. Her sport? Archery.
At the Paralympics in London, 2012, Nemati secured the gold medal in archery. Now, after a fantastic showing at both the 2015 Asian Championships, she's set her sights on Olympic gold as well. If your excuse for your lack of athletic prowess was your bum-knee, you should be feeling very, very silly right about now.
What's even more inspiring, is that Nemati never intended to do archery. Instead, she was a black belt in Taekwondo as a teenager. That's the sport she originally hoped would take her to the Olympics. Until a horrific car crash left her paralysed from the waist down. That's most people's cue to call it a day, safe in the excuse that no legs means no life.
Not Nemati. Because she's so badass, she doesn't need legs to kick butt. Instead of giving up, she picked up a bow and arrow (presumably so she could shoot the universe for taking her legs.) As it turned out, she was a natural. Now, with a host of top-10 finishes at archery World Cup events under her belt, she's looking to conquer Rio.
AFP PHOTO / ODD ANDERSEN
The Australian swim team recently refused to use a Rio practice pool because it looked a little 'soupy'. While no one's doubting the good sense in what they did, it does seem a little weak when you consider what one of their competitors had to do to get to Rio.
Syrian-born Yusra Mardini didn't just have to qualify for the Olympics. She had to battle the goddamn civil war taking place in her country, flee Syria, push the sinking dinghy (one filled with people) she'd fled Syria on for 3 hours through the frigid sea, and trek for 25 days across multiple countries just to reach Germany, where she found asylum.
At this point, in a just world, she should have been carried through the streets by an adoring crowd and sold the rights to her story for millions of dollars. Instead, she decided she had more to prove.
Also read -
Rio Olympics: Paes-Bopanna bow out of men's doubles in 1st round
Mardini had been a swimmer in Syria, something she couldn't do for the last two years because just staying alive was enough of a sport. Now, safe in Germany, Mardini found a swim club and a coach who agreed to prepare her for a shot at the Tokyo Olympics in 2020.
But Mardini has made conquering the impossible a habit, and she proved that yet again by qualifying for the Rio Games thanks to the IOC's refugee initiative.
Given all she's been through so far, we hope that Mardini wins a medal. But even if she doesn't, she's already won the hearts of the world.