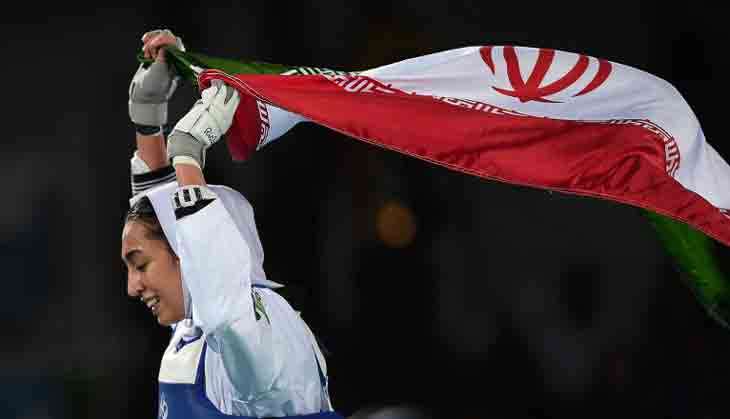 Finally on the Olympics podium, India is basking in the glory of two stellar women. Two self-driven, focused, meticulous athletes who are incredibly good at what they do and have proved it to themselves. I repeat, to themselves. Not to India.
Silver medal winner PV Sindhu and bronze medallist Sakshi Malik may be household names today and that's great. If their victory encourages more Indian girls to embrace sports, it's a job well done. But really, the point of their victory was not to save India's honour. We put that pressure on our girls all the time anyway.
Families' honour, society's honour, country's honour. And those who don't comply can also be killed for that same wretched honour.
Instead of hanging our heads in shame for having being shown our place by these stellar athletes - for removing that blindfold of patriarchy that binds us together - us Indians have the gall to appropriate Sindhu, Sakshi and Dipa Karmakar's achievements at Rio.
Also read -Bollywood biggies hail girl power at 2016 Rio Olympics
Because 'our girls' are saving our honour, we assume we must be a progressive society. We tell ourselves that India must be great to get these women up there. Well, that's wrong. Completely and irrevocably wrong.
Don't misinterpret this. It's legitimate to feel pride for our country when we win medals at the Olympics, but the sort of infantilisation these women have been subjected to - an expression of this 'pride' - is entirely uncalled for. Overnight they have transformed into our betis and behens, their struggle be damned. That they probably have had to look patriarchy in the face and raise a middle finger to it to be able to snatch that much coveted medal is suddenly forgotten.
And if we really do respect their achievement, we must learn to acknowledge their struggle. A struggle our society, and our much talked up culture, has amply contributed to.
Also read - Sindhu didn't lose the gold, she WON the silver. Now on to bigger things
The Rio Olympics have been an eye-opener in that regard, that is, if you're willing to see beyond the inherent jingoism and aesthetic hyperboly being casually thrown about. Especially through those tricolour memes.
Congratulations #SakshiMalik! The entire nation is proud of you! pic.twitter.com/pAnQyAyc8c

— StoryPick (@StoryPicker) August 18, 2016
While Rio may not have been the best managed Olympics, and barely scratches the surface as far as star value goes, it has, in effect, opened the playing field - quite literally - to women from societies and countries that deny them basic rights.
And that's an incredible feat in itself.
Sweet victory for Iran
Kimia Alizadeh Zenoorin grins as she bites into her shiny bronze medal. It's her first Olympic medal. And also the first ever for an Iranian woman, a landmark feat in a country where women aren't even allowed inside sports stadiums.
On 18 August, the 18-year-old taekwondo champion beat Swedish Nikita Glasnovic 5-1 in the 57kg category to win that coveted spot on the Olympic podium.
"I am so happy for Iranian girls because it is the first medal and I hope at the next Olympics we will get a gold," an elated Zenoorin said right after the win.
Congrats, Kimia Alizadeh Zenoorin, for becoming the 1st Iranian woman to win a medal in any Olympic event #taekwondo pic.twitter.com/mRhRjmf5cg

— Purpose 2 Play (@Purpose2Play) August 19, 2016
The taekwondo uniform is liberating for girls like Zenoorin. While the ideal garment for most sports is bare minimal, that isn't the case with taekwondo. It provides breathing room for Islamic women to comfortably ace the sport. Zenoorin's victory stands testimony to that.
Egypt and her many firsts
Egyptian women have been on a winning streak this Olympic season, and that's commendable for women from a nation that was ranked 'worst for women' among 22 Arab nations by the Thompson Reuters Foundation.
With the unflinching grit that team Egypt has shown, especially in the face of self-proclaimed "progressive media", they most definitely deserve every opportunity at a medal.
On 7 August, Egypt debuted in women's beach volleyball. And the photographers in the stadium went crazy.
Dressed in full bodysuits, Doaa El-Ghobashy and Nada Maewad became the first women from Egypt to participate in beach volleyball at the Olympics since 1996 - the year it was introduced.
El-Ghobasy, who proudly wore her hijab while smashing at the volleyball court, told The Associated Press, "I have worn the hijab for 10 years. It doesn't keep me away from the things I love to do, and beach volleyball is one of them."
Best #Olympics photo? Doaa El-Ghobashy (Egypt) takes on Kira Walkenhorst (Germany). By: Lucy Nicholson #volleyball pic.twitter.com/mzTheAAfO7

— Purpose 2 Play (@Purpose2Play) August 9, 2016
While the women ultimately lost to Germany, they won a moment in history. A moment that would perhaps help us rethink our priorities about beach volleyball and the voyeurism that plagues it.
Interestingly, of the three medals Egypt has won so far, two were taken by her women.
On 10 August, Sara Ahmed became the first ever Egyptian woman to win an Olympic medal. Hedaya Malak caught up to her eight days later.
Ahmed, who's only 18, won the third spot in weightlifting in the 69kg category. She lifted a combined weight of 225 kg and grinned while dropping it, having realised the weight, both literal and otherwise, that had been lifted off her shoulders.
"I was the first to be on the podium," were her iconic words to Channel News Asia moments after the victory.
Sara Ahmed, 18-years old, wins Egypt's first medal (bronze) at the 2016 #Olympics. pic.twitter.com/04KI4vgbFT

— Khaled Beydoun (@KhaledBeydoun) August 12, 2016
Hedaya Malak on the other hand, shared the Olympic podium with her Iranian counterpart Zenoorin; both women breaking through multiple socio-cultural barriers, smiling through their hijabs, with bronze medals around their necks.
Malak, also a 57kg category taekwondo world champ, on Friday beat Belgian Raheleh Asemani to clinch the title.
Much like Indian wrestling victor, Sakshi Malik, 23-year-old Malak, who scored nothing in the first three rounds, won by a golden kick in the fourth. And just like that, Egypt had another medal under its belt.
Also read - Guts to glory: Snapshots of wrestler Sakshi Malik's way to Olympics bronze
Congratulations to Egypt's Hedaya Malak on winning a bronze medal in the women's 57kg Taekwondo #Rio2016 #Dstv872 pic.twitter.com/zSFJSa16A0

— TransAfricaRadio (@TransAfrica872) August 19, 2016
Saudi runs against patriarchy
Saudi Arabia is notorious for its regressive attitude towards women. So, when a female Saudi athlete, sporting a sombre black full-body kit takes her place at the starting point of the women's 100m sprint at Rio, she takes a political stance.
Saudi Arabia's Kariman Abuljadayel may not have won a medal, but she sure banished all signs of patriarchy.
The 22-year-old is part of a small female contingent of four from Saudi. Four women who would never have made it to the Games had the Olympics Committee not threatened to ban the country for not sending its women until 2012.
Saudi Arabia's first female Olympic sprinter Kariman Abuljadayel clocks 14.61 in 100 prelims #Rio2016 pic.twitter.com/M5SZKuyoiv

— Reem Abulleil (@ReemAbulleil) August 12, 2016
Abuljadayel and her colleagues, as per Saudi laws, would have been allowed to train in long abayas and hijabs in a hot country like Saudi. For her to embrace an outfit that allows for movement and lets her finish a race that the whole world's watching is momentous, for her country wants her to be hidden. To be a non-entity.
Abuljadayel, Malak, Ahmed, Sindhu, Malik, Karmakar and Zenoorin; all embody the might of a woman by exercising her agency to choose what's best for her, without compromising on her personal beliefs.
And that's the beauty in what every single one of them has achieved - a complete rejection of the society that pulls them down, and sweet success. In participation, in visibility, and in victory.