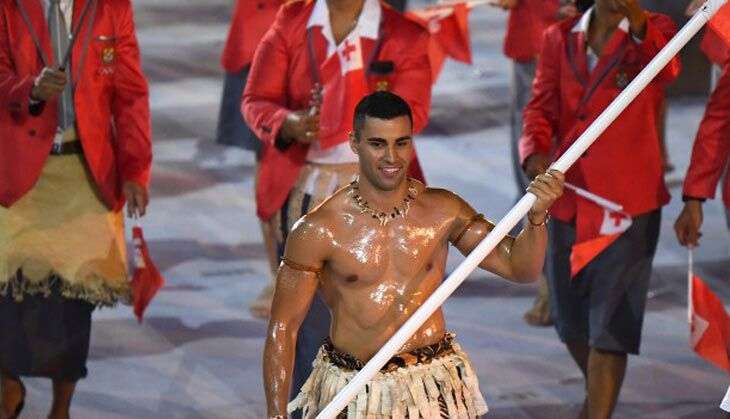 The Rio Olympics 2016 opening ceremony has caught the world by surprise with all its grandeur and spirited performances. While the 'samba' performance stole the spotlight, there was one appearance that grabbed the collective attention of the world. The flag bearer of Polynesian country Tonga, Pita Taufatofua,was the censure of all eyes. Why? His overly oiled shirtless look at the Maracana Stadium took social media by storm and set many pulses racing. The athlete was attired in just a traditional skirt and a shell necklace and matching braided arm bands as accesories.
Bringing baby oil back! #Tonga flag bearer Pita Taufatofua sends social media into meltdown 💪💪💪💪 pic.twitter.com/0ikaZeNSwZ #OpeningCeremony

— RMadridBabe (@RMadridBabe) August 6, 2016
Taufatofua, 32, is the first ever athlete from Tonga to compete in Taekwondo at the Olympics. Being the first ever to represent the nation, he has a huge challenge ahead of his Rio Olympics 2016 campaign.
While most were surprised by the eye-popping display, Taufatofua gave due warning of his plan, teasing on Instagram earlier in the day, "We have a little surprise, don't blink or you'll miss it."
Instagram/@pita
During every Olympic opening ceremony, the Parade of Nations is a pretty standard affair and it sees lots of outfits - some good, some bad, some cultural, some seemingly having nothing to do with anything related to their country at all. But, the one thing which makes the Parade interesting to watch is the surprise of a showstopper who crops up inevitably.
Though he wears a ta'ovala and competes for Tonga, he lives in Brisbane where he works with homeless kids.
He went to the Summer Games raising $6,262 dollars in four months by himself.
Let's look at how the Twitterati reacted this not-so-shy athlete's outfit:
🔴 Oh Wow‼️🔥 #Tonga here I come❗ #PitaTaufatofua pic.twitter.com/Y0pMzVg1tD

— Linda Wang 王憲苓 (@LoveLindaWang) August 6, 2016
Pita Taufatofua has stolen every girl's heart for the next 2 weeks ;) #RioOlympics2016 pic.twitter.com/t0HNTDD2EV

— Nicole Berry (@nicole_berry23) August 6, 2016
And thank you to the flag bearer from Tonga for bringing attention to #Taekwondo at the Olympics! :D :D #PitaTaufatofua

— Harp Twins (@CamilleKennerly) August 6, 2016
After seeing Tonga. #OpeningCeremony pic.twitter.com/AzOBFPhrfB

— Sam D (@SamDickfos) August 6, 2016
Kids: "Mom, where are we going for spring break?"
Me: "Tonga"
#Tonga

— Kate (@Wishful_wink) August 6, 2016
OMG THE TONGA FLAG BEARER!!! pic.twitter.com/nxaR9bUkR1

— bluekd (@bluekd07) August 6, 2016
Moving to #Tonga. Bye. #OpeningCeremony pic.twitter.com/SlaULLqt81

— Cara (@iamcarac) August 6, 2016