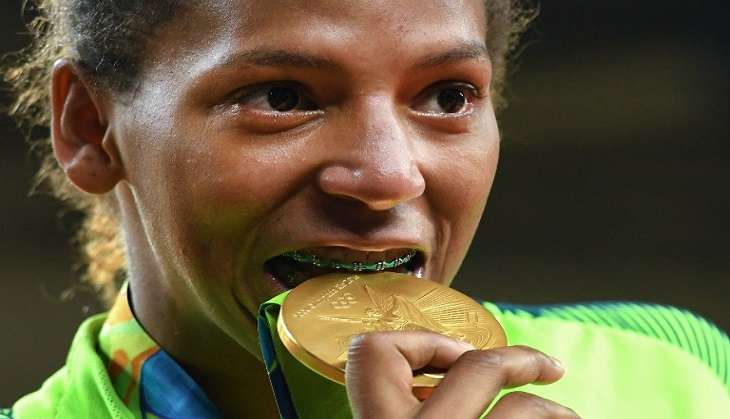 Brazil have done it. They finally have a gold medal as a host nation and they have a martial artist to thank. Rafaela Silva, a judoka, grew up just five miles from the site of the Olympic judo competition and on Monday, 8 August, she beat Sumiya Dorjsuren of Mongolia in the 57 kg gold medal match to clinch Brazil's first gold medal of the Games. She was nearly flawless in her victory.
She won all five of her matches without giving up a single score to earn gold for Brazil. She knocked over her first round opponent, Germany's Miryam Roper, in jus 46 seconds. Her second match watch against no. 2 seed South Korea's Kim Jan-Diand. After winning her quarterfinal bout, Silva was up against the toughest of them all, 2012 silver medalist Corina Caprioriu of Romania. After four minutes of regulation play and neither judoka able to get a score, the tie went into a golden score period. After three minutes of the golden score period, Silva executed a perfect counterattack on Caprioriu. She slammed the Romanian to the ground, to wild cheers from the crowd. The final may have been against world no. 1 fighter Sumiya Dorjsuren of Mongolia. Silva was able to get on the board early and hold for the rest of the match and the gold medal.
"I hope my medal now will open the door for Brazil to win many more medals," Silva said after her win, according to the Associated Press.