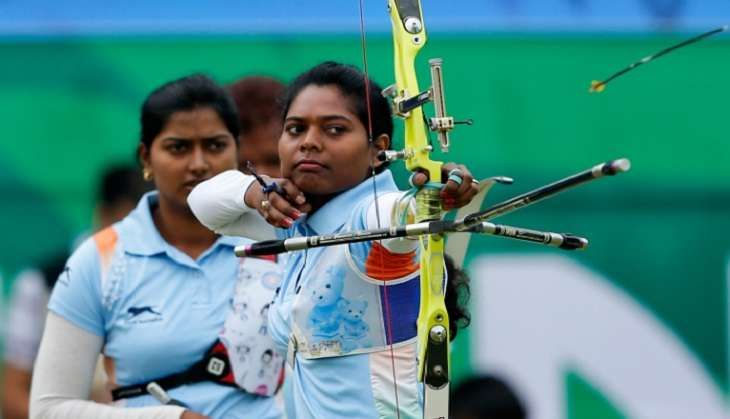 The Indian women's archery team, comprising of Deepika Kumari, Laxmirani Majhi and Bombayla Devi, lost in a shootout against the Russians. India had started with a 28 but stumbled upon their way in the first set and ended up losing it 48-55 to the Russians. The second set saw a better performance from India as they edged the Russian trio of Tuiana Dashidorzhieva, Ksenia Perova and Inna Stepanova, 53-52. In the third set, India kept up the momentum, winning it 53-50, mainly due to Stepanova letitng one astray and fethcing only 6 points.
At this point, India were up 4-2 and could have clinched the match. They needed a perfect score of 30 in their second set to clinch the tie. Bombayla and Laxmirani hit the bull's eye and Deepika needed to follow the suit. Out of form Deepika needed only a perfect 10 to knock the Russians out but with a 9, she handed the set to the Russians and with the scores locked at 4-4, into a shootout we went.
The Russian trio held their nevers in the shoot-off, winning it by a 25-23 margin. Needed a perfect 10 in the final shot, Deepika could only manage an eight under the floodlights at the Sambodromo arena.
South Korea dominant
South Korea defeated Russia to stay undefeated ever since archery was introduced in the 1988 Olympics. The South Korean team of Chang Hye Jin, Choi Misun and London 2012 individual Olympic Champion Ki Bo Bae won Korea's eight straight gold medal.
Korea took the final against Russia 5-1. Korea had already taken home the gold medal in the men's team competition on Day 1 of the Olympics.
After debuting in 1988, matchplay was introduced to the archery competition in the 1992 Olympics. In a streak that's lasted 24 years, the Korean women have never lost a match the Olympics.