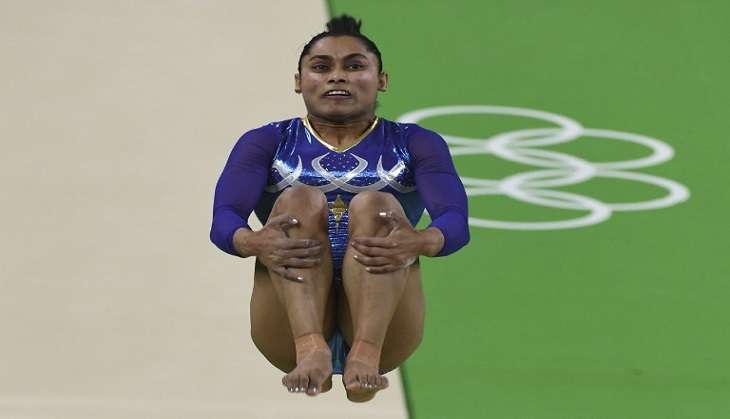 So close yet so far. That's been the theme throughout the Rio Olympics for the Indian athletes. On Sunday, 14 August, eve of India's independence, gymnast Dipa Karmakar narrowly missed out on a medal. She finished fourh in the women's Artistic Gymnastics Vault finals. She may not have won a medal, but she won the hearts of many watching the Olympics all over the world.
The 23-year-old athlete from Tripura, the first Indian woman gymnast and first gymnast in 52 years, landed the Produnova vault for a fourth place finish in Rio de Janeiro on 14 August. No one could stop American Simone Biles from taking the gold but that wasn't the biggest talking point coming out of the event.
Here's what Karmakar had to say after the event, "I will definitely go for a medal in 2020. I am very happy with my first Olympics. The other three were better than me. I enjoyed myself and did both my vaults as well as I could". She will remain in the minds of many as India enjoys its 70th independence day celebrations on Monday, 15 August. She took to Twitter to say a few words after missing out on winning India's first medal at the Rio Olympics.
Sudarsan Pattnaik, an Indian sand artist from Odish, saluted Karmakar in the only way he knew how to:
We all are Proud of you #DipaKarmakar . You have won billion hearts. We salute you pic.twitter.com/I8Psj7IwdP

— Sudarsan Pattnaik (@sudarsansand) August 14, 2016
Karmakar has won 77 medals - including a bronze at the Commonwealth Games in Scotland in 2014 - since she started training at the age of six under the watchul eye of her coach Bisbeshwar Nandi. The gym she went to didn't have proper equipment and definitely didn't have a vaulting table. we would put mats on top of each other and make do with that. The gym would flood in the monsoon season. So it was quite a struggle to start with," Karmakar told the BBC.
The hard work for Karmakar has paid off. She may be coming home to India from Rio without a medal but just looking at the reaction on social media, she'll be treated just how champions should be. She's a winner in our hearts. Here's a toast from social media to the the 22-year-old gymnast:
Dipa has done something extraordinary. 4th is nothing to be ashamed of in gymnastics. Completely proud of her #Olympics #india #shedidgood

— Aishwarya S (@Hyper_aice) August 14, 2016
i have seen some things in my life, but i have never cried at a sports event. i am today. this girl is just... #DipaKarmakar

— Gaurav Kalra (@gauravkalra75) August 14, 2016
We're all proud of #DipaKarmakar. pic.twitter.com/w4UrYA33Jx

— History of India (@RealHistoryPic) August 14, 2016
Slamming show #DipaKarmakar. Take a bow.

— Rohan (@mojorojo) August 14, 2016
From left-liberal to internet-Hindu we all came together for Karmakar. Never forget.

— Sitter of Fences (@sidin) August 14, 2016
What does the country learn from Dipa Karmakar - a success that came from sheer talent and perseverance, with no help from the government.

— Meher Manda (@meherness) August 14, 2016
Maybe many years down the line, at an Olympics final an Indian gymnast may try the toughest move - a 'Karmakar'

:)

— Gabbbar (@GabbbarSingh) August 14, 2016
I love you Dipa Karmakar, youre not a #gymnast.
You're a flying manifestation of hope :).

— Sorabh Pant (@hankypanty) August 14, 2016
A brilliant #cartoon by @SatishAcharya to reflect #DipaKarmakar's brilliant effort. A big, big salute, Dipa. pic.twitter.com/qi8MWes4Pc

— Rasheed Kappan (@kappansky) August 14, 2016
4th in the world is fantastic achievement. Hope govt of India takes note & #DipaKarmakar is nurtured for future. pic.twitter.com/WjkK0YIUkT

— Nikhil (@FineLogic) August 14, 2016
At the stroke of midnight,new star is born in annals of Indian Sport History#DipaKarmakar makes #India proud with phenomenonal performance

— ShainaNC (@ShainaNC) August 14, 2016