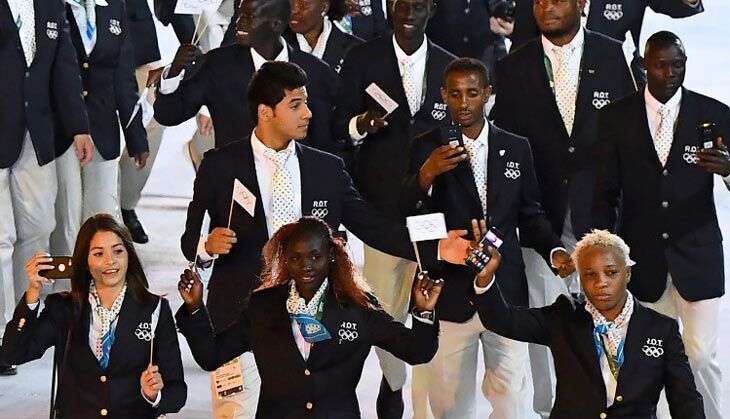 The Rio 2016 Olympics officially kicked off in style at the Maracana Stadium in Rio de Janerio on 6 August. A total of 206 countries presented their strength for the games, but the one team which caught the attention the most was the refugee Olympics team.
The Maracana Stadium burst into loud cheers as the name of the Refugee Olympics Team was announced and the team entered the athletics parade after Zimbabwe. It is for the first time ever that a Refugee Olympic Team is competing in the Olympics. The team was welcomed with a standing ovation, becoming the symbol of the Olympic Opening Ceremony.
#TeamRefugees enter @Olympics opening ceremony: a standing ovation for them & all refugees in the world. pic.twitter.com/y7kx8vMmGi

— Filippo Grandi (@RefugeesChief) August 6, 2016
According to a report in NDTV, the refugee Olympic team, consisting of 10 athletes, are participating as Independent Olympic athletes to show solidarity with the world's refugees. The team includes 18-year-old swimmer, Yusra Mardini, who will participate in the 200m freestyle swimming event. Refugees from Democratic Republic of Congo and other places that have been affected by humanitarian crises are part of the team as well.
The United Nations Refugee Agency official Twitter handle also highlighted the achievement of the refugee Olympic team.
History being made as the world's first-ever #TeamRefugees enters the arena at the @Olympics in Rio. pic.twitter.com/VdVBTUp1pe

— UN Refugee Agency (@Refugees) August 6, 2016
Thomas Bach, International Olympic Committee president, during the opening ceremony, said, "The Refugee Athletes are sending a hope to the millions of refugees. Having to leave home because of hunger, violence and just because you are different. Because of your human spirit, you are making a great cause to humanity. In this Olympic world, we welcome you as an enrichment to our diversity."