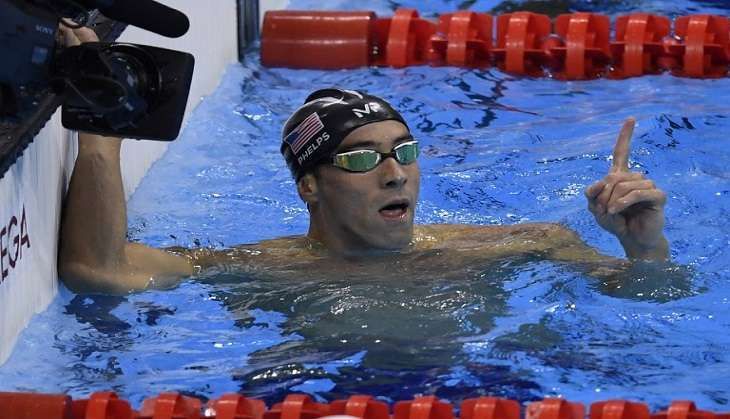 Michael Phelps has done it again. After winning gold no. 19 in the 4x100m freestyle relay on Sunday, 7 August and gold no. 20 in the 200m butterfly on Tuesday, 9 August, Phelps anchored the USA to victory in the 4x200m freestyle relay, winning his 21st gold medal in the process. In the relay, Great Britain claimed silver and Japan the bronze.
USA's Michael Phelps (L) celebrates with USA's Townley Haas (2ndL), USA's Ryan Lochte (2ndR) and USA's Conor Dwyer after they won the Men's 4x200m Freestyle Relay Final during the swimming event at the Rio 2016 Olympic Games at the Olympic Aquatics Stadium in Rio de Janeiro on 9 August, 2016 (Martin BUREAU/AFP)
Conor Dwyer led off the race for the USA, followed by Townley Haas, Ryan Lochte and finally Phelps. USA finished in 7:006.66 ahead of Great Britain in 7:03.13 and Japan in 7:03.50. USA hasn't lost the relay since 2004, and Phelps has been a part of all four teams.
Earlier on, Phelps had survived a late challenge from Hungary's Tamas Kenderesi and Japan's Masato Sakai to win the gold in the 200m butterfly with a time of 1 minute 53.36 seconds. His timing was 0.4 seconds ahead of silver medallist Sakai.
He went one better than at the 2012 London Olympics, where he lost out to South Africa's Chad le Clos and had to settle for silver.
Lots of stats comparing Phelps to several nations are coming out post his 20th Olympic gold medal of his career.
20 gold medals for Phelps. That is more than the entire British team won in Montreal, LA, Seoul, Barcelona and Atlanta Olympics combined.

— Oliver Brown (@oliverbrown_tel) August 10, 2016
Michael Phelps wins a 20th Olympic gold medal of his career. That's one more than Argentina as nation since 1900 and three more than Jamaica

— Nick Harris (@sportingintel) August 10, 2016