Joy Tirkey
| Updated on: 11 August 2016, 13:59 IST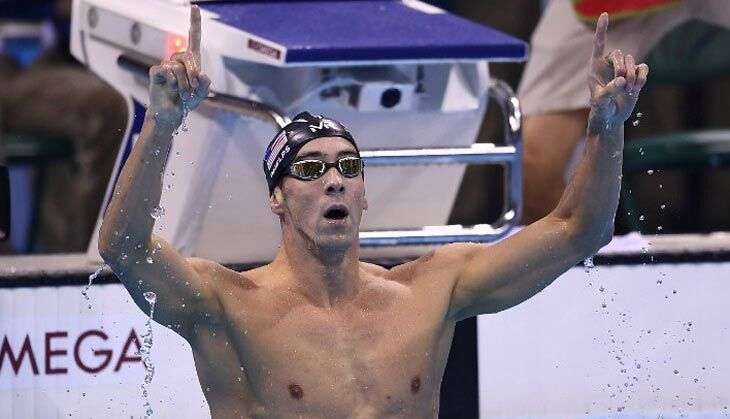 A number of factors have contributed to make Micheal Phelps one of the greatest sportspersons of our time. Be it his unbelievable 21 Olympic medals, or his decision to withdraw his retirement to compete against his arch rival, Chad Le Clos, or even proving his critics wrong by winning accolades and putting the US ahead at Rio 2016 - Phelps has done it all.
While all of these feats have helped make Phelps the legend that he is, one particular achievement stands out like no other.
Phelps has reportedly equalled a 2,000-year-old Olympics record. Let that sink in for a minute.
Leonidas of Rhodes, one of the most celebrated runners in Olympics history, won 12 individual Olympic wreaths (the ancient Olympics medal equivalent) through the 164-160-156-152 BC Ancient Olympic Games.
Michael Phelps currently has 21 gold medals to his credit. Of these, nine are team events, which leaves Phelps with exactly 12 individual medals. Or wreaths, if Leonidas is keeping count.
Here is a juxtaposition of Leonidas of Rhodes, the Olympic legend of yore, and Michael Phelps, the man who may break his record soon.
Leonidas of Rhodes, 36
The most prolific Olympian of all time, Leonidas of Rhodes competed at the 164, 160, 156, and 152 BC Ancient Olympic Games.
Stadious was a 200-yard run to the end of the stadium and back. The Diaulos was a 400-yard race to the end of the stadium and back, but it had to be run twice over. On the other hand, the Hoplitodromos was a 400-yard race that was to be completed by naked runners who had to carry a shield and a bronze armour weighing more than 50 pounds.
These were the 36-year-old Leonidas' pet events and he dominated them ably in the Olympics in 164 BC, 160 BC, 156 BC and 152 BC.
Leonidas won 12 individual accolades during this period - an unmatched record that made spectators liken him to an Olympic god.
"The most famous runner... maintained his speed at its prime for four Olympiads, and won twelve victories for running," Pausanias, a Greek traveller and photographer wrote about Leonidas.
Little did anyone know that Leonidas' record would be broken a whopping 2,168 years later by a 31-year-old from modern day Baltimore.
Micheal Phelps, 31
When a 7-year-old Phelps followed his sisters into the swimming pool in Maryland in 1992, he had no idea that his strokes would help etch his name into the Olympics history books forever.
As he turned 11, Phelps' talent was obvious to everyone around him.
Decades later, as Phelps prepares to challenge Leonidas' record on 11 August 2016, spectators around the world expect him to emerge triumphant from the swimming pool after his 200m individual medley on 11 August and the 100m butterfly on 12 August.
A dripping wet Phelps, proclaiming "I'm the master of the Universe!" like He-Man's legendary phrase would not attract any critics, but would inspire awe.
Should Phelps win, he will have broken a 2000-year-old Olympic record, something no other sportsperson has come even close to. But Phelps has already won by doing the impossible and equalling Leonidas' record.
His achievement stands testament to the fact that nothing is impossible, and like Leonidas before him, Phelps' story is bound to inspire countless generations.
Glory awaits, either way.
--Edited by Blassy Boben