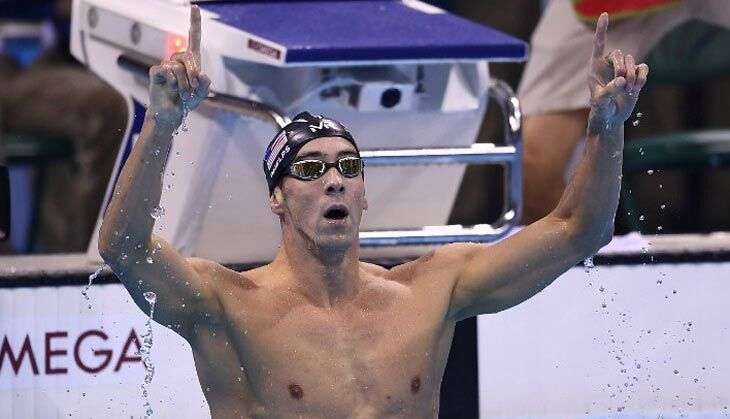 Michael Phelps put the United States ahead to stay on the butterfly leg of the 4x100-meter medley relay and Nathan Adrian finished it off, giving the most decorated athlete in Olympic history his 23rd career gold medal Saturday night.
If that was the end, and Phelps insists it is, what a way to go out.
He has 28 medals overall, having won five golds and a silver at these games.
As Nathan Adrian touched the wall to finish off the victory, Phelps gathered the other relay swimmers, Ryan Murphy and Cody Miller, in his arms. One night after his only setback in Rio, an upset loss to Joseph Schooling in the 100 fly, Phelps was back on top.
In the stands, his fiancee, Nicole Johnson, bounced along to the music with their son, 3-month-old Boomer, cradled in her arms.
Phelps is eager to spend a lot more time with them. He plans to marry Johnson after the Olympics and said he's eager to watch his son grow, maybe even dole out a swimming lesson or two.
Most of the US Swim team was in the stands to watch Phelps' finale, including the biggest female star of the games, Katie Ledecky, decked out in a matching USA white jacket and cap.
The 19-year-old Ledecky joked that she was proud to be part of Phelps' final Olympics -- twice. He initially retired after the 2012 London Olympics, only to decide about a year later to return to the pool.
This time, the 31-year-old sounds much more adamant when he says there will be no more comebacks.
Two-time gold medalist Murphy put the Americans out front with a world-record split on the backstroke -- it counts since he was leading off -- but Britain surged ahead on the breaststroke with its own world-record holder, Adam Peaty.
Phelps dove into the pool in second place. He wouldn't be for long.
On the return lap, Phelps powered through the water with his whirling butterfly stroke, surging ahead of James Guy to pass off a lead to the anchor Adrian.
It wasn't in doubt after that. Adrian pulled away on the freestyle to win in an Olympic-record time of 3 minutes, 27.95 seconds. Britain held on for silver, with Australia nabbing bronze.
The victory came just minutes after the women's medley relay gave the United States its 1,000th Olympic gold medal at the Summer Games.
--PTI/AP