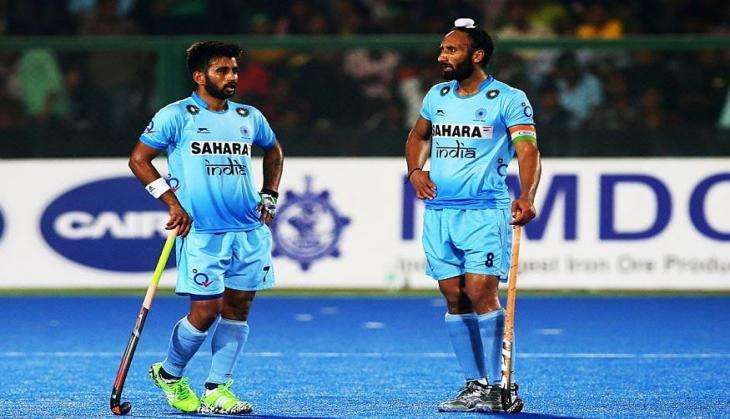 The Indian men's hockey team squandered a one-goal lead to go down 1-3 against Belgium in the quarterfinals at the Rio Olympics on 14 August.
In a high speed encounter, it was India who had the first real attempt at goal as Sardar Singh's deflection forced a sharp save from Vincent Vanasch in Belgium's goal.
Belgium soon started dominating the possession and exerting their influence on the game, Sebastien Dockier drawing a superb save from Sreejesh in the 14th minute of the quarter.
The save was to prove crucial. India slotted home the opener for the game a minute later. A Manpreet Singh long ball found Akashdeep deep inside the circle in front of Belgium's goal. The striker smartly deflected it past Vanasch to give India the lead going into the first break.
Belgium came out stronger in the second quarter, and the game soon settled into a defence vs attack style. India defended deep looking to play on the counter. Akashdeep soon had a chance to double his tally for the game, taking a smart pass at the top of the circle, and turning away from his marker. His reverse hit, powerfully struck, went just wide of the post. Soon Sreejesh was called into action, saving a shot from John-John Dohmen.
In the final minute Belgium had their first PC, blocked away by the Indian rushers to go into halftime with India leading 1-0.
Belgium were barraging the Indian goal from the restart, Sreejesh at his best, keeping India in the game. The highlight of the saves was where he padded away a one-on-one against Thomas Briels and then spread himself big to deny the rebound. Briels was forced scoop the ball over the goalkeeper but his attempt went wide.
In the 34th minute, Belgium got the goal, Dockier the scorer with a strong hit from the top of the box to give Belgium the equaliser. Sreejesh pulled off another superb save, this time from Emmanuel Stockbroekx before pulling off a save from Belgium's second PC.
In heartbreaking fashion, India conceded the goal in the final minute of the quarter, after a reverse hit cross found its way into the circle. Dockier dived in full stretch, deflecting the ball past Sreejesh into the top corner to give Belgium the lead.
Belgium scored a third in the final quarter via Tom Boon to extend their lead. India were soon forced into pulling off Sreejesh and play with eleven field players going on the attack. They would have their chances, but Belgium held out to win the game and proceed to the semi finals.