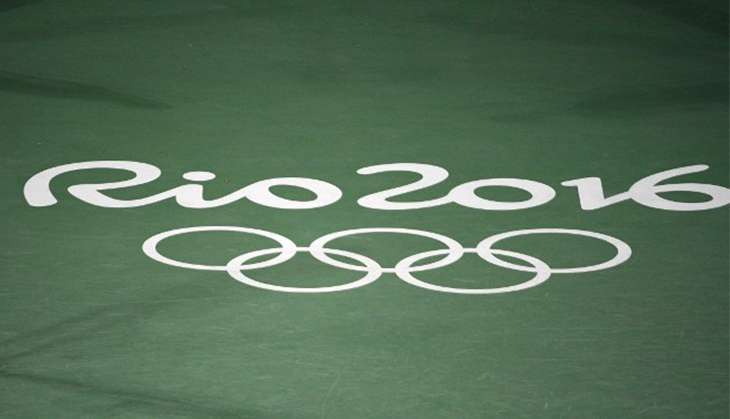 Day 2 at the Rio Olympics has just about come to a close with a horrific cycling injury, Williams sisters being ousted and Kosovo winning their first ever mdeal as an independent nation. As far as our Indian athletes go, there isn't really much to talk about except a spirited performance from the women's hockey team against Japan and Dipa Karmakar's historic debut.Here's a roundup of all that happened on Day 2, starting with the Indians:
1. Women's hockey
India kickstarted their women's hockey campaign with a spirited performance agains the Japanese, one of the weaker teams in the group. The women's hockey team has qualified after a gap of 36 years. Inida could have taken the lead with two close chances from Preeti Dubey and Poonam Rani but they failed to find the target. Instead, it was Japan who took the lead through Emi Nishikori and then doubling their lead through Mie Nakashima. This didn't deter India who kept on fighting and staged a welcome comeback with goals from Rani Rampal and Lilima Minz. The final score ended 2-2. India will be facing Great Britain next on 9 August.
2. Heena Sidhu (shooting)
India's campaign in shooting suffered another setback after Heena Sidhu failed to qualify for the women's 10m air pistol event on 7 August. The 26-year-old finished in 14th position with a score of 380 points. Sidhu joins compatriots Apurvi Chandela and Ayonnika Paul, who had failed to qualify just a day before. Sidhu will have shot at redemption when she competes in the 25m pistol event on 9 August.
3. Manavjit Singh Sandhu and Kynan Chenai (shooting)
After the first day of men's trap qualification event at the Rio Olympics, Manavjit Singh Sandhu and Kynan Chenai finished 17th and 19th respectively.
Both shooters will be back in action on Monday, 8 August. The second day of qualification will see two more rounds of 25 targets each. Fabbrizi Massimo of Italy was the only shooter to produce a record score of 75.
4. Women's archery
The women's archery team stumbled into the quaterfinals after beating Columbia in a scrappy pre-quaterfinal matchup.
The woman's archery team comprising of Bombayla Devi, Laxmirani Majhi and Deepika Kumari defeated Columbia 5-3 to advance. After winning the first set, India was let down by some poor shots and lost it 50-49.
The third set was a dead tie at 51 apiece and in the final set India finished strong to defeat Columbia 52-44.The topsy-turvy quarterfinal against Russia saw India coming from a 0-2 deficit to lead 4-2 with Bombayla and Lamirani anchoring the team.
Out-of-form Deepika was to blame for letting the Russians back into the tie as they made it 4-4. Into a shootout we went, where the Indians needed three 10s to clinch the tie. Bombayla and Lamirani hit 10s but Deepika could only manage a 9 against eventual silver medalists Russia at the Sambodromo arena.
5. Dipa Karmakar (gymnastics)
Dipa Karmakar was one of India's biggest medal hopes as she is the only one at Rio Olympics to have successfully landed the Produnova Vault, which has a difficulty of 7.0, the highest.
While Karmakar participated in all four events - vault, uneven bars, beam and floor exercise - her focus was on the vault and it showed.
Scoring a 14.850, it was only good for sixth place after 3 subdivisions of qualification had taken place. While many Indian news channels congratulated her on qualifying for the final in sixth place, this wasn't the case as two more subdivisions of qualifying were left to take place and only eight gymnasts qualify for the final.An agonising five-hour wait and 38 competitors later, Karmakar's fate was known and it was good news.
USA's Simone Biles pushed Karmakar down to seventh while Canada's Olsen Shallon pushed her down one more spot to eight. That was to be it as no other gymnast could beat Karmakar's score meaning she qualified in eight place and will take part in the vault finals on 14 August.
6. Star Sports to blame? Nope
Dipa Karmakar was slotted in women's qualification subdivision 3 that took place on 7 August at 11 PM IST. A lot of people stayed up and a lot were angry. Reason being that they wanted to see one of the most hyped Indian athletes take part and for most of her qualification, Karmakar was not televised.
While people were quick to blame broadcaster Star Sports, let's take a moment and step back here. Surely if Star Sports had a feed of Karmakar, they would have shown her, right? Well, the feed comes from the host broadcaster in Rio and not an individual feed that Star Sports gets. Hence, one cannot at all blame Star Sports for this. Indian fans sure were an angry lot, especially on Twitter.
Congratulations to Dipa Karmakar!! Even though we didn't get to see all of your performances because @StarSportsIndia forgot you were there.

— Pallabi Gogoi (@gigi_19) August 7, 2016
While that was that for the Indians on Day 2, the action didn't stop there. Here's a quick summary of what else happened at the Rio Olympics:
7. Gaurika Singh (swimming)
At 13 years of age, Nepal earthquake survivor Gaurika Singh, is the youngest competitor at the Rio Olympics. Minutes before her race in the women's 100m backstroke, Singh ripped her costume while trying to put it on. After switching to a different costume, Singh raced and managed to finish first in her heat. She may have finished 31st overall, but she did manage to win a lot of hearts. With age on her side, here's looking forward to her in the next four Olympics, at the very least.
#GaurikaSingh wins her heat #Rio2016 pic.twitter.com/QHp4fGSAiw

— SheThePeople (@SheThePeopleTV) August 7, 2016
8. Kosovo's first independent medal
Kosovo was given the green light to compete for the first time ever as an independent nation at the Rio Olympics 2016 and they made the most of it. And Kosovo has Majlinda Kelmendi to thank.
Kelmendi took down Misato Nakamura of Japan in the semifinals the women's judo 52k weight class to assure herself of at least a silver medal. She did one better though when she defeated Italy's Odette Giuffrida to take home the gold medal.
Kosovo has been in the olympics 1 day and already has a gold medal. Nice job.

— Meri (@merimaaab) August 7, 2016
9. Annemiek van Vleuten (cycling)
A horror crash marred the women's road race on Day 2 of the Olympic Games in Rio. Dutch cyclist Annemiek van Vleuten was taken into intensive care with three cracks in her spine and a concussion after a horrific crash while leading the Olympic women's road race.
On the final descent, down the Vista Chinesa, Vleuten went over her handlebars at high speed just 11km from the finish line.
NEEEEEE Annemiek van Vleuten. Down #RioOlympics2016 #Rio2016 #NOS pic.twitter.com/GrTx4HwLov

— Tom Croes (@TomCroesNL) August 7, 2016
Italy's Vincenzo Nibali broke a collar bone on the same descent while leading the men's race on Saturday, 6 August.
10. South Korea's women archers
South Korea beat Russia to stay undefeated ever since archery was introduced in the 1988 Olympics. The South Korean team of Chang Hye Jin, Choi Misun and London 2012 individual Olympic Champion Ki Bo Bae won Korea's eight straight gold medal. Korea took the final against Russia 5-1. Korea had already taken home the gold medal in the men's team competition on Day 1 of the Olympics.After debuting in 1988, matchplay was introduced to the archery competition in the 1992 Olympics. In a streak that's lasted 24 years, the Korean women have never lost a match the Olympics.
11. Williams Sisters and Murray brothers out (tennis)
In what was the shock of not just these Olympics, but many an Olympic tournament, Serena and Venus Williams lost their first ever women's doubles tennis match when they were uncharacteristically dumped out in the first round by the Czech pairing of Lucie Safarova and Barbora Strycova. The Williams Sisters had won the gold medal at the Sydney in 2000, Athens in 2004 and London in 2012. They lost in straight sets 6-3, 6-4. The sisters had won their previous 15 matches.
Defending #Tennis gold medallists Serena and Venus Williams #USA fall to Lucie Safarova and Barbora Strycova of #CZE pic.twitter.com/qqMQlyhe3b

— Rio 2016 (@Rio2016_en) August 7, 2016
The Murray brothers - Andy and Jamie - were also knocked out in Round 1 of the men's doubles tennis event at Rio. The Britons were seeded second. They lost to the Brazilian pair of Thomaz Bellucci and Andre Sa in two tie-breakers 7-6 (8-6) 7-6 (16-14).
12. Novak Djokovic (tennis)
In another upset in tennis on Day 2 of the Rio Olympics, world no. 1 Novak Djokovic - winner of the Australian Open and French Open in 2016 - was knocked out by 145th rank Argentine Juan Martin del Potro.
Del Potro won both the tie-breakers to take the match in straight sets 7-6 (7-4) 7-6 (7-2). Del Potro had earlier beaten Djokovic in the bronze medal match back in London in 2012. "I'm very sad and disappointed from my side to go out in a tournament this early, but on the other hand, I'm glad a good friend of mine, and somebody who has struggled the last couple of years with injuries, is back and playing at this level," Djokovic told reporters.
I just asked Djokovic in the mixed zone how much this loss hurt. His answer: pic.twitter.com/wmX3vD1HND

— Christopher Clarey (@christophclarey) August 8, 2016
13. World records tumbled in the pool
A host of world records were broken on Day 2 of the Rio Games in the swimming pool. First up it was American Katie Ledecky who shattered her own world record in the 400m freestyle event.
This was her first gold medal of the Rio Games. She broke the world record with a timing of 3 minutes 56.46 seconds. Her previous record was 3 minutes 58.37 seconds.Adam Peaty was the first Briton in 28 years to win an Olympic swimming gold medal. This was also Great Briton's first gold medal of the Rio Games.
In the 100m breastroke event, he swam with a timing of 57.13s, destroying his own world record. The world record he sat the day before of 57.55s was long gone.Sweden's Sarah Sjostrom broke her own world record in the 100m butterfly event on Sunday, 7 August to win gold at the Olympic Aquatics Stadium. Sjostrom finished in just 55.48sFinally, all eyes were on Michael Phelps. His first race at the Rio Games was the 4x100m freestyle relay. His blazing second leg helped the United States hold off France, Australia, and Brazil.
Phelps now has 19 gold medals in Olympic history, adding one to his previous record of 18. He has a total of 23 medals, also improving upon his record of 22.
14. Weighlifting world record
It was the turn of the Chinese on Day 2 to set a world record in weightlifting. China's Long Qingquan, the man who set it. He lifted a combined world record of 307kg to win Olympic gold in the men's 56kg weightlifting. Long lifted 170kg with his last attempt in the clean and jerk and snatch gold from London 2012 champion Om Yun-Chol of North Korea. In the snatch segement, Long matched the 16-year-old Olympic record of 137kg.