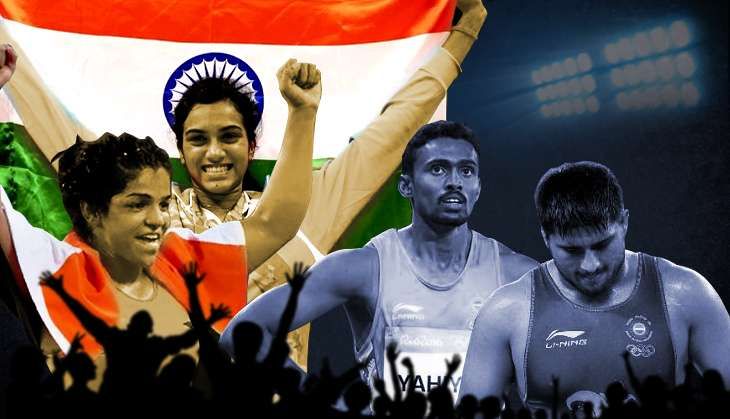 It\'s coming to the end of the Rio Olympics, and India\'s performance - Sakshi Malik, PV Sindhu and Dipa Karmakar\'s brilliance notwithstanding - has been lacklustre.
India has never been a sporting powerhouse at the Olympic level, but it\'s disappointing because the country has constantly improved its outings between Atlanta 1996 (one bronze medal, courtesy Leander Paes) and London 2012 (six medals).
Let\'s put the record straight right at the outset - it\'s no good blaming the athletes (sorry, Shobhaa De!). There is literally no one who takes it easy after qualifying for the Olympics - if the athletes were to relax merely after qualifying for events, they wouldn\'t have got even this far in their careers.
Neither is it entirely the fault of successive Central and state governments that India does not have a deeply-entrenched sporting culture across the board. After all, if it weren\'t for government funding and infrastructural support, India would not be able to send a single athlete to the Olympics. Except the tennis stars, maybe.
But the need of the hour is to realise what we\'re doing wrong, and what we must do to set it right in time for Tokyo 2020 and beyond.
01
Stop blaming athletes, support their toil
Let's start with us, the fans, who wake up once every four years and realise that sports like shooting and gymnastics exist. While Olympic sports come into our consciousness only when the Olympics, Asian Games and Commonwealth Games roll around, always remember that for these athletes, it's a 24x7 process.
It's very easy to sit in our living rooms and say they're merely tourists enjoying the scenery in Rio or London or Beijing - try going to your nearest Sports Authority of India centre and watch them train or compete at national championships. These athletes need our constant support.
Dipa hasn't become the master of the Produnova vault overnight - it has taken her years of toil to get there. If Abhinav Bindra lost in a shoot-off for the third position, it's not that he's become a bad shooter; it's just that on that one shot, his rival was better than him.
It's no good parroting the same line over and over again - how can a nation of 1.3 billion people not produce Olympic medallists? Because it's not a popularity contest, it's about getting the facilities. And our athletes are still wishing for those.
It is often pointed out that Indian parents are more keen on their sons and daughters scoring marks and becoming doctors and engineers than helping them chase a sporting dream.
Parents, there's just one question you must ask yourselves - would you rather be the proud parents of Dr John Doe working at the local government hospital, or would you rather take a chance and be the proud parents of Michael Phelps or Usain Bolt or Gagan Narang or Saina Nehwal or MC Mary Kom?
It needs an attitudinal shift. And it's today's parents who can make or break tomorrow's top athletes.
03
Release funding years in advance
The powers-that-be need to realise that releasing funding a year-and-a-half before the Olympics will do the athletes no good.
The Olympics are a huge step up from every other stage of competition. Mentally, it's the biggest challenge an athlete can face - and our Indian athletes are mostly at a disadvantage, because they get 'world-class' facilities just a year or two out from the Olympics, whereas their competitors from sporting powerhouses have been training for this moment for years upon years.
You don't make a Michael Phelps with a year-and-a-half worth of funding.
04
Catch them young, and train them to be world-beaters
Every time the Chinese start winning at the Olympics, pictures and stories start doing the rounds of the internet about how inhumanly they treat their children while training.
But the larger point is this - if you want to succeed, catch them young, and then train them to be world beaters.
Look at the Americans - their youth systems are so strong that they can identify the top talents in their early teens, and then the full machinery backs them while they get exposed to every possible situation.
If India can institutionalise a process to identify the cream of the crop at the age group level, let's say at an under-16 level, and then train them in the long run, some of them will eventually turn into world-beaters by the time they're 24.
Abhinav Bindra is a prime example of this. He picked up the rifle as a 14-year-old in 1996, and by the time Sydney 2000 rolled around, he was competing at the Olympic level. He was a Khel Ratna before the age of 18, in 2001, but it took him a series of heartbreaks and a host of experiences to finally become Olympic champion at Beijing 2008, at the age of almost 26.
One shooter who had failed to deliver at the London Olympics told this correspondent the story of how intimidating it was to live at the Games village.
According to the shooter, from the moment one arrives at the village, one sees athletes from other countries who are just more confident and seem better prepared. Their training regimes are much more focussed and structured than Indians', and thus, even before a ball has been kicked or a shot fired, Indian athletes have lost the mental battle.
It wouldn't hurt to enlist the help of sports psychology professionals for our champion athletes. After all, India's lone individual Olympic gold medallist, Bindra, had the help of Dr Amit Bhattacharjee at his beck and call. And that helped, didn't it?
06
Back the right horses to the hilt
Corporates are beginning to show an interest in sponsoring Olympic sports too. But, like the government, they must realise that returns on investment will not be a two-year process. It might take four, eight or even 12 years for that investment in an athlete to turn into a tangible return in terms of medals.
Which is why it is important for them to identify talent and back it to the hilt. Yes, there will be disappointments on the way, but if the athlete is talented enough, and is given the RIGHT training, he or she will eventually succeed.
Don't abandon them midstream - eventually, while all athletes will not succeed, some will. And that'll be your return on investment - when an Olympic medallist will owe his or her success to you.
07
Force sports federations to professionalise by giving them more attention
Yes, the national sports federations and their politics are often a roadblock for athletes. But the fact is that in most cases, they're not ACTIVELY trying to undercut athletes - it's simply a bureaucratic lethargy or political wrangling that makes the athletes lose out.
Private money will help make these federations more accountable. As will paying attention to these federations. They get away with so much because nobody's looking.
When athletes succeed, we, the people, must ask more questions. Get the media to cover these federations more actively. That's how they'll become more responsible, more professional.
The National Rifle Association of India (NRAI) is a prime example of this. While it is still wracked by political wrangling, it has taken on a semblance of professionalism because shooters have been in the limelight more than any other sportspersons, because of their success at international competitions. Success will bring media attention, bring sponsors, and force the sports bodies to change their ways.
Today, after the shooters failed in Rio, the NRAI has appointed a Bindra-headed committee to conduct an inquiry, and help it learn lessons for the future. This is the same federation that changed its mind about a silly rule it was trying to bring in for Olympic selection, under pressure from the athletes' commission (also headed by Bindra).
The shooters still have a lot to complain about, but a lot has improved since Rajyavardhan Singh Rathore won a silver medal at Athens 2004.
Most of these suggestions probably won't help make a major shift in fortunes in time for Tokyo 2020. But what India needs is a constant upswing. And for that, a new base has to be formed - a more professional, pragmatic, and politics-free atmosphere.
Rio is coming to an end. The time for a change is now.
More in Catch
Sindhu didn't lose the gold, she WON the silver. Now on to bigger things
Farewell, Abhinav Bindra! Your legacy is so much more than the Beijing gold
Forget Bollywood. Make Sakshi, Sindhu, Dipa the faces of Beti Bachao