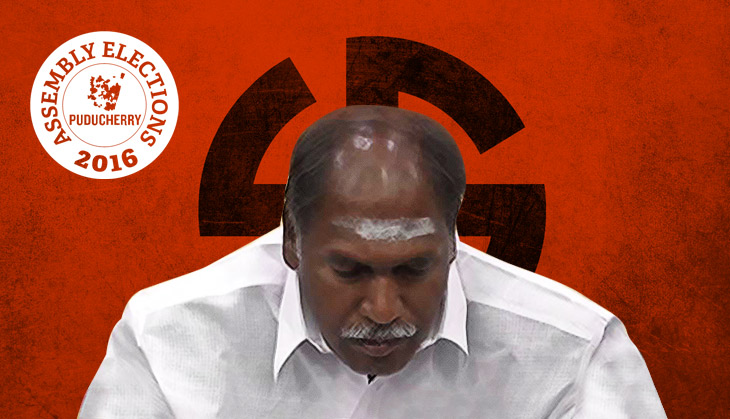 On a day when the Congress suffered electoral reverses everywhere else, it won the right to form the government in the Union Territory of Puducherry.
Chief Minister N Rangaswamy, who presided over the name change from the French colonial Pondicherry, and broke away from the Congress in 2011 to form his own All India NR Congress, has been sidelined.
Instead, the Congress-Dravida Munnetra Kazhagam alliance won 17 out of 30 seats in the Puducherry Assembly, getting 30% of the votes. The All India NR Congress got just eight seats.
The drubbing must have come as shock to the AINRC, as its candidate R Radhakrishnan won the lone Lok Sabha seat by a cool 1.5 lakh votes against the Congress incumbent V Narayanswamy, who was also a minister in the UPA government.
The new Chief Minister may be outgoing leader of opposition V Vaithilingam, who was the CM twice before (1991-96 and 2008-11).
Tale of two hamlets
The election results in Pondy, as it is fondly known, are interesting for many other reasons.
Puducherry includes two tiny territories hundreds of kilometres away from the city, enclaved in different states.
The Congress wave reached one of them, Yanam, 800 kilometres due north along the east coast in the Godavari delta. Over there, Malladi Krishna Rao won with an over 60% margin.
Understandably, the Congress wave failed to reach the shores of Mahe, 600 km away, but along the Kerala coast. Here the Left wave prevailed, and Communist Party of India (Marxist)-backed independent candidate Dr V Ramachandran won by a 25% margin against the Congress candidate.
Interesting facts
Dr Ramachandran is the only doctorate to have won a seat. Thirteen legislators, including him, have studied at least until graduation.
The Congress's A Johnkumar is the only winner to have declared himself illiterate, but he is also the third richest with Rs 37.9 crore in assets.
The richest winner is All India NR Congress's Ashok Anand, who declared assets worth Rs 124.8 crore.
In all a whopping 83% winning legislators have declared assets worth at least Rs 1 crore, while 90% have filed income tax returns. Four have serious criminal cases against them.