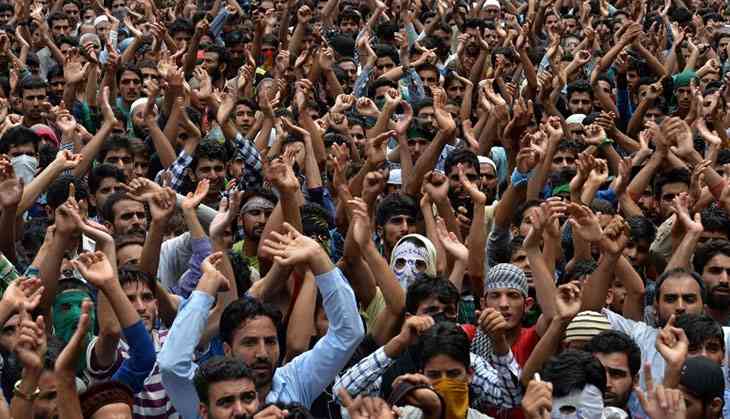 Kashmiri mourners shout anti-Indian and pro-freedom slogans during the funeral of four civilians at Aripanthan Magam village in Budgam district on the outskirts of Srinagar on 16 August 2016. (AFP PHOTO/TAUSEEF MUSTAFA)
Even the pro-India mainstream leaders concede that the record low voter turnout in the just-concluded by-election for Srinagar Parliamentary constituency in the Kashmir Valley "is a mathematical proof of our irrelevance" in the current political scenario.
What has changed so drastically in recent years? Why is there "loss of confidence" in mainstream politicians? And, why is their "space shrinking" in Kashmir by their own admissions?
In the words of a pro-India Kashmiri politician, the streets in Budgam district a few days before the bloody by-elections for Srinagar appeared "deserted, abandoned and bombed".
While requesting anonymity, this mainstream politician said, "I felt like a renegade. I could see the indifference in their (people's) eyes."
He was right.
About two weeks before the 9 April by-elections in Srinagar constituency, comprising three districts viz Srinagar, Ganderbal and Budgam, three civilians were killed in firing by government forces in Budgam. The locals were mourning their dead. They were angry.
I too visited Budgam before and after the by-elections. Thrice.
On my two separate visits to the district, I could sense that not many people would come out to cast their vote on 9 April.
I visited Budgam again, for the third time, after the re-polling in 38 booths on 13 April. Not much had changed except the fact that three civilians were killed before the by-elections and eight more on voting day itself.
On 28 March, government forces in a joint operation had killed a militant identified as Touseef Ahmad Wagay, a resident of south Kashmir's Kulgam district, in Chadoora, Budgam. Such an encounter in Chadoora had happened after a gap of many years.
Touseef Wagay was affiliated with a prominent local rebel outfit, Hizb-ul-Mujahideen. For some time, he was undergoing treatment in a house of a local doctor, Shaheen, in Chadoora town, some 17 km from the summer capital of Srinagar.
Blood on the streets
As the operation was still on, some youths from neighbouring localities had gathered outside, at least two km away from the encounter site. They were shouting anti-India slogans. Some of them were also hurling stones at the forces, according to the police.
The Central Reserve Police Force (CRPF) and Jammu & Kashmir Police personnel used force to disperse the protestors. Eventually, three young boys were killed.
One of them was 22-year old Zahid Ganai, a final year B.Sc. student, who also used to lend a helping hand to his father in their gold and cosmetics business. Brother of five sisters, Zahid was a lone son in the Ganai family.
Zahid's family refused to buy the official version of his killing. They said he has never participated in stone pelting.
Abdul Raseed Ganai, Zahid's father, said that "they (government forces) kill innocent people for sport in Kashmir to instil fear."
The family members said that since all the shops were closed owing to the encounter between forces and a lone militant in nearby Chadoora, Zahid was sitting idle at his home. Later, he went out with his friends. They were chatting on the shop front, they said.
A close relative of the slain youth said that the local SOG (Special Operations Group) personnel had directed Zahid and his friends to go home. On their refusal to do so, a heated altercation followed between the SOG personnel and Zahid's friends.
"Without a warning, the SOG personnel fired directly at Zahid," a friend of Zahid alleged.
"Their intention was to kill because if they wanted to save him they could have fired at his legs," Dr Shabir, Zahid's brother-in-law, said.
Seeing Zahid battle for his life in a pool of blood, his friends immediately moved him to a sub-district hospital from where the doctor referred him to Srinagar's SMHS hospital. But it was too late. There, the doctors declared him "brought dead".
Moeen, a class X student and Zahid's cousin, said that he saw no bodily movement in Zahid.
"I took him to the hospital. He breathed his last in my lap."
According to him, Zahid was an adventurous person who would often visit Chennai, Mumbai, Delhi and other places for fun.
"Zahid was never interested in politics. He would never discuss local politics either," he said.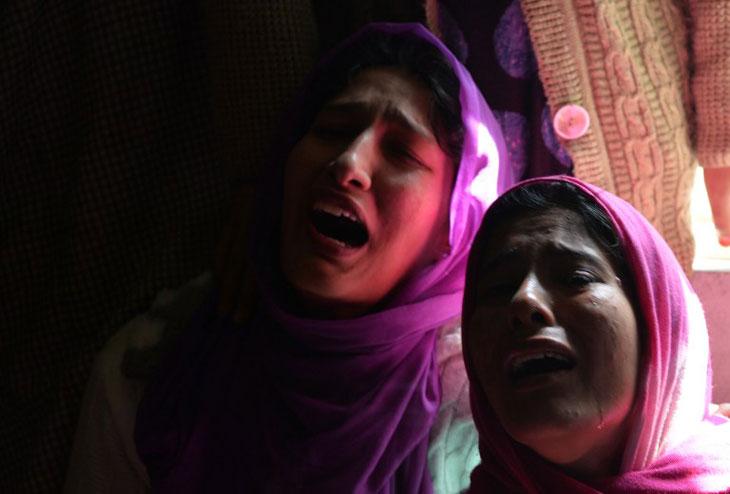 The daughters of Kashmiri taxi driver Ali Muhammad Dagga, 55, who died when when he and the car he was driving were caught in clashes between Kashmiri protestors and Indian government forces weep during his funeral in Srinagar on 11 April 2017. (AFP PHOTO /TAUSEEF MUSTAFA)
As mourners continued to gather at Abdul Raseed Ganai's house on the eighth straight day after Zahid's killing, I asked a few of them about their views on Kashmir's political scenario and the then upcoming by-elections, which were scheduled for 9 April.
"In entire Budgam, there is a deep sense of injustice and anger against the killing of our innocent boys," said one of the mourners.
"No one amongst us will cast vote for any party. We will boycott the elections," said another.
Budgam otherwise is known for decent voter turnout. But, that was not the case this time around. Locals were also annoyed with the Hurriyat Conference's brand of politics.
The united resistance leadership of the Hurriyat had called for a day-long bandh, but Chadoora town and other major areas in the district observed strike for eight days to mourn the killing of three civilians on 28 March.
Apart from Zahid, two other boys namely Aamir Waza and Ishfaq Ahmad from neighbouring areas, Wathoora and Rangreth, were among those killed.
The local shopkeepers' union in Budgam had shut their businesses in protest. All educational institutions were closed down. Traffic too was off the roads.
"They (government forces) can kill anybody. They enjoy impunity. They know that no one can punish them," said a local shopkeeper.
Anyone I talked to in the town was outraged. I also visited the house where government forces had killed the Hizb rebel. The two-storey concrete house he was hiding in was blown into pieces by the forces.
While travelling back to Srinagar, I told my journalist friend from Bangalore that there will be record low voter turnout this election. She nodded in agreement.
All anger, not enough votes
There was 7.14% voting on 9 April in Srinagar and only 2% on the day of re-polling. "You are witnessing political radicalisation in Kashmir because of New Delhi's arrogance," said a pro-India politician who requested anonymity.
"Delhi's treatment of Kashmiris has made people lose confidence in mainstream politics," he added.
On 10 April, a day after the by-elections, I travelled to Dalwan hamlet of Budgam district where two boys were shot dead by government forces on the day of polling.
Dalwan, about 42 km from Srinagar, is a remote village in Chrar-e-Sharief town of Budgam. Ringed by bare willow and walnut trees, Dalwan witnessed no voting. There was eerie silence in the village. Villagers did not come to vote. They were also mourning their dead. The two boys.
One of them was 12-year old Faizan Fayaz Dar.
The day Faizan was killed, his mother Zarifa said that he had a cup of Nun Chai (traditional Kashmiri salted tea) before attending a local seminary for his regular Koran lessons.
Eyewitnesses alleged that Faizan was shot dead by government forces without any provocation while he was returning home with Koran in one hand, and biscuits in the other.
Paramilitary personnel, eyewitnesses alleged, had shot him in the back of his head. They said they heard four shots which rang out of the single-storey, old school building which, according to some, was being pelted with stones thrown by protesters from a hillock above.
"It was a target killing," a local teacher alleged.
A senior security officer while maintaining that "instructions are very clear to our soldiers to exercise maximum restraint" expressed regret over the loss of life. "Loss of life is indeed very tragic. Why should young boys die?" the officer said.
The ones who really pay for war
Zarifa, Faizan's mother, was wailing. Her relatives were trying to console her, but to no avail.
She was repeatedly shrieking, "Myani gobro, myani gobro, kotha tamah oasuy tschei parnuk! (My son, my son, how concerned you were about your studies!)"
She kept asking how she was to look at Faizan's school bag and books now?
"Lagya myani taleem yafta gobro, sarnee sawaalan oasukh jawab divan (Oh my educated son, you would answer every question with ease)," the mother keeps repeating these words.
The son of a farmer Faizan was a darling of the small Dalwan hamlet. His classmate and friend said that Faizan was a very shy boy and loved to play cricket and volleyball.
Fayaz Ahmad Dar, Faizan's father said that "blood of innocents in Kashmir will never go waste".
"We are helpless. But our blood will speak. Kashmiris will succeed one day," he said.
Many angry villagers said that India under Narendra Modi, with the help of some pro-India politicians in Kashmir, was planning to "wipe out Muslims of Kashmir".
Mainstreamisation of right wing politics in mainland India is impacting Kashmir. And hatred for mainstream politicians in Kashmir, seen as Delhi's collaborators, is on the rise.
"As of today, an ordinary Kashmiri feels more alienated, humiliated and sidelined. The element of fear has taken a backseat," a pro-India politician conceded.
"Mainstream politics in Kashmir is at the precipice of complete irrelevance."
The views expressed here are personal and do not necessarily reflect those of the organisation.
Edited by Jhinuk Sen