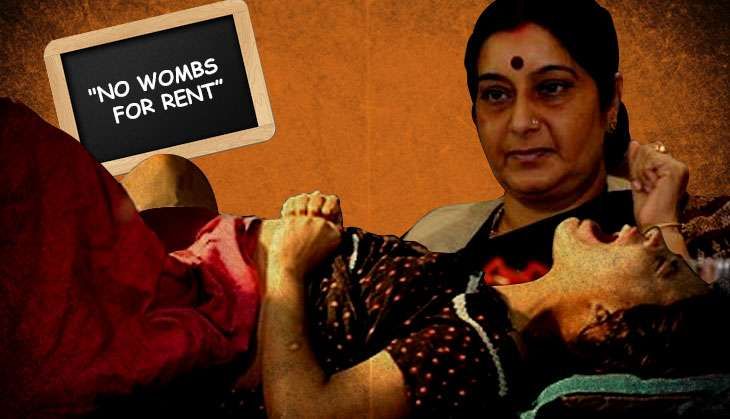 When Sushma Swaraj introduced the Surrogacy Regulation Bill, 2016 to the Cabinet, saying: "The Bill allows surrogacy only for necessity not for luxury or fashion as we have seen repeatedly," I breathed a sigh of relief.
In a nutshell, the new bill bans all forms of commercial surrogacy. The only kind of surrogacy it allows is altruistic surrogacy by close family members.
That too is allowed for Indian married couples only. No foreigners. No homosexuals. No single parents. A woman can only be an altruistic surrogate mother once in her lifetime. Not more.
Within what has come to be known as the surrogacy capital of the world, responses have been from jubilance to disbelief to hopping mad.
Over 3000 clinics in India provide IVF to surrogate mothers. Once a woman agrees to become a surrogate, the egg is fertilised through In Vitro Fertilisation (IVF) and then placed inside the surrogate mother.
This is known as gestational surrogacy and is one of the most common ways in which artificial reproductive technology (ART) is used.
Leading ART clinics oversee 100 to 300 births every year. The number of IVF cycles shot up from an estimated 7,000 cycles in 2001 to 85,000 in 2011.
Quick Fix
Some months ago I visited one of South Delhi's most famous ART clinics just to get a peek into India's lucrative $400-million-dollar (nearly Rs 2.6 thousand crore) industry.
In the hour that I was asked to wait in a lobby full of framed Kodak moments of shiny happy parents holding newborns, I saw desperate unpregnant parents cram themselves into the sofas.
They stared enviously at the pregnant, who were shabbily dressed and ushered secretly in and out of the separate ward for them outside.
Expressions ranged from nervous and embarrassed to businesslike.
"I don't get the fuss. A womb regenerates itself like blood or like human hair. Having a child doesn't tear it down. If you can donate blood for someone else why can't you bear a healthy child and make a biological parent happy?" asked the doctor and founder of the clinic.
For a moment it sounded simple. But what happens if the parents abandon the child midway? Or if the child is born abnormal?
"Well, we once had a child born without a left ear. In no time we fixed an ear on it and gave it to the parents," she said brightly.
"Of course, if things get more complicated we give the child up for adoption," she added matter of factly.
Outside the clinic, a poor couple with two kids were breaking into a fight. The woman had just delivered her first surrogate child a week ago. She had come to the clinic to get her money. The husband, an auto walla, was telling her to go ask for her full payment.
She had only gotten Rs 70,000. She was supposed to get Rs 30,000 more after the delivery. The clinic was delaying the payment.
The mother looked exhausted. It hadn't been an easy delivery. The hospital had provided no Horlicks, no fruits, no nutritive supplements as the doctors had assured. And giving birth without even seeing the child had left a strange emptiness in the mother.
"Of course, the money is good but we are not doing this again. This was to pay off a loan. And now we're done," the husband firmly told me.
The cost of consent
Those who argue in favour of surrogacy argue on the basis of two grounds - consent and making possible "that unparalleled joy of having one's own biological child".
About consent, here is a question to consider: whose consent are we taking? And under what desperate condition of disempowerment and poverty is that consent being offered?
A desperately poor family may offer their consent to sell one of their members' kidneys, or agree to be injected with drug trials or send one of their girls into prostitution, or sell one of their children as slaves, all for a good price.
The degree of consent towards the exploiting their bodies depends on the desperation of their situation.
When will we stop greedily using the consent of the poor to our convenience? When will we stop defending the surrogacy industry under the garb of the thousands who will be deprived of a "livelihood"?
It's not just an ethical standpoint. The surrogate mother's life is fraught with risks, hardly any of which she is prepared to face.
The surrogate child is often abandoned because the intended parents have separated or divorced - often because the child didn't turn out to be of the sex they had wanted.
Take the case of Baby Manji for instance. In 2008, a Japanese couple who had arranged for an Indian surrogate to carry their baby got divorced while the child was still in the womb.
Though the father wanted custody of the baby, Indian law doesn't permit single men to adopt, so Baby Manji remained in a Jaipur hospital for two years until custody issue was resolved.
In 2010 a French gay man, who had twins through an Indian surrogate, was not allowed to travel back to France, where surrogacy is illegal.
Last October, an Australian couple abandoned one of their twin babies born to a surrogate in Delhi because they already had a child of the same sex.
The darker side
In medical terms, the practice is called Foetal reduction.
While a woman can accommodate two embryos inside her uterus, it is common practice for ART clinics to illegally inject three embryos and later remove the ones with the gender the parents don't want at a later stage imposing great risks to the health of the surrogate mother.
Each of these issues are too complex and fraught with risk to allow and regulate.
As far as the second argument of that "unmatched joy" of having your own biological child, there is already one option in the making.
With ectogenesis, raising a fetus outside the human body in an artificial womb will soon become a reality.
Several are already seeing the flaws in implementing a ban on commercial surrogacy. Altruistic surrogacy, experts argue, will be used as a backdoor entry. That may well be an entire regulatory battle in itself.
These may all be imperfect solutions. But we are still on a collective path to progress if we can agree to not abuse the rights of the most disempowered just because there is a market for it.
Edited by Jhinuk Sen
Also read: Draft Surrogacy Bill 2016: Here's all you need to know
Also read: 5 completely distasteful aspects of the Surrogacy (Regulation) Bill