Ashutosh
| Updated on: 29 May 2016, 14:47 IST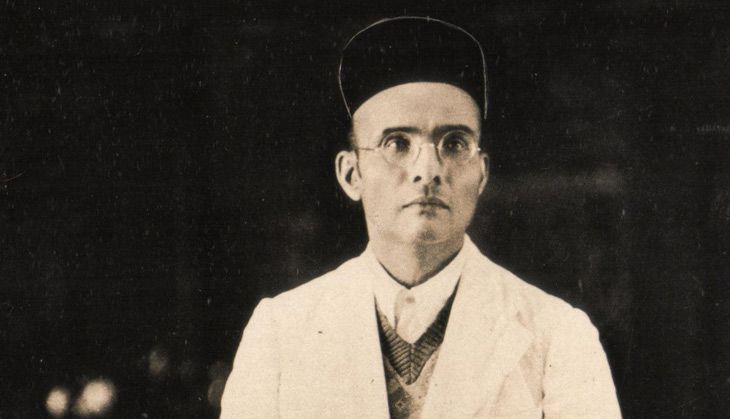 Rajdeep\'s point
Savarkar contentious, but patriot and freedom fighter
Pays respect to the \'Veer\' on his birth anniversary
Counterpoint
He was no \'Veer\'
He just could not take it in the British jail
More PoV
What makes Savarkar sell
Why it\'s necessary to call Savarkar out
My dear friend Rajdeep Sardesai has written on Twitter "Veer Savarkar: a contentious figure but a patriot and freedom fighter. Respect on his birth anniversary."
Veer Savarkar: contentious figure but a patriot and freedom fighter. respect on his birth anniv.

— Rajdeep Sardesai (@sardesairajdeep) May 28, 2016
I cannot, at any level, say that Rajdeep is rightist, or communal, or a card-holder of the Rashtriya Swayamsevak Sangh (RSS) or the Bharatiya Janata Party (BJP). He is a right-thinking journalist and does not mince his words.
But I know that his words will sound like holy bells chiming to the RSS bigots and confuse young minds. Savarkar was neither "veer" as was projected by the RSS and Hindu Mahasabha, nor was he a patriot in the classical sense; and if one compares him with Bhagat Singh then he stands nowhere.
I know that the BJP/RSS look up at him as their ideological mentor and would like to establish him as one of the brightest stars of the freedom movement.
There is no denying the fact that before his arrest he did take part in the freedom struggle; but once he was arrested and sent to Kalapani as the Cellular Jail in the Andamans was called, he was a changed man.
I hate analysing historical figures in pieces. One has to see them in totality and in that context he does not qualify as a patriot or as a nationalist.
VD Savarkar was sent to Cellular Jail in the Andamans in 1911. He wrote a clemency letter right away as he could not withstand the rigours of the British prison and he surrendered meekly.
Among the top leaders of the freedom struggle he was probably the only leader who wrote long letters, apologised to British Authority, sought a pardon and promised that if he was released from jail he would never indulge in anti-British activity.
He was true to his words after coming out of jail in 1924; he kept himself aloof, did not participate in the freedom movement.
In one such letter in 1913 he writes: "In the end may I remind your honour to be so good as to go through the petition of CLEMENCY, that I had sent in 1911 ... Therefore if the government in their manifold beneficence and mercy release me, I for one cannot but be the staunchest advocate of constitutional progress and loyalty to the English government which is the foremost condition of that progress... I am ready to serve the government in any capacity they like."
Now compare him to Bhagat Singh
When Bhagat Singh was executed, he was just 23. He did not seek any clemency.
When his father petitioned the special tribunal for his clemency, he was furious. In his letter to his father he was very bitter.
He said: "At a time when everyone was going through some kind of a test, you failed miserably ... I hate this step you have taken. Even now I will not defend myself in the court of law."
In his last petition from Lahore Jail to the Punjab governor, he wrote, unlike Savarkar: "We wanted to point out that according to the Verdict of your court we had waged war and were therefore war prisoners. And we claim to be treated as such, i.e., we claim that we be shot dead instead of being hanged."
Like a true patriot, Bhagat Singh refused to seek any mercy from the Britishers. In fact, he wanted to be shot dead by a firing squad along with two of his friends.
Whereas Savarkar, as a bargain for his personal freedom, decided to be a collaborator with the Britishers till the end. Who should then be called a patriot, Bhagat Singh who laid his life smilingly or Savarkar who betrayed his country men/women for worldly pleasure?
To call Savarkar a patriot is an insult to Bhagat Singh's martyrdom.
With respect to Gandhi
There was a great ideological difference between Gandhiji and Bhagat Singh. Gandhiji abhored violence. He practiced non-violence all through his life whereas Bhagat Singh believed in armed revolution and wanted to enact the Russian revolution on Indian soil.
He was inspired by Lenin. Like Bhagat Singh, Savarkar also advocated violence as a political tool. Bhagat Singh used to say that Gandhiji believed that mass awakening at the time of non-cooperation movement was the result of non-violence, but he was wrong.
Mass awakening was the result of direct action. But Bhagat Singh always respected Gandhiji unlike Savarkar. In Savarkar's opinion Gandhi's non-violence had weakend Hindu Society. After Gandhiji's assassination, he was accused of the conspiracy to kill Bapu and was arrested.
Sardar Patel who was the then home minister, and who is seen as a Hindu icon by the RSS, had written a letter to Nehru on 27 February, 1948 (as reproduced in Sardar Patel's selected correspondence, 1945-50, volume 2, page 283) after the assassination.
Patel writes: "Under the direct guidance of Savarkar a fundamentalist group of Hindu Mahasabha, hatched a conspiracy and executed. It seems that ten people were involved in this conspiracy and and it is also true that his (Gandhi) killing was welcomed by those in Hindu Mahasabha and RSS who used to oppose his views."
After Gandhiji's murder, eight persons were charged with murder, conspiracy to commit murder, and offences punishable under the Arms and Explosive Substances Act. VD Savarkar was one of them.
It is true that Savarkar was acquitted on 10 February, 1949 by a trial court, but it was on technical grounds - due to the lack of a second confirmative witness.
Only one person Digambar Badge, who was also accused and who had turned approver in the case, could identify him as a conspirator; but law required one more witness to confirm this. The absence of one such witness worked to Savarkar's benefit.
Patriot, who?
Now let me ask a question - how can a person who was tried for Gandhiji's murder and doubts about whose involvement in the conspiracy still persist be called a patriot?
How can a person who begged for clemency, turned a British collaborator at a time when lakhs of people sacrificed everything for the motherland be called a patriot?
Unfortunately, the RSS/BJP find patriotic virtues in him for a different reason. It is due to the fact that the RSS derives its ideological sustenance from Savarkar and his book Hindutva-who is a Hindu?, published in 1923.
Savarkar and Jinnah both were propounders of the 'two-nation theory' i.e., Hindus and Muslims both belong to two different nations and can't live together.
The RSS also subscribes to this theory. Its second chief Golwalkar had said: "The foreign races in Hindustan must either adopt the Hindu culture and language ... Or may stay in the country, wholly subordinated to the Hindu nation, claiming nothing, deserving nothing."
Rajdeep and liberals like him should understand that there is an attempt to rewrite history and icons like Savarkar are deified by the militant Hindutva to break the ideological hegemony of the liberal Left and establish a society where only one kind of thought process will be allowed to prosper and other will be consigned to the dustbin.
It will kill the very essence of India, a country devoid of diversity. It's a bigger fight where the middle path is not welcome. I hope my friends understand that.
Edited by Joyjeet Das