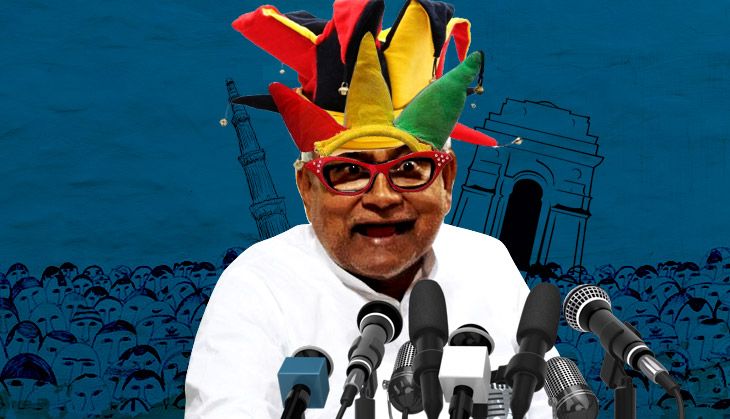 A brazen Nitish
Nitish Kumar has been talking about \'Sangh-mukt Bharat\'
He has the gravitas to take on Narendra Modi
More in the story
Will \'Nitish Kumar for Prime Minister\' find enough backers?
What are the expectations from Congress?
Speculation is rife that Bihar Chief Minister Nitish Kumar might be the leader and prime ministerial candidate of a possible anti-Bharatiya Janata Party (BJP) front for the 2019 general election.
Perhaps it is only a media fantasy. However, the idea has also been fanned by his ally, Rashtriya Janata Dal (RJD) Supremo Lalu Yadav and his ambitious son and Deputy Chief Minister of Bihar, Tejaswi Yadav. The Yadav clan's enthusiasm for sending Nitish to the Centre is not difficult to fathom.
There is also some evidence that Nitish Kumar is trying to put together a broad front of anti-BJP parties. He recently raised the slogan "Sangh-mukt Bharat" or an India free of the Rashtriya Swayamsewak Sangh (RSS), the mother organisation of the BJP and other Hindutva organisations.
Perhaps Nitish hopes to put together a viable kernel of anti-BJP tendencies now, around which a broader crystallisation might follow later.
Those anxious with Modi's rule also see Nitish as a possible knight on a white charger. Unease with Modi has grown not only amongst those ideologically opposed to the BJP but also those who were presumed to be his natural constituents - the corporate sector, the middle classes and the youth.
Losing shine
There is increasing uneasiness in non-BJP parties over the shrinking space for liberal politics and the spread of the broader Hindutva agenda of the government.
Every day new hoops are set up for people to jump through to prove their credentials as citizens and patriots. Hindu vigilantism competes with the State's development agenda for the minorities. And draping oneself in the flag competes with governance.
The corporates who had lined up behind Modi are also disappointed. The economy has not improved significantly and the state's largesse appears to be directed only to one business house from Gujarat and another run by a saffron-clad yoga teacher.
The quality of life of the middle classes has no seen perceptible improvement nor has there been spectacular job creation as promised to the youth. But the arrogance of the Prime Minister grows unabated. No amount of preening for Madam Tussaud's statues can counter the disappointment they feel when they find that their god has feet of clay - or wax.
For Nitish
In these circumstances, sundry political dreams may coalesce around Nitish Kumar as a viable challenger to Modi.
Someone who came of age politically during the JP movement, Nitish is an experienced politician with an excellent track record of governance. He is not a demagogue and has the gravitas to take on Modi. Most importantly, he has no dynastic baggage and comes with the credentials of having knocked Modi out in the Bihar state assembly elections.
In comparison, Rahul Gandhi looks immature, unsteady and uninspiring. Arvind Kejriwal might have bigger aspirations, but comes across as impetuous, unpredictable and self-obsessed. Neither is convincing as an accommodative politician capable of successfully negotiating with other regional leaders to fashion a non-BJP alliance government in 2019.
Nitish, in contrast, inspires confidence. If he could shake hands with his bete noir Lalu Yadav, he should have little problem accommodating other regional leaders.
However, there are two unpredictable factors that will determine whether Nitish Kumar can be the alternative pole of anti-BJP politics in 2019. Will the Congress party rally behind him? And will he be able to outflank the ambitions of his political rivals within the coalition?
Can he avoid the fate of Ramakrishna Hegde, who was seen as the national alternative to Rajiv Gandhi in 1986-87 but was brought down by detractors with similar ambitions?
Look at Congress
Many expect the Congress to support Nitish in 2019 because Rahul Gandhi is playing for 2024; or because with a mere 44 seats in the Lok Sabha, the electorate seems to have written the party's obit. However, such decisions will always be taken depending on the party's tally in the 2019 election.
Only 44 MPs in Lok Sabha is not reflective of the natural strength of the Congress in the country. The 2014 general election was an unusual election for reasons which have been well analysed. With a substantially diminished Modi, 2019 is bound to see the Congress increasing its tally.
There is, by and large, a direct contest between the Congress and the BJP in Gujarat (26 Lok Sabha seats), Rajasthan (25), Maharashtra (48), Karnataka (28), Madhya Pradesh (40), Chhattisgarh (11), Punjab (13), Haryana (10), Uttarakhand (5), and Himachal Pradesh (4) - that is, 210 Lok Sabha seats.
Then the Congress is also one of the main players in another 62 seats in Telangana (17) and Andhra Pradesh (25) as well as in Kerala (20).
Assuming a normal election, the Congress will get at least 40% of these 272 seats - i.e. 108. Should the Congress do slightly better and win half of these seats - 136 - then it might equally throw its hat in the ring as the core around which the next government could be formed.
At the very best, Nitish Kumar can get only 30-odd seats from Bihar and Jharkhand. Even if he is supported by every other regional leader, Mulayam Singh Yadav may go with the Congress where he would expect to exercise greater control over the government.
Remember Hegde
There is also a possibility that other ambitious leaders might get together to thwart Nitish before the 2019 election just as the immensely popular Ramakrishna Hegde was politically hobbled before the 1989 general election.
What Nitish Kumar is today, Hegde was in '86-87. He was popular, a darling of the media and known for efficient governance and pioneering legislation in local governance. He was projected as a rallying figure against Rajiv Gandhi.
Remember Hegde had resigned as chief minister after the 1984 general election, claiming he had lost the moral mandate of the people when his party was swept away in the Lok Sabha polls of that year.
Novice politician Rajiv Gandhi led the Congress to a spectacular victory of 405 seats in the Lok Sabha and 24 out of 28 seats in Karnataka. Hegde called for mid-term elections and won handsomely, becoming the chief minister again. He won 145 out of 224 assembly seats and his reputation stood enhanced beyond expectation.
Come April 1987 and the Bofors scandal broke. Rajiv Gandhi's reputation plummeted, never to recover in his lifetime. Ramakrishna Hegde, in comparison, shone as a clean, experienced and immensely popular politician with a track record of good governance.
However, the moment his rivals within the Janata Party - especially Chandra Shekhar and Subramanian Swamy - realised that he had prime ministerial ambitions, they hatched conspiracies against him. They come together with the Congress to thwart Hegde's efforts.
First, came charges against Hegde's family members - his son was accused of taking money for a medical college admission - and then a High Court observation about arrack bottling contracts forced him to resign as chief minister. However, he withdrew that resignation after three days. Finally, he had to resign once more amid charges that he had ordered the tapping of telephones of his political opponents.
The other players
Hegde discounted the ability of other potential contenders for the top job in Delhi and that is the mistake that Nitish Kumar also seems to be making. He is discounting the ambition of others - especially the UP players.
Ajit Singh, whom he wants to take on board is a minor and purely opportunistic player in Uttar Pradesh; the real political figures to reckon with in a state which sends 80 MPs to Parliament are Mulayam Singh Yadav and Mayawati.
Bihar has only 40 seats and Jharkhand only 14 - If one of the UP leaders performs as well as Nitish in the Lok Sabha, (s)he will get more seats than him. Why would either of them, with potentially more MPs under their belt, want to support Nitish Kumar?
Nitish is also not a natural ally of Mamata Banerjee or Naveen Patnaik. A crystallisation of anti-BJP forces, however desirable it might seem, therefore, may not take place necessarily around Nitish Kumar naturally.
As of now, Nitish Kumar's claim to fame is that he thwarted the Modi wave in Bihar. Beyond making up with his sworn political rival Lalu Yadav, he has little to show in Bihar yet.
Nitish Kumar has to strengthen himself on his home turf first. Only then will he also gain in stature nationally. Meanwhile, he needs to make friends rather than turning potential allies into adversaries by brazenly baring his national ambition.