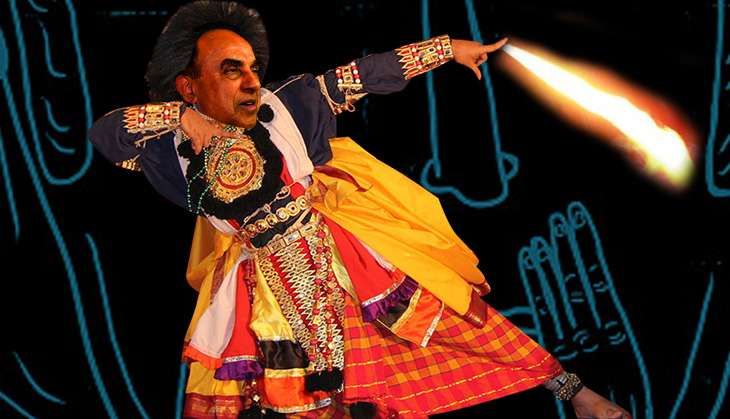 Who was Bhasmasur?
In Hindu mythology, Bhasmasur was a demon who was a devotee of Lord Shiva. His prayers and penance pleased the god, who decided to grant him a boon.
Bhasmasur first asked for immortality, but when Shiva said he didn't have the power to grant him that, Bhasmasur asked for the power to touch anyone's head and reduce him or her to ashes.
Shiva granted him the power, and Bhasmasur immediately went for Shiva's head, since he was enamoured with the god's consort, Parvati.
According to one version of the myth, Shiva went to Lord Vishnu for help. Vishnu appeared before Bhasmasur in the form of a beautiful woman, Mohini, who the demon fell in love with. Mohini told him she would marry him if he could match her dance moves, and in the process of this, made Bhasmasur place his hand on his own head and burn himself to ashes.
Swamy, the fiery weapon
Till some time ago, Swamy's fiery rhetoric was a great weapon for the BJP to possess. Be it on television debates or Twitter or in the courts, Swamy performed take-downs on the likes of Sonia Gandhi, Rahul Gandhi and P Chidambaram without batting an eyelid.
But now, that weapon has seemingly turned inwards, and is targeting key intellectuals within the government. If one were to take Swamy's Twitter rants at face value, he is set to target 27 more officials currently working for the NDA government, who 'need to be fixed'.
Swamy has a penchant for labelling everyone a 'traitor'. From foreign-returned economists to politicians and experts from other fields, Swamy's attacks are building a narrative that everyone who has lived or worked abroad cannot be trusted with the responsibility of taking India forward.
This narrative was first used by Swamy against the Gandhis, owing to Sonia Gandhi's roots in Italy.
Later, he trained his guns on Nobel laureate and Bharat Ratna Amartya Sen. Sen, who holds an Indian passport, was called 'not Indian in the proper sense', since he taught in foreign universities.
Ironically, Swamy himself obtained his PhD from Harvard, and taught economics at the famous American university in the mid-to-late 1960s.
The new Swadeshi
What happens if Swamy's narrative gets etched in the psyche of the masses? Not a single person who has ever gone abroad for research, or served in reputed organisations like the International Monetary Fund or the World Bank can ever return to the field of policy-making in India.
Just think about the NRIs who gave rousing welcomes to Prime Minister Narendra Modi wherever he went around the globe. By Swamy's logic, all they can be is cheerleaders - they can never come back and serve the country.
This seems to be Swamy's idea of Swadeshi - of India seeking foreign equity in its economy but boycotting those who went abroad to get acquainted with the processes of a globalised economy.
Angling for Finance Ministry?
Swamy's voice is louder today than it was even a couple of months ago. He is now a Rajya Sabha member, nominated by the BJP, and will get a global audience every time he speaks inside or outside Parliament.
According to some sources, Swamy has been given the responsibility of cutting the NDA's ministers to size by the RSS. Others say he is doing this to get a deal from the government. After all, he has supposedly been eyeing the Finance Minister's chair ever since the NDA came to power.
Also read- Swamy wants Raghuram Rajan gone, Twitter suggests 'economists' Sadhvi Prachi, Yogi Adityanath as replacements
Think about it - a slew of attacks on the ministry's top officials makes this argument look plausible. But can the Prime Minister afford to fulfill Swamy's ambitions by replacing Jaitley?
Who wants to be Mohini?
The BJP has delayed a cabinet reshuffle for the past many months, as it wants to ensure that its ministers do not get de-motivated. But the ministers have to work with their key officials to develop strategies, and now, the latter are feeling insecure.
This might be good news for the RSS, which would get to tighten its grip on the BJP's policies. But for a government that has failed to revive economic activity in the last two years, if its chief strategists start feeling insecure about their being foreign-returned or having worked under the previous government, it can only be a bad omen.
The question remains: if Swamy is the BJP's Bhasmasur, is there anyone within the party who can play Mohini and save these key officials?
Edited by Shreyas Sharma
More in Catch
Arun Jaitley hits back at Subramanian Swamy, stands by Arvind Subramanian
10 things that make Subramanian Swamy the unguided missile that he is
In just 2 days, Subramanian Swamy proves why BJP brought him to Rajya Sabha