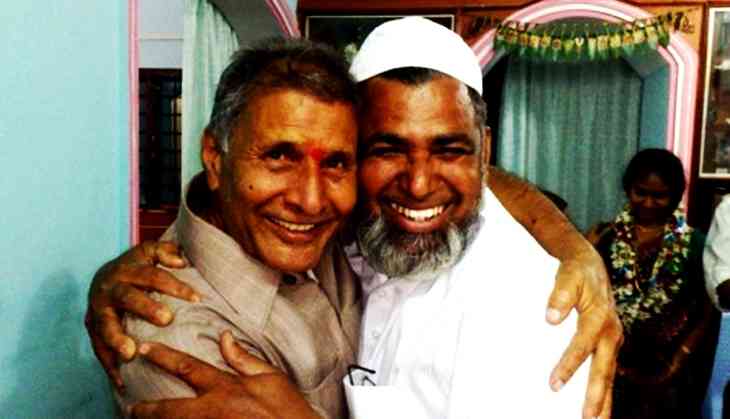 There is an intense sense of foreboding - of lurking, unnamed, unspoken fear - which Indian Muslims are learning to endure.
This is not simply the apprehension of discrimination, of being treated the 'other', in classrooms, in public spaces, in residential colonies. This they have long become accustomed to.
What is new is the persisting danger of imminent violence, of being vulnerable to attack anywhere - on a public road, in a bus or train, in a marketplace, even in their homes - only for looking and being Muslim.
In tribal regions, Christian people are also feeling a mounting dread.
There is another community as well that has long lived with everyday violence and humiliation, the Dalits. But they too are now fearful of attacks for pursuing their socially demeaning caste vocation of skinning cows.
As this fear grows like a cancer in a permissive political environment, there is very little resistance from the rest of the Indian people. Too little outrage, too little empathy and compassion.
To respond to both of these – the everyday trepidation of Muslims, Dalits and Christians, and the worrying silences of the majority – a few comrades have joined hands to undertake a journey across parts of India which are worst affected by lynching. We aim to declare that we stand with our Muslim, Dalit and Christian sisters and brothers in this hour of gathering darkness.
But the journey is also a call of conscience to India's majority. It will be called Karawan-e-Mohabbat.
The Karawan will begin from Assam on 4 September and end at Porbandar in Gujarat on 2 October. The first phase of the Karawan will cover Assam, Jharkhand, and Karnataka.
From these states, we will gather at Delhi on 21 September, and the second phase will begin at Tilak Vihar in Delhi, covering on the way to Haryana, UP, Rajasthan and Gujarat.
We will visit two lynch victim families in each state, to seek forgiveness on behalf of all of us, and to try to assess how the family is coping and what they need for livelihoods and the pursuit of justice.
We will attempt to constitute an aman (peace) committee in every place we visit, with Hindu, Muslim and Dalit volunteers (and Adivasi and Christian where applicable).
These committees will commit to support the family for justice and livelihoods, and promote amity, goodwill, and peace in the larger community.
During the travel, we hope to include a team of chroniclers - writers, poets, photographers, videographers – who will record what they witness as we travel, for the rest of us, and share it in real time as we travel.
We seek also to have speakers, singers, musicians, even maybe stand-up comedians, who will communicate to audiences in the areas stricken by hate our message of love and solidarity.
For the lynchings and the climate of hate, this Karawan will point to the culpability of the governments, political parties, partisan administrations, and marauding mobs.
But most of all it will reflect on the culpability of all of us, of the silent bystanders. It will ask us to interrogate the reasons for our collective silences, for our failures to intervene when murderous hate is unleashed on innocent lives.
In addition to the contemporary instances of lynching, we will in this journey also visit Kandhamal, Tilak Vihar and Tsundur. This is to acknowledge a much older history of communal and caste massacres, with their unmet justice and unhealed wounds, which targeted Muslim, Christian, Sikh and Dalits.
The Karawan we will stop at Mhow, the birthplace of Ambedkar, to recall his counsel that the core of democracy and our constitution is fraternity. It is fraternity today that is most under attack. The last point of the Karawan on Oct 2 will be Gandhi's birthplace, in memory of his luminous lifelong belief in Hindu-Muslim unity.
The entire journey is a humble tribute to Gandhi's last and finest months. A million people had died in Hindu-Muslim riots, yet he walked bravely alone in Noakhali for love and peace, even as the entire country was enveloped and ripped apart by hate.
In our appeal, we say, 'We need our conscience to ache. We need it to be burdened intolerably. Darkness can never be fought with darkness, only light can dispel the enveloping shadows'. To speak thus to our brothers and sisters, and to our souls, we propose to embark on this journey of shared suffering, of solidarity, of atonement and of love.