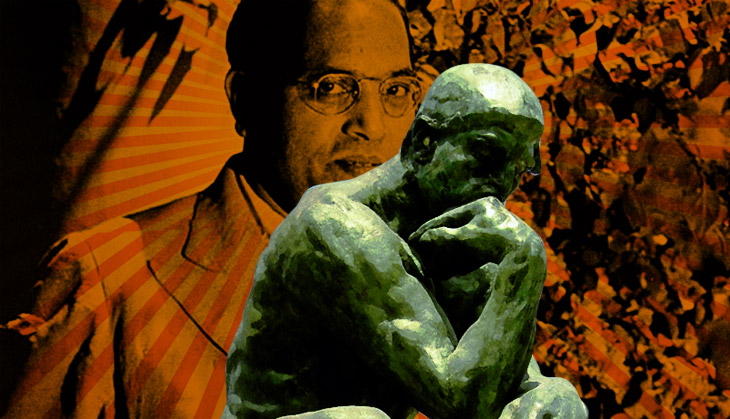 March is the month of seminars at Delhi University. This year, a series of discussions was organised on the subject of literature and identity-oriented cultural movements of the marginalised sections. And at one such seminar, intellectuals from the Dalit community achieved a significant victory.  
Starting a seminar at the Delhi College of Arts and Commerce, the moderator politely invited an intellectual to the stage to preside over a session, organised by the Hindi department, using the honorific "ji" to address him.  
But while inviting another guest to speak, he introduced him as a "Dalit intellectual". The guest, a professor of sociology at the Jawaharlal Nehru University, promptly objected to such biased introduction. Pointing out the moderator's prejudice, the professor asked why the chair of the session had not been identified by his caste? The moderator apologised for his conduct.  
Incidents like these are not new. It's observed experience that only members of the marginalised sections, no matter how learned, are addressed by their caste identities. A journalist once narrated how Babu Jagjivan Ram had objected to another scribe calling him a Dalit leader at a press conference, and asked him to explain the basis of such distinction. The journalist had to apologise.  
The journalist then went on to point out an inconsistency in Jagjivan Ram's approach: at another press conference in 1978, the leader had alleged he was overlooked by the Janata Party for prime ministership because he was Dalit.
There is no contradiction here in Jagjivan Ram's approach. The contradiction lies in the understanding of the journalist. Jagjivan Ram was indeed born in a Dalit family and there likely was caste bias in him being ignored for the post of prime minister. But how does pointing out that the abominable mindset of untouchability could have prevented a Dalit from occupying the highest seat of power in our constitutional democracy justify confining a leader to his narrow caste identity?  
Should an individual be labelled a Dalit leader for working to empower the disadvantaged sections of the society – the ultimate aim of our Constitution? It's a very delicate matter, and requires ideological diligence to understand the difference differentiate a "Dalit leader" from "leader of Dalits".
Politics of labels
To understand the difference, let us recall an incident narrated by a junior minister in the Atal Bihari Vajpayee regime. He had been actively pursuing an issue related to the welfare of Dalits when, one day, a "powerful" cabinet minister, a BJP leader who is no more, walked up to him and bluntly said he could remain in the party only as a Dalit leader, not as a leader of Dalits.
There is clear demarcation between a "Dalit leader" and a "leader of Dalits". The problem arises when a politician from the Dalit community is branded a Dalit leader as soon as he actively pursues Dalit causes. A politician from a different social background would never be called a Dalit leader if he takes up issues of Dalits. In fact, even BR Ambedkar is presented as only a Dalit leader; worse still, he is confined to representing only the "untouchable" castes. He is never presented as a leader of Dalits, the largest section of our society that has been a victim of social, political and economic hegemony for ages.
Such labels are part of a calculated strategy to confine leaders representing disadvantaged sections to the political fringe – OBC, Muslim, SC/ST leader. How else do you explain that no one is ever branded a Brahmin or Kshatriya leader? This bias operates outside politics as well. Is it not caste bias when a respected JNU professor is restricted to his caste identity as a "Dalit thinker"?  
Hearteningly, though, the people from marginalised sections of the society are now vehemently opposing such attitudes and practices. It is worth noting that at a national symposium organised by Hindi Academy not long after the event at Delhi College of Arts and Commerce, the same JNU professor was introduced as a renowned sociologist.  
We should hope that this professor, and countless other people from marginalised sections, are no longer held prisoner to their caste and community identities.
Edited by Mehraj D Lone