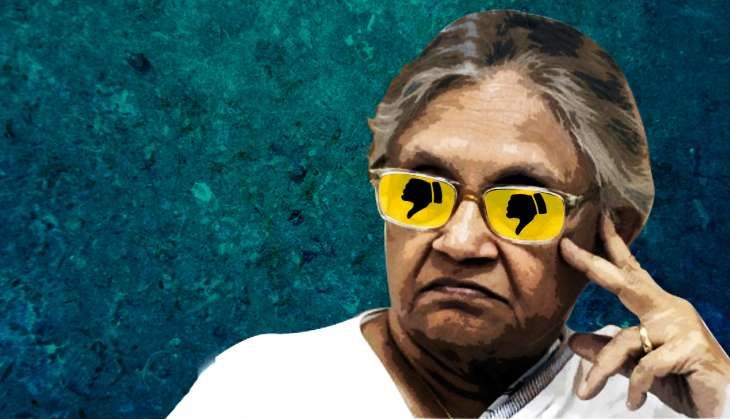 The Congress has played a big gamble with the announcement of former Delhi Chief Minister Sheila Dikshit as its chief ministerial candidate for next year's assembly elections in Uttar Pradesh. Congress might be hoping to capitalise on Dikshit's upper-caste credentials and record as a three-term former CM, but the associated baggage that she carries is heavy.
Just five reasons are enough to argue that this could prove to be one of Congress's biggest mistakes -
1.
She is an outsider - It is convenient for Congress to portray Dikshit as the daughter-in-law of Uttar Pradesh, but the fact of the matter is she is a rank outsider. She was born in 1938 in Kapurthala, Punjab, in a Punjabi Khatri family and was educated in Delhi, which also became her political home turf.
Her connection to UP is through her father-in-law, Uma Shankar Dikshit, who was an IAS officer hailing from Unnao. However, even he is better known as former Governor of West Bengal. The former Delhi CM did represent UP's Kannauj in the Lok Sabha from 1984 to 1989, but has been based entirely out of Delhi after that stint.
She was Delhi CM for three straight terms from 1998 to 2013 and has had negligible intervention in UP politics in nearly three decades.
2.
Her heavy electoral defeat is still fresh - Dikshit's political stock nosedived after her defeat in 2013 at the hands of Aam Aadmi Party leader Arvind Kejriwal. Kejriwal was a freshman in politics and Dikshit was already a three-term CM by then. Yet, not only did the Congress lose to AAP in the national capital, Dikshit personally lost to Kejriwal by a staggering margin of nearly 26,000 votes.
The Congress's numbers came down to 8 in the 70-member assembly. Dikshit has been in the wilderness since then, only having served a brief stint as Governor of Kerala in between, thanks to Congress President Sonia Gandhi's blessings.
3.
There is a mountain of corruption allegations behind her - One of the main reasons behind the AAP's and Kejriwal's spectacular rise in Delhi was the several allegations of corruption against Dikshit and her government. The biggest among these was the multi-crore Commonwealth Games scam of 2010.
There was a point of time when the Central Vigilance Commission was examining as many as 53 corruption cases related to the organisation of the games.
The Rs 400-crore water-tanker scam is still chasing Dikshit like a ghost. In fact, her announcement as UP CM candidate was preceded by another announcement by Delhi Police's Anti Corruption Branch of summoning her for interrogation in connection with a probe in the scam.
AAP has also accused her of causing undue favours to private power distribution companies and loss to the public over privatisation of Delhi's power supply.
4.
Age is not on her side - Dikshit turned 78 this March, eight years older than even the 70-year-old chief of her party and that's a big disadvantage because today's BJP, under Prime Minister Narendra Modi, attaches a premium to age. Modi boasts of following a policy of not inducting in the Union Cabinet any leader who has seen 75 autumns. He is said to have just retired Najma Heptulla from his Cabinet because she turned 76.
Congress too has tried to make much of the age factor by promoting its chief-in-the-waiting Rahul Gandhi as a leader of the youth. A septuagenarian CM candidate clearly does not fit in the scheme of things propagated so far.
5.
She is pitted against heavyweights - Just take a look at Dikshit's competition: 3-term UP CM and 6-term MP Mulayam Singh Yadav with his son Akhilesh in tow; 4-term UP CM and 5-term Parliamentarian Mayawati; Modi himself, who will be BJP's face whether or not the party announces a CM candidate.
The views expressed here are personal and do not necessarily reflect those of the organisation.
ALSO READ: Phata poster nikla hero: Raj Babbar made UP Congress chief
ALSO READ: Congress CM face in UP : Sheila throws her hat in the ring