Congress displeased with Prashant Kishor for exceeding brief in UP & Punjab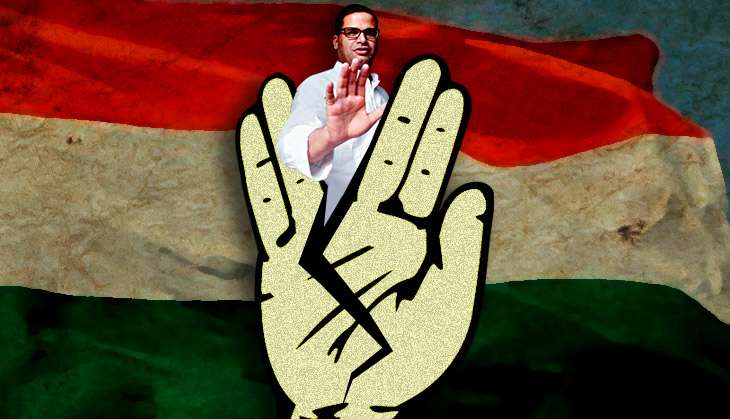 Hours before Samjawadi Party's 25th Foundation Day celebrations, Congress
poll strategist Prashant Kishor tried meeting
Uttar Pradesh Chief Minister Akhilesh Yadav at a five-star hotel in Lucknow. But the plea was not entertained by the UP CM.
Kishor's bid to meet Akhilesh was seen as yet another effort by the Congress to stitch together an alliance of the grand old party and the SP, in order to combat an aggressive BJP in next year's Assembly polls.
However, Congress leaders were clueless about Kishor's efforts to meet Akhilesh, and accused him of going beyond his mandate of formulating the party's election campaign in the state.
A wanted man
Congress had roped in Kishor for designing the party's poll strategy to revive its fortunes in Uttar Pradesh where the party had been out of power for more than 16 years. It is widely believed Kishor is negotiating with the SP to strike a deal before the polls, but what lacks clarity is whether he has the Congress central leadership's approval to do so, or is he acting on his own.
Also read -Shivpal-Akhilesh spar at SP's 25th anniversary, Lalu plays peacemaker
Controversy erupted when Kishor had a three-hour long meeting with SP supremo Mulayam Singh Yadav and his close aide Amar Singh. His meeting was seen as an effort to bring the two parties together to keep BJP out of power in India's most populous state. Earlier, he even had a closed door meeting with SP leader Shivpal Yadav at JD(U) leader KC Tyagi's residence in Delhi.
Unauthorised meeting?
However, these developments miffed the Congress's top leadership, which accused Kishor of exceeding his brief and negotiating on behalf of the grand old party without any authorisation from the top.
This is not for the first time Congress leaders have expressed strong reservations about Kishor's working style.
Congress's UP chief Raj Babbar claimed Kishor's meeting with SP leaders was a personal one and it had nothing to do with a 'secular alliance'. The former actor went on to claim that Kishor was not a poll strategist, but someone who could spread party's ideology forward in the state, using modern technology.
Several Congress leaders in UP are already questioning Kishor's ability to revive the party in the state and whether there is dearth of senior leaders in the party who could hold political negotiations with political parties in the fray.
"We have the likes of Ghulam Nabi Azad, who is also UP's general secretary in-charge, and these seasoned politicians are capable of holding such negotiations. I don't understand why Kishor is not being reprimanded for his actions," said a Congress functionary.
Fault lines
Moreover, fault lines are also emerging between the Congress and Kishor over the financial aspect of the campaign especially after Congress delayed payments to Kishor's firm IPAC. A senior Congress leader, on the request of anonymity, said payments were delayed and as a result Kishor's team stopped all work in Punjab and UP. "The team resumed work when a part of the payment was released," he said.
A cash-strapped Congress had reservations over the returns that party was expecting for the amount being spent on Kishor's campaign blitzkrieg. Meanwhile, a senior member of Kishor's team neither denied nor confirmed the payment issue but insisted no work was stopped.
In control
Several state Congress leaders have expressed reservations about star strategists' increasing interference in the party's day-to-day affairs which has led to many party workers being under the impression that Kishor will have the final word on ticket distribution.
Not long ago former UP in-charge Madhusudan Mistry had made similar observations and complained of Kishor's high handedness. He was particularly irritated with Kishor holding off-the-record meetings with journalists and pushing stories against state leaders. But his pleas were ignored and he was soon removed to make way for Azad.
Punjab Congress also rattled
A similar narrative has been unfolding in Punjab where differences between Punjab Congress chief Captain Amarinder Singh and Kishor over multiple issues have routinely made headlines.
Amarinder has been at loggerheads with the poll strategist over negotiations with other leaders, including his archrivals. Also, the impression of Kishor playing a crucial role in distributing tickets has been a bone of contention between the two.
A senior Congress leader of the Punjab unit said how Amarinder was surprised to see news reports in local media about Kishor taking a final call on the candidates. A furious Captain immediately issued a statement claiming ticket distribution is the sole prerogative of Sonia Gandhi.
Earlier in the year, the poll strategist held a closed-door meetings with expelled leaders and Captain's arch rivals - Jagmeet Brar and Bir Devinder - where he is said to have discussed their return to the party fold. An enraged Captain said Kishor's role is confined to strategising while he is responsible for running the party. He went on to add that Prashant doesn't understand the intricacies of Punjab politics and should keep out of it.
Even Kishor's back channel negotiations with former cricketer turned politician Navjot Singh Sidhu was not taken kindly by Captain who sources said asked him to keep out of it.
The perception game
Amid all these differences, party leaders suggest Kishor political innings could be over sooner than expected and the only reason the party leadership is resisting such a move is the impression it would create amongst voters who could perceive Congress to be on the losing side.
Meanwhile, a section of party leaders believe Kishor's negotiations with SP to be personal and that he could be holding these negotiations on behalf of Bihar chief minister Nitish Kumar. JD(U) leaders have already expressed their willingness to have an alliance in UP and senior leader Sharad Yadav's presence on the stage during SP's Foundation Day celebration was a case in point.
Edited by Aleesha Matharu
More in Catch - SP-Cong grand alliance in UP? It could spell doom for grand old party
UP 2017: As Akhilesh's rath sets off, Shivpal conspicuously missing from yatra hoardings, standees