Shivpal meets Akhilesh but will that end the feud in Mulayam's family?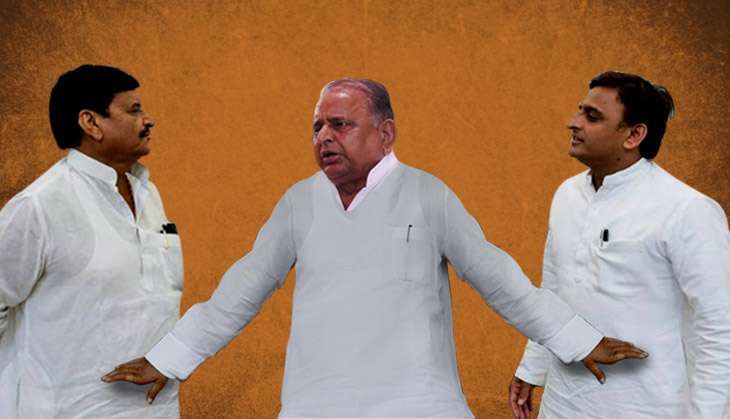 Uttar Pradesh chief minister Akhilesh Yadav and his uncle Shivpal Yadav met on Friday in what is being seen as an attempt to bring an end to the infighting within Uttar Pradesh's first family.
Addressing the media after the meeting, Shivpal, a senior Cabinet minister in UP, said that there are no differences within the ruling party.
Hailing the work done by Akhlesh, Shivpal said, "Besides distribution of laptops and scholarships, other welfare schemes were launched in the state for the people's benefit...We will work together to ensure the SP's victory in the Assembly elections".
However, it remains to be seen if this 90 minute meeting and the subsequent show of bonhomie would be enough to keep the SP united in the run-up to the elections.
The feud
For a long time, Mulayam Singh Yadav has been dealing with the bickering between his brother Shivpal and son Akhilesh. But matters went out of control on Sunday.
At a function in Mainpuri, an emotional Shivpal complained that officials don't listen to him and that he wanted to resign. He didn't stop there and said that SP leaders are busy grabbing land. To this, many people's response was that such elements have been protected by none other than Shivpal Yadav himself, so why is he so upset?
At the root of Shivpal's pain lies the tussle for power within the Yadav family. It is evident that Shivpal feels that Akhilesh has surged way ahead of him in terms of influence.
The seeds of Shivpal's outburst were sown in the repeated setbacks he has received in the past few months.
The build-up
During the ticket-distribution in the Panchayat elections last November, Shivpal was instrumental in getting two of Akhilesh's closest aides -- Sunil Yadav and Anand Bhadoria - thrown out of the party. He was the SP's in-charge for the elections.
In retaliation, Akhilesh boycotted the Saifai Mahotsav. The two young leaders had to be brought back into the party. This was a clear defeat for Shivpal in the tussle between uncle and nephew.
In the upcoming Assembly elections, Shivpal will be responsible for distribution of tickets. It is said that Akhilesh is upset with the candidates chosen by Shivpal so far.
The next setback for Shivpal was when he arranged for the merger of mafia don Mukhtar Ansari's Quami Ekta Dal into the SP. Akhilesh stood against the merger and eventually it had to be called off.
Around two months back, Mulayam's estranged aide Amar Singh returned to the SP after a long hiatus. This completely altered the power dynamics within the SP.
It is a common perception that Akhilesh shares good relations with his other uncle, Mulayam's cousin Ramgopal Yadav and that the duo aren't particularly fond of Amar Singh.
In sharp contrast, Shivpal has always enjoyed a cordial relationship with Singh. After his return to the SP, there was a sudden increase in his hobnobbing with Shivpal. This jugalbandi
was a major cause of discomfort for Akhilesh.
As elections approached, Akhilesh has begun asserting himself in the party.
As a result of the standoff between uncle and nephew, Shivpal boycotted Akhilesh's Cabinet expansion.
The present crisis
There's an interesting story behind Shivpal's anger. Most of the officers in important positions are close to Shivpal, with Mulayam's blessings.
Shivpal and Amar Singh are said to have been instrumental in the appointment of Deepak Singhal as chief secretary in July. He is said to be close to Shivpal but that doesn't seem to be the case any more as there are reports that he has switched allegiances.
An official in the secretariat says, "The existence of multiple power centres has made the functioning of the government very difficult. Anyone in Singhal's place would have done the same. If you have to report directly to the chief minister, why would you take someone else's orders?"
But the eagerness with which Akhilesh pulled Singhal towards his side has added to Shivpal's anger. Moreover, Akhilesh has also retained former chief secretary Alok Ranjan as an adviser.
Expanding family
Another major problem is Mulayam's constantly expanding family. As the aging patriarch, Mulayam wants to keep the family united at all costs. On the other hand, Akhilesh wants the SP to have a unified chain of command.
Almost every adult member of Mulayam's family is involved in politics in some way or the other. As many as 11 members of the family are in active electoral politics. Then there are many relatives and kin who have been accommodated as heads of various cooperative societies.
Shivpal's son Aditya Yadav is the head of one such cooperative federation. It is believed that Shivpal wants him to contest the upcoming elections but Akhilesh is resisting it. This is a major reason for heartburn between the two.
Also Read:
It's uncle Shivpal vs nephew Akhilesh: Yadav family drama continues
The 9 lives of Amar Singh: Why has Mulayam taken him back into SP?
Mulayam's dilemma
A day after Shivpal's outburst, Mulayam tried to mollify his anger and arm-twist Akhilesh. He said, "If Shivpal leaves, it will be disastrous for the party. Akhilesh is surrounded by sycophants and he doesn't understand this".
Instead of bridging the divide, this comment gave rise to more rumours. Shivpal had merely spoken of resigning as minister, but Mulayam went to the extent of talking about him leaving the party. Not only that, Mulayam also informed that Shivpal has offered to resign on two occasions.
Mulayam's state is that of a patriarch torn between his brother and son. He doesn't want to upset his younger brother but also wants to ensure that his son carries forward his political legacy.
Shivpal hasn't been able to digest Akhilesh's status as Mulayam's sole heir. He was the only one to oppose the son's anointment in 2012.
Shivpal has helped build the SP. For much of Mulayam's political career, Shivpal has been his right hand.
During the past two decades, he has cultivated an army of supporters within the party. It was said that 80-100 MLAs can stand in Shivpal's favour anytime.
With Shivpal sulking, many SP supporters may get disillusioned from the party. It is because of this that Mulayam is posturing as being on Shivpal's side against his son.
The whisper in Lucknow's power corridors is that SP is in the doldrums mainly because of the mistrust within its ranks.
As the elections approach, the possibility of a rebellion within the party becomes more and more imminent. As of now, around 20-25 SP MLAs are said to be in touch with the BJP and BSP. If things get worse in the run-up to the elections, the number of deserters could increase.
Mulayam is trying to hold fort but his comments are ending up worsening matters.
Translated and edited by Aditya Menon