PDP declares Mehbooba Mufti as J&K CM designate. But it will be a crown of thorns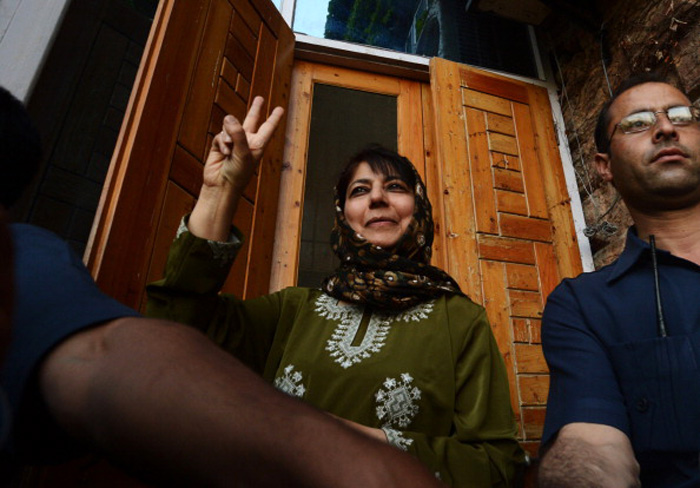 After the Peoples Democratic Party (PDP) unanimously chose Mehbooba Mufti as its legislative party leader and chief minister designate on Thursday, the decks have been cleared for her to become Jammu and Kashmir's first woman CM.
After nearly 11 weeks of suspense and drama, PDP MLAs and MLCs met at Mehbooba Mufti's Fairview Residence in Gupkar Srinagar on Thursday evening to deliberate on the issue of government formation.
"You reposed faith in me. Mehbooba Mufti has no power. Her strength is you people. These were difficult times, a tough examination. I express my gratitude to all of you for keeping faith in me," Mehbooba told her party MLAs, MLCs and workers after being designated as the PDP's legislative party leader.
Also read: PDP-BJP: Mehbooba can preserve Mufti's legacy or listen to her heart
Naeem Akhtar, senior PDP leader and education minister in the PDP-BJP government headed by Mufti Mohammad Sayeed, also confirmed Mehbooba Mufti's nomination.
"The party MLAs have unanimously nominated Mehbooba Mufti as their candidate for CM and also as leader of the legislative party," Akhtar told reporters in Srinagar soon after the PDP meeting ended.
The PDP's "crucial" meeting was called after Mehbooba Mufti met Prime Minister Narendra Modi at the latter's official residence, 7 Race Course, in New Delhi on 21 March.
PDP legislators declared Mehbooba Mufti as its CM nominee on Thursday
Accompanied by former Finance Minister in the PDP-BJP government Haseeb Drabu, she had said: "I am satisfied. I have called a meeting of legislators. We will sit and discuss how to move forward."
She had described her 35-minute long meeting with Narendra Modi as "very positive".
Mehbooba is expected to take oath as Chief Minister of Jammu and Kashmir by end of this month.
Also read: A house divided: will ex-spouse's attack on Mehbooba hurt her politically?
Before that, however, J&K Governor N N Vohra has summoned Mehbooba and BJP state unit chief Sat Sharma for separate meetings on Friday.
This is now a formality as both parties have been talking to each other through various channels on the resumption of the alliance, since Mufti Sayeed's demise on 7 January.
Under Mehbooba Mufti's leadership, the PDP has now given a stamp of approval to its partnership with the ideologically antithetical BJP for the second time.
Challenges before Mehbooba
What does this mean for the PDP in the Kashmir valley? Will the PDP-BJP partnership, which many analysts have described as the "marriage of inconvenience", work smoothly under Mehbooba's "mercurial" and "quirky" leadership?
Some key Kashmir watchers are saying that the challenges for the PDP and Mehbooba may be manifold. But for now, the political uncertainty in Jammu and Kashmir has ended.
Shujaat Bukhari, senior journalist and Editor of the Srinagar-based English daily Rising Kashmir, wonders whether the PDP-BJP government can actually deliver the goods.
Mehbooba had described her 35-minute long meeting with Narendra Modi as "very positive"
In Bukhari's opinion, the performance of the PDP-BJP coalition government in the first 10-months, had failed to impress.
"Sadly in his second innings, Mufti Sayeed was unable to repeat the effective governance he had provided between 2002 and 2005. Providing good governance is going to be a major challenge for the PDP under the new leadership," Bukhari told Catch.
He is of the view that New Delhi's support will hold the key.
Also read: Power play: #JNUcrackdown has caught PDP on the wrong foot
"Whether or not the central government supports the state government on contentious political and economic issues is going to be a decisive factor. Fingers crossed," he said.
Meanwhile, Mehbooba surprised everyone in south Kashmir's Bijbehara, her family's hometown, when she offered prayers at her father's grave there.
Accompanied by one of her daughters, Mehbooba sat near Mufti Sayeed's grave for some time after which she headed to Srinagar to attend the PDP meeting.
A PDP insider told Catch that "Mehbooba Mufti is a reluctant chief minister."
"Well, Mehboobaji is not hankering after power. Her heart is not with the BJP. But she had to take a pragmatic decision, keeping in view the electoral arithmetic, to save her party from internal rift," the source said on the condition of anonymity.
Also read: Turf war: Vohra wants sweeping powers for NIA in J&K, raises hackles
Alliance of opposites
After Mufti Sayeed's death on 7 January, analysts were sharply divided whether the PDP-BJP alliance had broken or not. Some said that the partnership was being stitched back together, others said it hadn't broken in the first place.
Mufti Sayeed's decision to align with the BJP last year dented the PDP's popularity in the Kashmir Valley.
What will be the ramifications of the PDP's second innings partnership with the Hindu nationalist BJP?
Commenting on the PDP's decision, another Kashmir analyst told Catch that "PDP has made a huge blunder."
"In fact, it is surrender. The party hasn't achieved anything. After playing hardball for some time, the PDP has literally given up on its principles to assume power," he said.
Many are questioning the reasons for the delay in government formation. The PDP's claim that it sought assurances and Kashmir-specific CBMs from New Delhi, is under the scanner.
Ram Madhav, BJP's general secretary and pointsman for Jammu and Kashmir, had made it clear that "no new conditions from the PDP have been accepted".
Also read: Young & restless: new breed of militants in Kashmir are eager to change the status quo
The question that is being asked is what happened to the PDP's demand for Kashmir-centric CBMs? Where are the assurances from New Delhi? What did the PDP gain?
Meanwhile, former CM Omar Abdullah, has congratulated Mehbooba Mufti for being elected as the leader of her party.
"Congratulations to Mehbooba Mufti sahiba on being elected as the leader of the @jkpdp legislative party. I wish her well for the future," Abdullah tweeted.
Edited by Aditya Menon
More in Catch:
Mehbooba dithers over oath-taking, top leaders' fate hangs in balance
Post Mufti, PDP-BJP coalition is a sinking ship. Can Mehbooba rescue it?
Big promise, little hope: how Kashmir reads the renewed Indo-Pak bonhomie