Big promise, little hope: how Kashmir reads the renewed Indo-Pak bonhomie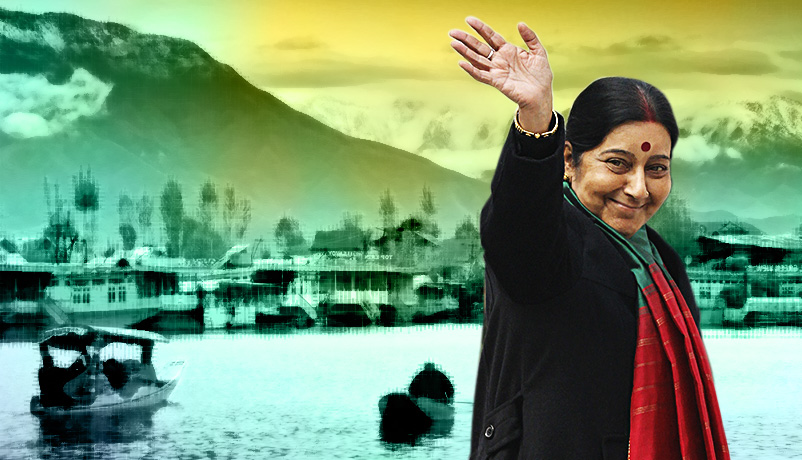 As Foreign Minister Sushma Swaraj heads to Pakistan for the fifth "Heart of Asia" conference, people in Kashmir are closely watching if the two nations would officially resume the stalled dialogue, including on Kashmir.
Mostly, though, they are sceptical rather than hopeful.
They have a reason to not get their hopes high. People in the valley were disappointed when the Kashmir dispute wasn't specifically mentioned in the joint statement issued after the meeting between Narendra Modi and Nawaz Sharif in Ufa, Russia, on 10 July.
According to that statement, the two prime ministers had "agreed that India and Pakistan have a collective responsibility to ensure peace and promote development. To do so, they are prepared to discuss all outstanding issues".
It was not to be as soon after the Ufa summit, the India-Pakistan dialogue stalled.
But in a dramatic development, the National Security Advisors of the two countries held a secret meeting in Bangkok on 6 December. They discussed a range of issues including "peace and security, tranquility over the Line of Control, terrorism, and Jammu and Kashmir".
And now, Swaraj is off to Islamabad. What is on the cards? Can Kashmir expect anything from her visit
Here are reactions from people representing a wide section of the Kashmiri society.
Mufti Mohammad Sayeed, Chief Minister
Sayeed welcomed the NSA talks in Bangkok, saying he hoped "the talks will set the tone for reconciliation" between the two countries.
"It is a good beginning. I am happy that bilateral talks between the NSAs of India and Pakistan were held quietly," he said.
Omar Abdullah, Leader of Opposition
"Good sense prevailed. How can you ignore the elephant in the room by wishing it away? You can't ignore Kashmir," the former chief minister tweeted.
He, however, wondered whether India was "made to talk Kashmir" since it had found no any mention in the Ufa statement.
Responding to the ruling BJP's claim that "Pakistan has been made to talk terror", he tweeted: "If Pakistan was 'made to talk terror', was India also 'made to talk Kashmir' since J&K had found no mention in Ufa???"
Yasin Malik, JKLF chief
While the "pro-Azadi" leaders generally favour the engagement between India and Pakistan, they remain sceptical of the outcome "because of the bitter experiences" of the past.
Malik said India's "rigid approach" has made the people of Kashmir to "lose faith" in the dialogue process.
"Though it is our belief that all issues ultimately get resolved through a dialogue process, the fact is that Indian aggression has made us lose four generations since 1947. Therefore, there is scepticism around and loss of faith in dialogue as an institution," Malik told Catch.
"Worse, the current regime in New Delhi led by Narendra Modi has been reactive and provocative in its approach since the very beginning," he added. "It has cultivated a culture of confrontation in the media as well. If Kashmiris are not involved as principal stakeholders, the latest engagement too will meet the same fate as earlier ones."
Syed Ali Geelani, hardline Hurriyat chief
The octogenarian leader echoed the view articulated by Malik. He told the local media that "until India and Pakistan take bold steps to resolve Kashmir, we can't expect any breakthrough."
Mirwaiz Umar Farooq, moderate Hurriyat leader
Srinagar's head priest said he was happy with the resumption of talks, but insisted that India and Pakistan must the Kashmiri leadership on board to "find an amicable solution" to the dispute.
"Dialogue is always a positive sign. However, political aspirations of the people of Kashmir must be kept in mind. Both India and Pakistan have to take the Kashmiri leadership on board. There is no alternative to that," the Mirwaiz said.
Sheikh Showkat Hussain, international law expert
Prof Hussain believes that only a "serious engagement" has any chance of yielding results, "otherwise it will remain a futile exercise".
"If it is simply engagement for engagement's sake to sell India's so-called soft power image, then it will yield nothing. If both states are serious, then the engagement must reflect in the form of tangible results on the ground in Kashmir," Hussain, who head the School of Legal Studies at the Central University of Kashmir, told Catch.
Gul Wani, political scientist
The eminent political scientist said India and Pakistan need to strength "peace infrastructure" to weaken the "infrastructure of hate and distrust".
"Well, the engagement obviously augurs well. Let's also hope that the time lost provides leeway to both India and Pakistan to understand each other's difficulties in a better way," Prof Wani told Catch.
"It has also been established that back channel and Track-II are essential components of Indo-Pak diplomacy. There are hawks and drivers of conflict on both sides. Both countries should, therefore, work for building the atmospherics for peace."
Prof Wani also said that the two countries must work to change public opinion through media cooperation, trade, cultural and academic exchanges.