Modi's tribute to Azad part of RSS's Nehru-bashing: Prof. Chaman Lal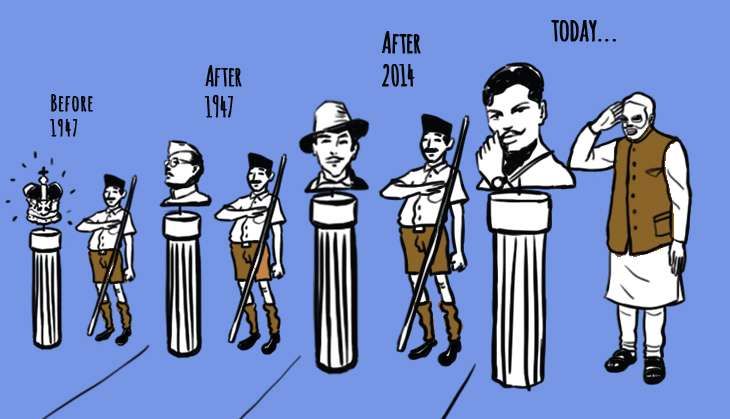 The tribute
Prime Minister Narendra Modi visited Allahabad on 13 June for the BJP\'s national executive
He paid an impromptu visit to Chandra Shekhar Azad park, and paid tribute to the revolutionary
The meaning
Professor Chaman Lal, expert on India\'s revolutionaries, sees deeper meaning behind the PM\'s action
He says ignoring the Nehru family, which hails from Allahabad, is part of the RSS\'s Nehru-bashing ploy
More in the story
What were Azad\'s own positions on politics, religion and caste?
Are there any linkages between the RSS agenda and Azad?
Allahabad witnessed a classic case of irony on 13 June. In hitting out at the Samajwadi Party and paying tribute to revolutionary freedom fighter Chandra Shekhar Azad, Prime Minister Narendra Modi didn't realise he was slamming one socialist leader while bowing to another.
However, the irony doesn't end just there. Modi's gesture of making what was said to be an unscheduled halt at Azad's statue symbolised the BJP-RSS combine's discovery of new heroes, whom they once derided.
Also read- Allahabad HC judges click selfies with PM Modi, one even touched his feet
In the city to attend the BJP's national executive, the PM paid a surprise visit to Chandra Shekhar Azad park on his way to the KP College ground, where he later addressed a party rally. He also tweeted about it, along with pictures of him bowing at the foot of Azad's tall statue in the park.
This morning, went to Chandra Shekhar Azad Park in Allahabad & paid tributes to the great Chandra Shekhar Azad. pic.twitter.com/rmFWhAGhfD

— Narendra Modi (@narendramodi) June 13, 2016
It was in this park that Azad was cornered by the British, following which he killed himself to uphold his resolve of never getting caught alive. After Bhagat Singh, he is the second revolutionary hero of the independence movement whom the BJP has started celebrating in recent years.
Azad was a member of the Hindustan Republican Association, formed by Ram Prasad Bismil, and later teamed up with others like Bhagat Singh, Sukhdev and Rajguru to transform the HRA into the Hindustan Socialist Republican Association. Its objective was to achieve an independent India based on socialist principles.
Also read- BJP moves in for the UP kill: Modi sells Achhe Din, Amit Shah stokes fears
So what are the linkages, if any, between the BJP and Azad? What explains the implications of Modi paying tribute to him? To understand this, Catch spoke to Prof. Chaman Lal, who retired from the Jawaharlal Nehru University and is considered to be an authority on Bhagat Singh and some of his closest comrades.
What was the significance of the PM's tribute to Chandra Shekhar Azad?
While I understand that the PM of the country would naturally want to offer tributes to one of its most celebrated revolutionary heroes, coming from the RSS ranks, this is more hypocrisy than real respect.
Why do you say that?
Because the BJP's fountainhead, the RSS, and its leaders had no role to play in the independence movement. In fact, its prominent leaders like VD Savarkar and MS Golwalkar openly criticised leaders of the movement, especially the revolutionaries.
If Modi really wanted to salute Azad, he would have visited the place where the latter was cremated, his samadhi, as is usually the tradition. If he had any respect for India's freedom fighters, he would have visited all the resting places of so many of them that are there in Allahabad like Azad's close comrade Roshan Singh, who was hanged in the Kakori case.
What then could be the objective of singling out Azad from all those freedom fighters?
Someone who has actually been singled out for bashing is India's first Prime Minister, Jawaharlal Nehru. Nehru also hailed from Allahabad, and it would have been apt if Modi would have visited the Naini jail, where Nehru and a number of freedom fighters were incarcerated for long periods, like Motilal Nehru and Purushottam Das Tandon.
However, he did not do that, and instead, chose to highlight Azad. The reason is that the RSS harbours hatred for Nehru, and wants to reduce his stature in national politics.
In fact, RSS supporters on social media often run a campaign of lies against Nehru by propagating that it was he who had reported Azad's location to the police on that fateful day when the latter killed himself. That's an absolute lie, which they spread only to bash Nehru. Nehru was not in Allahabad that day, and his wife Kamala Nehru had even attended Azad's cremation.
Do you see any linkages between Azad's life and the Sangh Parivar's philosophy that could explain this attempt at identifying with the revolutionary?
Not in the least. Azad was as secular as Bhagat Singh, with whom he transformed the HRA into the HSRA. They had a socialist agenda, and were absolutely against communalism.
In fact, none of the memoirs by his close comrades speak of any reference to religion or religious practices, much less the politics of Hindutva. Azad was a liberal, even if religious in his personal life. He had Muslim comrades too, like Ashfaqullah.
Even caste had no place in their conversations and thought processes, so they can't even be associated with the RSS's traditional upper-caste politics.
Do you see any pattern in the BJP's celebration of only those leaders of the freedom movement who later divorced themselves from the mainstream, led by like Mahatma Gandhi, Nehru, Patel etc? These include Netaji Subhash Chandra Bose, Bhagat Singh and now Azad.
That is the pitiable condition of the BJP and RSS. BJP's forefathers had no involvement with the freedom movement. Savarkar and Golwalkar openly criticised the revolutionaries. In their own mouthpieces, did Golwalkar, Hedgewar or any other leader of the RSS write any obituaries for Azad and Bhagat Singh after their deaths? Everybody else, from Mahatma Gandhi to Sardar Patel to Jawaharlal Nehru to Subhas Chandra Bose to Periyar to BR Ambedkar, either wrote editorials or poured their heart's tribute for the revolutionaries.
The RSS just wants to exploit the martyrdom of these heroes. While Nehru was building India like a modern and scientific society, RSS wants to take the country back into religious-conservative, feudal and dark times.
Edited by Shreyas Sharma
More in Catch
Key highlights from PM Modi's speech in Allahabad
Uttar Pradesh: PM Modi, Amit Shah to sound poll bugle from Allahabad
BJP gives a push to UP campaign with Allahabad national executive