Mamata & Co to take the Brand Bengal to Bangkok for Global Business Summit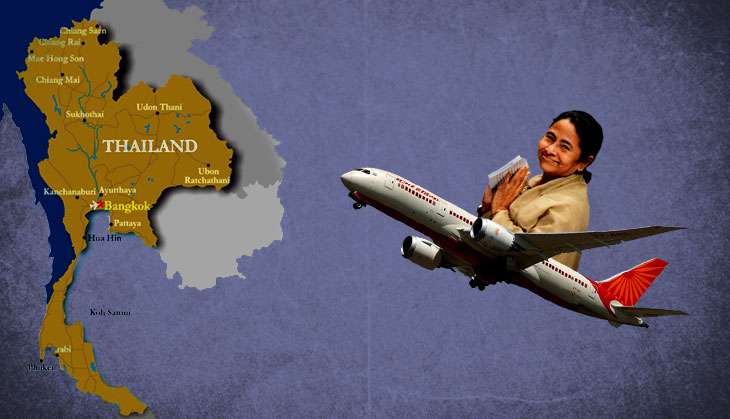 Chief Minister Mamata Banerjee has decided to showcase the products of Biswa Bangla - art, crafts and handloom from the state - outside the country and the first step towards that is expected to be taken in Bangkok.
Mamata will ask industrialists to promote Brand Bengal by opening up franchisee outlets in the upcoming Global Business Summit to be held in Bangkok in November.
Top sources in the state government said some of the products of Biswa Bangla, like Tantuja - the state handloom weavers society - has already witnessed a profit and is available on various online sites including Flipkart and Amazon.
It was therefore decided that the Biswa Bangla brand will be presented in front of global industrialist in an attempt to give it a fresh lease of life.
Apart from that, it was also decided that the Bengal government will be urging industrialists to invest in the manufacturing sector as well as in the gems and jewelry sector as the state has huge untapped potential in both areas.
Sources in the state industry department said that the MOUs to be signed for inter-exchange educational programmes between the two countries have not yet been finalised but the Bengal government has already urged Bengal universities to send a list of programmes that need to be undertaken.
Taking it forward
Swapan Debnath, minister in charge of micro and small scale industries, told Catch that the international response to Brand Bengal has been encouraging. After participating in the London Design Festival in September, another Biswa Bangla exhibition has been planned at the Nehru Centre in London for next year.
It was decided that Principal Secretary of MSME Rajiva Sinha, Bengal Finance Secretary HK Dwivedi and Bengal Finance Minister Amit Mitra will visit Bangkok along with the chief minister. Chief Secretary Basudeb Banerjee will visit Bangkok as well.
Apart from that, industrialists from Bengal like Sanjeev Goenka and others will be participating in the conference.
A senior official of the state government said that the top industrialists of the Global Business Summit will also be invited to the Bengal Business Summit to be held in January in Bengal next year. The President of India will be inaugurating the Bengal Business Summit.
Talking shop
Biswa Bangla has more than 5,000 products, including a collection of 24 kinds of dolls from various parts of the state. The range is also being expanded with the addition of Bonoloukhi ghee from Shantiniketan and other products that have heritage value, said a senior official from the state government.
Among the products being revived is the Carmichael Rumal, a handkerchief made of Murshidabad silk. Thomas Gibson Carmichael, who was governor of Bengal between 1912 and 1917, is said to have been so impressed by these handkerchiefs that he started exporting them.
Alongside, there are special initiatives planned, such as Project Muslin, which is aimed at reviving the fabric and supporting almost 800 weavers. The state produces almost 55% of the plain-woven cotton fabric made in India and it was the first export that introduced Bengal to the world.
...and the criticism
Opposition parties have criticised the state government's initiative of projecting Biswa Bangla on the global forum and said that in the last five years, Mamata has said many things but has failed to attract industrialists to the state.
Congress leader Abdul Mannan said, "It is too early to comment on this issue, but during the TMC regime the state government has failed to attract indistrialists and that needs to be looked into."
BJP State Secretary Dilip Ghosh however welcomed TMC's move and said that Bengal has huge potential in art and handicrafts and it needs to be popularised on the global platform.
Kallol Dutta, President of Bengal National Chamber of Commerce, welcomed Mamata's initiative and said that art and culture of Bengal deserves to get an international exposure.
Edited by Jhinuk Sen