Graduate-farmer Sanjeev: no one cares about us, I may choose NOTA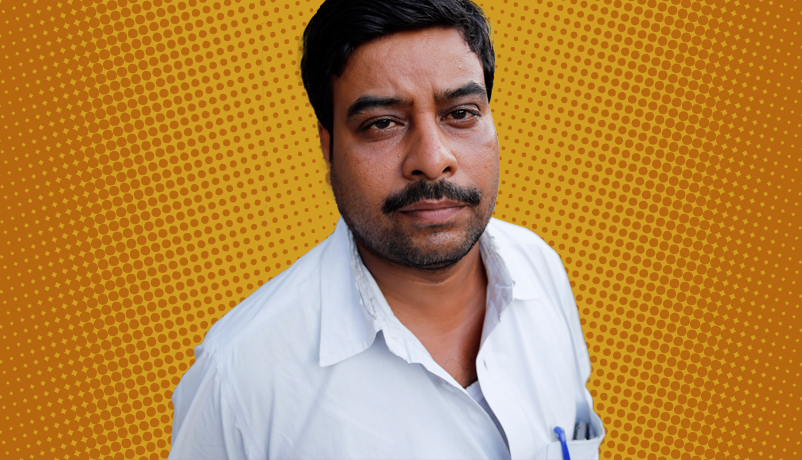 The rarity
Sanjeev Kumar is a 36-year-old farmer in Chakwara village near Hajipur
He is a graduate who chose to become a farmer, and advocates scientific methods
The dilemma
Sanjeev is contemplating pressing the NOTA button in the assembly elections
He says no political party seems interested in taking up farmers\' issues
More in the story
Sanjeev\'s take on Nitish Kumar\'s 10-year reign as CM
If he doesn\'t choose NOTA, which party will he vote for?
Elections are not just about politicians. They're about people and issues. And what will really drive their vote.
Catch is, therefore, starting a 'People of Bihar' series, which will daily capture what different impact groups across the state are feeling. This is true insight on the Bihar election: up-close and hyper-personal.
Sanjeev Kumar lives in Chakwara village of Hajipur. However, there's one thing that sets this 36-year-old man from the Kushwaha caste apart from his peers.
Sanjeev has chosen agriculture as a full-time profession, even after completing his graduation. He cultivates cauliflower seeds on his two-acre piece of land, and advocates scientific methods of farming.
According to him, every party and leader has ignored farmers in Bihar. He is in a dilemma in these elections, as no party is raising a hue and cry over the agrarian crisis.
Sanjeev wishes to press the NOTA button, but is also considering voting for BJP. Excerpts from our conversation with him.
What will be the main issues in your mind when you go to vote?
I am a farmer living in a village. Agriculture is my profession. It is natural for me to choose a party that talks about farmers and villages.
Polling for two phases has been completed. All parties have released their manifestos and vision documents. But all of them seem silent on the agriculture sector. Do you think the agrarian crisis is an issue in these elections?
You are right, it's not an issue for any party. But I will vote on this criterion.
Large parts of Bihar are facing a drought. Neither the Prime Minister nor the Chief Minister have raised this issue even once in their speeches. What can you expect from others?
Free Wi-Fi and colour TVs seem to be more important issues for the political parties. The Prime Minister is flaunting the Digital India campaign, but nobody is willing to utter a word about the misery of farmers.
In such a situation, how will you choose whom you'll vote for?
I am just waiting. I will go for the NOTA option if nothing becomes clear till the end.
Some people say pressing the NOTA button amounts to wasting your vote...
That's true. There is a possibility that I might vote for the BJP. Both Nitish and Lalu have had opportunities to run the state but the BJP hasn't had one.
Has Nitish Kumar done anything for the agriculture sector?
He did a lot for farmers during his first term. This raised our hopes. Bihar became the first state to form an agriculture cabinet and lay down an agriculture road map.
It was also the first state where the agriculture adviser to the Chief Minister was made the Director-General of ICAR.
"Free Wi-Fi and colour TVs seem to be more important to the parties than the agrarian crisis"
However, Nitish's second innings was marked by rampant corruption in the agriculture sector. The officials siphoned off money meant for farmer welfare schemes.
District-level agriculture officials benefitted more from government schemes than farmers. The bureaucracy went out of control during his second term.
Why did the Nitish government perform so badly during its second term?
I can't answer that as I am not an analyst. Perhaps the Chief Minister was ill-advised by his officials, or maybe he thought saving his chair was more important than working for the farmers.
Lalu and Nitish are fighting these elections together. What are your hopes from them?
I think Nitish Kumar still wishes well for the farmers. But it remains unclear how much he will be able to do in Lalu's company.
Some people fear the return of jungle-raj if Lalu-Nitish come to power. Do you agree?
It is difficult to predict at this juncture. But the process of development will surely slow down. Lalu will not sit idle if he comes back to power.
Read more from our #PeopleofBihar series: Bihar's Brahmins ask: why is our vote taken for granted?
Dalit PhD student Krishna: 7/10 for Nitish, 3/10 for Modi
An ATM guard who's always with a book, and why he'll vote NOTA
Banka Silk founder Udayan Singh wants a third term for Nitish
Graduate Azra feels Modi isn't inclusive enough to vote for
Whoever comes to power must create jobs: front-office boy Divyanshu
Nitish is a better leader than Modi: Student politician Zeeshan
Nitish has ruined his chance by joining Lalu: Lakshmi, graduate, Muzzafarpur
There's little to choose between Modi and Nitish: wannabe cop Vinit argues for NOTA
Lawyer Indira Sharma: Nitish started well, but has now lost his mind
Farmer Ali Ashraf: 'Dadri is jungle-raj. I don't want that in my state'
Researcher Sunita: don't like BJP but today's Nitish is worse
Social worker Munna Jha: no matter what surveys say, I'll vote for Nitish
Madrasa student Ahmed: Modi's promises fake, I'll vote for Nitish
Entrepreneur Imran: give BJP a chance to prove secular credentials
BCA graduate Manish gives Modi a 10/10. Find out why he's not voting Nitish
Farmer Pawan Yadav is angry with Lalu, but may still vote for him
Left activist Vineet: grand alliance lesser of two evils
Unskilled worker Ajeet: no interest in politics, but will vote Nitish
PhD student Tejee: I don't want development with riots in Bihar
Engineer-entrepreneur Sonu: Nitish did a great job for agriculture sector
Folk singer Chandan Tiwari is voting NOTA - to protest neglect of art & culture