Farmer-cop Baskit: don't want development with liquor factories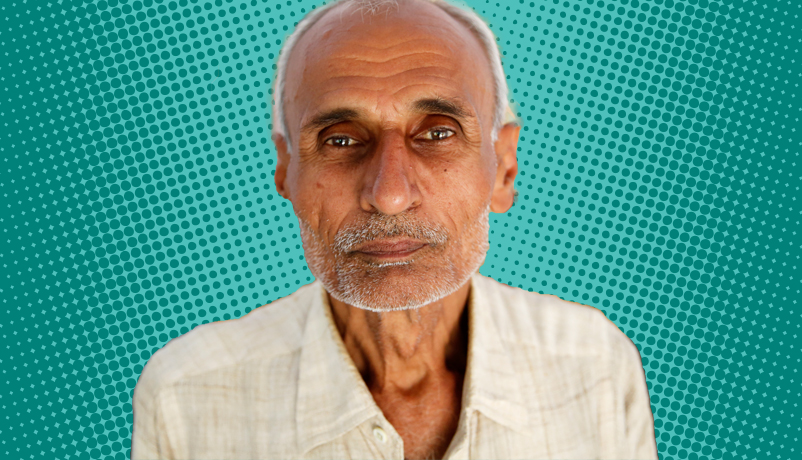 Elections are not just about politicians. They're about people and issues. And what will really drive their vote.
Catch is, therefore, starting a 'People of Bihar' series, which will daily capture what different impact groups across the state are feeling. This is true insight on the Bihar election: up-close and hyper-personal.
Baskit Prasad Singh recently retired from the Bihar Police at the age of 60. He is one of few Biharis who've held a job and also kept up the traditional profession of farming.
Baskit grows paddy, wheat and tobacco in his fields. But he accepts that agriculture is no longer a profitable venture.
According to him, all the recent governments have worked to destroy the agriculture sector. In his opinion, all the parties are interested in is mudslinging, so that important issues like the agrarian crisis do not come into the spotlight.
A resident of Bathu village in the Vaishali district, Baskit is a Bhumihar. Here are excerpts of our conversation with him.
What are the main issues in these elections?
What can be more important than development? The kind of development that can restart the sugar mills in my area. Progress that can motivate farmers to grow sugarcane again, and ensure the welfare of farmers and labourers.
We don't want the current brand of development, which has resulted in the opening of a liquor company and a beer factory in our region.
But, no party seems interested in the model of growth we want. They are only engaged in empty talk, be it the NDA or the grand alliance.
You claim there's no difference between the two alliances. Who will you vote for?
It is a fact that all parties are the same. Some people believe that the BJP should get one chance to govern the state.
I'm thinking of pressing the NOTA button. But then again, who will that benefit? I might consider voting for the BJP.
Has Nitish Kumar failed on the development front?
He has done a lot of development. The situation of roads and power supply has improved. There are more teachers in schools. How capable these teachers are is a separate matter.
However, only roads and electricity are not sufficient. Nitish has lost his way. How can he justify his alliance with Lalu? He came to power for the first time on the anti-Lalu plank. This is certainly not idealism, but opportunism.
But aren't alliances the norm in politics?
I am not against alliances. But the question is who are you joining hands with.
Nitish has allied with a leader who plunged Bihar into an abyss. The one who is fighting for his own survival and that of his family.
"We want the kind of development that can restart sugar mills in my area, not set up beer factories"
These people claim to be the followers of Jai Prakash Narayan, who fought against the dynasty culture of the Congress. Now, they are busy promoting their own families in politics.
Nitish has come together with Lalu to save his chair. It has nothing to do with development.
Is caste any consideration for you in these elections?
Bihar is notorious for caste politics. I feel the media and the politicians want to take Biharis towards caste polarisation. Leaders are asking for votes in the name of caste, and every media analysis is based on caste lines.
Bihar voted without any caste bias in the Lok Sabha election. This also happened when Nitish won with a full majority.
The people of Bihar will reject caste politics again. Every time I have met our local JD(U) candidate, a Bhumihar, he says I must vote to save my caste. His rival, an LJP candidate, is from the Sahu community. He and his supporters don't even bother to campaign in Bhumihar-dominated villages.
He has presumed that no Bhumihar will support him. You tell me, what I should do if I wish to vote for the LJP candidate? Who is playing the caste card?
Who should be the Chief Minister, if NDA comes to power?
Only the winning party can decide this. I would like to see Jitan Ram Manjhi as the next Chief Minister. He made some very good announcements during his short tenure. But he could not get the full opportunity.
He was the first leader to state that there are poor people even among the forward castes, and they should also get the benefit of reservation. Nitish committed a mistake by removing him.
Read more from our #PeopleofBihar series: Bihar's Brahmins ask: why is our vote taken for granted?
Dalit PhD student Krishna: 7/10 for Nitish, 3/10 for Modi
An ATM guard who's always with a book, and why he'll vote NOTA
Banka Silk founder Udayan Singh wants a third term for Nitish
Graduate Azra feels Modi isn't inclusive enough to vote for
Whoever comes to power must create jobs: front-office boy Divyanshu
Nitish is a better leader than Modi: Student politician Zeeshan
Nitish has ruined his chance by joining Lalu: Lakshmi, graduate, Muzzafarpur
There's little to choose between Modi and Nitish: wannabe cop Vinit argues for NOTA
Lawyer Indira Sharma: Nitish started well, but has now lost his mind
Farmer Ali Ashraf: 'Dadri is jungle-raj. I don't want that in my state'
Researcher Sunita: don't like BJP but today's Nitish is worse
Social worker Munna Jha: no matter what surveys say, I'll vote for Nitish
Madrasa student Ahmed: Modi's promises fake, I'll vote for Nitish
Entrepreneur Imran: give BJP a chance to prove secular credentials
BCA graduate Manish gives Modi a 10/10. Find out why he's not voting Nitish
Farmer Pawan Yadav is angry with Lalu, but may still vote for him
Left activist Vineet: grand alliance lesser of two evils
Unskilled worker Ajeet: no interest in politics, but will vote Nitish
PhD student Tejee: I don't want development with riots in Bihar
Engineer-entrepreneur Sonu: Nitish did a great job for agriculture sector
Folk singer Chandan Tiwari is voting NOTA - to protest neglect of art & culture
'I won't vote for people who ask us to eat beef': khaini seller Kanhaiya