Farmer Ali Ashraf: 'Dadri is jungle-raj. I don't want that in my state'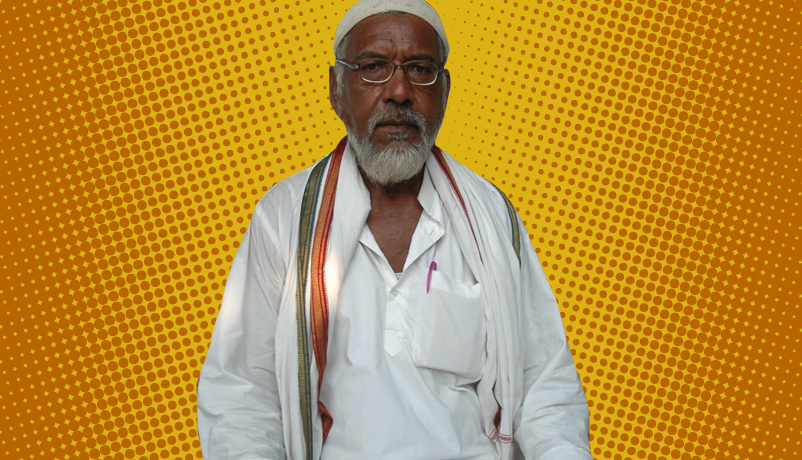 The farmer
Ali Ashraf lives in Rohtas district of Bihar, and owns four acres of land on which he grows rice
He says he\'ll certainly vote for the JD(U) candidate in his constituency
The concern
Ali is scared that if the BJP comes to power, incidents like the Dadri lynching will happen there too
He says the only thing growing under PM Modi\'s regime is extremism. Calls it the real jungle-raj
More in the story
Ali\'s disillusionment with Modi\'s promises
His assessment of Nitish\'s performance and the alliance with Lalu
Elections are not just about politicians. They're about people and issues. And what will really drive their vote.
Catch is, therefore, starting a 'People of Bihar' series, which will daily capture what different impact groups across the state are feeling. This is true insight on the Bihar election: up-close and hyper-personal.
The Muslim farmer worried about a Dadri repeat
The lynching of a Muslim man in Uttar Pradesh's Dadri for allegedly eating beef has shaken India. While on the one hand there are those who justify the lynching, there's been a vocal outburst, with even President Pranab Mukherjee and Vice-President Hamid Ansari speaking out against it.
Ali Ashraf is a 60-year-old farmer from Ubadhi village in Rohtas district of Bihar. He has seen the politics of the state and country take many twists and turns, but after Dadri, he's scared. "Hum to zamaana dekhte aa rahe hain. Haalaat itne kharab kabhi nahin the. (I have seen a lot, but things were never this bad)," he says ruefully.
"Look at them (Hindu hardliners). They talk about development and then they push society backward by decades. Is this what we are making in India?"
Ali thinks PM Modi just makes empty promises, and the only thing growing under him is extremism
Ali is a rice farmer who owns four acres of land. The emotions on his face are not of anger or aggression - instead, pain and insecurity are writ large.
"People are talking about BJP rule in the state. If this happens, it would be the worst thing to happen in our times. Bihar was never a communal state. Barring one or two incidents, people have lived here in great togetherness and harmony," he says.
We asked him for his views about the state of things in Bihar, and the two sides in the political battle, the NDA and the grand alliance. Excerpts.
Who do you plan to vote for?
Definitely not for the BJP or NDA. And not for any other alliance either. My vote will go to the grand alliance. JD(U)'s Vashisht Singh is contesting from our constituency, Kargahar. We'll vote for him.
What do you think are the key issues in this election?
See, this election is not only about development. Development is not some distant dream for Bihar anymore - so many things have come up, like roads and schools. This election is more about the kind of socio-political environment we want in the state.
How do you rate Prime Minister Narendra Modi's performance so far?
What has he done in almost 18 months? Where is the bullet train? Tell me, where can I board one? He is unable to deliver on his promises.
I am a farmer. He promised reasonable support prices for our crops. Has that happened? No.
He is not keen on doing things. People thought he will be like Indira Gandhi, but everything we thought about him seems to have been misleading.
In his rule, only hardliners and communal forces are growing. What happened in Dadri is an accident for them, and the PM has not said a single word on this incident. He talks about 'Mann ki baat' but is there no pain in his heart for this murder?
The PM has spoken on this issue since this interview was taken.
So, you think Nitish Kumar is better for Bihar?
See the lanes and roads in the village. We never had this before. Nitish has provided subsidies for farming. The law and order situation is good.
Bihar is a better state now than it was before him. Why should we look for a replacement?
Isn't there a fear that Nitish's alliance with Lalu will bring back jungle-raj?
No, Nitish is our leader. He is the CM candidate of the grand alliance. He will not let this happen.
And who is the BJP to talk about jungle-raj? Dadri is jungle-raj. I don't want incidents like Dadri in my state.
Did Modi hurt the pride of the people of Bihar with his 'DNA' comment?
The DNA issue is not important here. It is a non-issue. The people of Bihar are not going to vote based on that.
Modi is wrong when he attacks Nitish personally. But people are more interested in development and a safe state to live in. Nitish has achieved this in the past 10 years. He should get more time.
How do you want to see the future of Bihar?
A better state for all sections of society to live in. We should become a developed state, but if communalism overrules, the state's development will become meaningless. True development is not possible without a better society.
Also read: Dalit PhD student Krishna: 7/10 for Nitish, 3/10 for Modi
An ATM guard who's always with a book, and why he'll vote NOTA
Banka Silk founder Udayan Singh wants a third term for Nitish
Graduate Azra feels Modi isn't inclusive enough to vote for
Whoever comes to power must create jobs: front-office boy Divyanshu
Nitish is a better leader than Modi: Student politician Zeeshan
Nitish has ruined his chance by joining Lalu: Lakshmi, graduate, Muzzafarpur
There's little to choose between Modi and Nitish: wannabe cop Vinit argues for NOTA