Congress in Punjab a divided house, but trying to appear united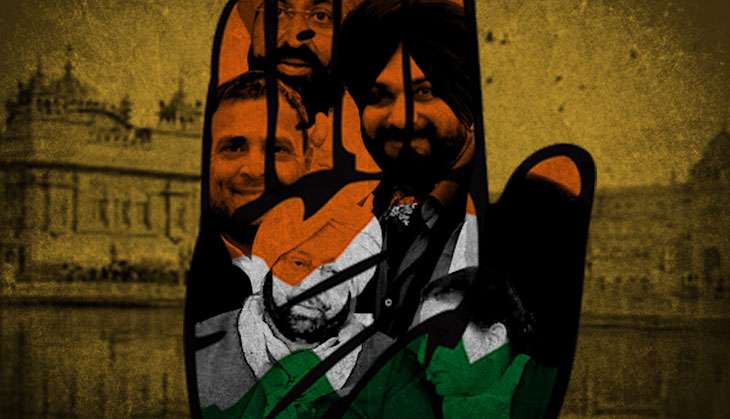 Over the last month and a half, the Congress seems to have lost the advantage it had gained over its rivals in Punjab. Now, the party seems to be trying its best to present a united front before the electorate, in order to gain the voters' confidence.
Congress leaders are coming together and posing as one at public events, in a race against time to convince the public that the party is united.
There have also been many small rebellions within the grand old party's ranks, and after trying and failing to mollify the rebels, it has eventually decided to crack the whip on them.
Amarinder and Sidhu's partnership
The trouble began with state party president Captain Amarinder Singh's long stay in Delhi, in order to decide the party's candidates, and also prepare the ground for cricketer-turned-politician Navjot Singh Sidhu to join the Congress.
Thanks to this long stay, the party squandered the advantage it had gained over rivals Aam Aadmi Party (AAP) and the Shiromani Akali Dal-Bharatiya Janata Party (SAD-BJP) combine.
Reports suggested that Amarinder was quite displeased with Sidhu's inordinate delay in joining the party. Many media outfits have also claimed that Sidhu is a contender for the CM's post, along with Amarinder; claims that have also been made by AAP's national convenor Arvind Kejriwal.
But on Thursday, Amarinder and Sidhu came out together to face the media in Amritsar.
Amarinder made it clear that Sidhu had joined the Congress without any preconditions, and would be the party's star campaigner in these polls. Even Sidhu concurred with this in Chandigarh on Friday.
"He is a foot soldier of the party, and has joined without any conditions. He never put forth any conditions," said Amarinder, while expressing happiness at Sidhu's support. He described himself as the ex-cricketer's 'wicketkeeper'.
Sidhu, meanwhile, quashed all speculation on his vying for a post in the next Congress government, saying:"A son is a son, and a father is a father."
Interjecting in response to a hypothetical question posed to Amarinder if he would accept Sidhu as the CM, the latter quipped: "If 'aunty' becomes a man, then she would be called 'uncle'."
Sidhu asserted that he would go to Lambi as a campaigner, in order to help Amarinder give CM Parkash Singh Badal a bigger thrashing.
Sidhu also dismissed Kejriwal as a 'confused' man who was losing his mind, as he was feeling the heat in the Punjab polls. Rejecting the AAP claim that they had offered him the deputy CM's post, he said: "Haathi chaale wich bazaar, hazaran maar cheekhan naal naal'(When the elephant is on a roll, there are thousands who start screaming)."
In his response to the same question at Chandigarh, he said: "You heard his claims. Did I give any reply? I want to work only for Punjab and its betterment." He also went to make a courtesy call on Amarinder during the day.
Other leaders back Captain
A united Congress was also visible at Jalalabad, when party candidate Ravneet Singh Bittu went to file his nomination papers. This seat is witnessing the hottest contest of the 2017 polls as SAD president and deputy CM Sukhbir Badal takes on AAP's crowd puller Bhagwant Mann and Congress's Bittu, who is seen as a giant-killer since his victory in the last Lok Sabha poll from the Ludhiana seat, where he was an 'outsider'.
Thousands of Congress supporters participated in Bittu's road show.
Even otherwise, leaders like former CM Rajinder Kaur Bhattal, who were earlier seen to be heading an anti-Amarinder group within the party, have joined ranks with him, and have been campaigning alongside.
Amarinder's predecessor and bete noire Partap Singh Bajwa, who had been reportedly making a lot of noise on ticket distribution and the party's chief ministerial face has also fallen silent. It's a similar case with veteran leader Shamsher Singh Dullo.
Rebellions quashed?
The problem for the Congress remains a large number of rebels who have refused to withdraw their nominations. There are more than 20 seats where Congress rebels are threatening to play spoilsport.
Cracking the whip against such rebels, Amarinder has warned that those who refuse to toe the party line would be expelled from the party for life.
He said while he is committed to handing out key positions to those who withdrew from the fray in support of party nominees, the party would not accept defiance from the rebels.
The Congress claims that Amarinder, along with Punjab in-charge Asha Kumari, has successfully quashed the rebellion in most of the 20-odd constituencies where this problem has been reported. The party has claimed that most of the rebel candidates have, in fact, agreed to withdraw their nominations.
Amarinder has personally spoken to many of the rebels and persuaded them to withdraw in the interest of the party, with the promise that the party would take care of their interests once it comes to power.
He said it is important to set a precedent so that the party polity and propriety is not violated. The last date for withdrawals is Saturday, 21 January.
Harsimrat lashes out
Meanwhile, senior Akali leader and Union minister Harsimrat Kaur Badal has taken potshots at Amarinder and Sidhu for praising each other, and said they should clear the confusion from the minds of public, as people are wondering which of their statements is the real one.
Harsimrat pointed out that Sidhu, who is now saying that Amarinder is his boss, had earlier said that he and his associates would compromise with the Congress minus Amarinder. Similarly, Amarinder had termed Sidhu's Awaaz-E-Punjab political forum as a 'Tonga Party'. Now he is thanking the same leaders of 'Tonga Party' for joining the Congress without any preconditions.
Harsimrat demanded clarifications from both leaders, and accused them of changing their stands on different matters between sunrise and sunset.
Lashing out at the 'double standards' being adopted by both these leaders, Harsimrat said nothing good could be expected from such leaders, who were more eager to satisfy their own ambitions and work for their personal upliftment, instead of working for the welfare of the people and progress of the state.
Edited by Shreyas Sharma
More in Catch
Congress loses advantage it gained in Punjab. Blame high command culture
Why did Amarinder Singh suddenly decide to take on Badal in Lambi?
Battleground Punjab 2017: Patiala to witness battle royale between its Captain and General