Battleground Punjab 2017: Patiala to witness battle royale between its Captain and General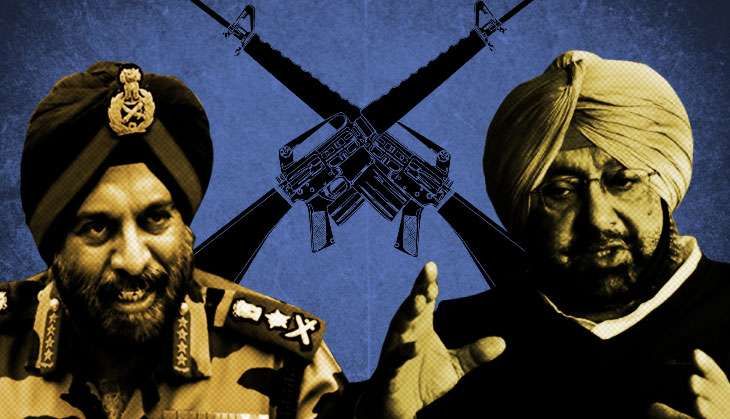 Patiala has always been a royal seat in the Punjab elections. Not because the erstwhile royalty has been active in politics, but because of the manner in which battles that have been fought here.
Once again there is a heavyweight contest on the cards as two former officials of the Indian Army fight out it out on the political turf when the Punjab Congress president Captain Amarinder Singh takes on the former Army Chief General (Retired) JJ Singh who has been fielded by the Shiromani Akali Dal (SAD).
Though the polls are still 20 days away, enough salvo has already been fired from both sides.
General (Retired) Joginder Jaswant Singh was the Army Chief from 31 January 2005 till 30 September 2007. He went on to become the Governor of Arunachal Pradesh.
Amarinder, the erstwhile Maharaja of Patiala, joined the Indian Army in June 1963 and resigned in early 1965. He rejoined the Army again and served as Captain during the 1965 Indo-Pakistan war.
Well planned?
Sources say that the strategy adopted by the SAD president Sukhbir Badal by fielding JJ Singh was to ensure that Amarinder would have to spend a lot of time in his constituency instead of campaigning for his candidates elsewhere.
But this appears to be unlikely as Amarinder's wife and former union minister Preneet Kaur is holding fort for him very effectively.
Right from the beginning JJ Singh has been caught on the wrong foot. A video said to be of his first public appearance has gone viral where he is seen using expletives against Amarinder.
While Punjab maybe well known for the use of cuss words, Patiala is its cultural capital where a lot of importance is given to decency and etiquette.
War of words, allegations
The clip has JJ Singh saying "Je belt de thalle koi maare....main bade competition jitte haan fauj de vich, je belt de thalley koi mukka maare main keya ennu (Punjabi expletive) khatam hi karo, without pity, bereham, without remorse, aur phir koi guilt vi nahi. Jang-e-maidan vich uttre ho te jitt honi chahidi (If you are hit below the belt, then I say that man must be finished without pity, without remorse)."
He is then seen saying, ""I follow Cain and Abel. If anyone hits me below the belt I will knock him out."
The audience is heard telling him candidly that such words do not suit a person of his stature.
He replied that the words came out in a flow of emotions and pointed at Amarinder having said that he has nothing to do with Patiala and using phrases like 'inko naani yaad kara denge'.
He is seen referring to the US election campaign of Donald Trump and Hillary Clinton to justify his use of words.
In another interview, JJ Singh reportedly said that Amarinder had an easy service tenure where he chose to be the ADC to the then Army commander during the 1965 Indo-Pak war. He said that Amarinder had a VIP profile where one does administrative work.
JJ Singh has even been making a comparison on the grounds of physical fitness with Amarinder saying that the latter can't even walk 10 kilometres while he has the physique of a 17-year-old and a mountaineer. He has also been playing up that he has spent his childhood in Patiala, unlike Amarinder, who has been visiting locals.
Paying it back
Announcing JJ Singh's candidature, Sukhbir had said hat JJ Singh had approached the SAD and had expressed an interest in giving back to the city he has lived in and grown up as a child.
"We immediately agreed given the General's stupendous contribution to the nation. Both General Sahib and Amarinder started together in the Indian army as course mates. However, Amarinder chose to opt out after three years while General Sahab reached the very top."
After his ticket was announced, JJ Singh said, "I believe in reaching out and winning hearts. The people of Patiala are my own. Amarinder is a scion of the erstwhile Maharaja of Patiala and thinks he can win elections without even stepping out of his house. But now he will realise who he is facing. He is facing the son of the soldier whose three generations have served in the armed forces. He will face the heat soon."
Bring it on
Amarinder's response to the Akalis fielding JJ Singh was - "I am happy. For the first time in history, a Captain will defeat a General."
Sources point out that while Amarinder has been busy in Delhi finalising tickets, it is his wife Preneet who has been fighting his battle on the ground.
"She has constituted ward-wise teams that are working in close co-ordination with the Indian Political Action Committee (IPAC) of strategist Prashant Kishor. She is visiting localities personally interacting with the masses," said a Congress worker from Patiala.
Preneet has always maintained a good local connect and has been very popular among the locals from all walks of life given her easy accessibility and her presence at social occasions.
Picking sides
Meanwhile, it is the ex-servicemen affiliated to the All India Ex-Servicemen Joint Action Front Sanjha Morcha, who have turned up to bat for Amarinder. They lambasted the Akali candidate for demeaning the Army and the high gubernatorial office for petty political gains.
The Morcha affiliates have termed JJ Singh as an opportunistwho always hungered for publicity and indulged in a shamelessly brazen display of rank, with even his golf bag and cart being adorned with the four stars of a General rank.
"With his decision to contest the Punjab Assembly elections, the General has not only downgraded the status of the Chief of Army Staff (COAS) but also disgraced the high office of Governor - both positions given to him by the UPA government," said the chief patron of Sanjha Morcha Lieutenant General (Retired) JS Dhaliwal.
The ex-servicemen have said that it is shameful that a man of JJ Singh's stature should stoop to such a low level to grab political power at the fag end of his life, after having enjoyed such high esteem in the past.
They said that JJ Singh ended up as the COAS only on account of his date of birth, with his more meritorious batch mates losing out in the race as they were older than him, and not fit for the post as per the rule in place at the time.
They have described him as a typical example of many 'birthday generals' who owe their rise not to merit - but to a date of birth.
Trouble in the ranks
Observers point out that there is a lot of resentment in the SAD-BJP cadres over the party choosing to field JJ Singh over local heavyweights like Bhagwan Das Juneja and Surjit Singh Kohli. There are reports of him getting a lukewarm response till now.
Observers are also pointing that Patiala has always been a seat where local connect has mattered no matter who wins and Patialvis have always taken pride in having witnessed some of the finest orators campaigning here from various parties.
This reporter has been a witness to the verbal duels between the likes of the tallest Akali leader Gurcharan Singh Tohra and Bir Devinder Singh of the Congress who is remembered for his oratory full of Punjabi idioms.
The third key contender for the Patiala (Urban) seat is Balbir Singh who is contesting on an Aam Aadmi Party (AAP) ticket. An eye surgeon with leftist leanings, he is being seen as a lightweight.
Edited by Jhinuk Sen