Why did Amarinder Singh suddenly decide to take on Badal in Lambi?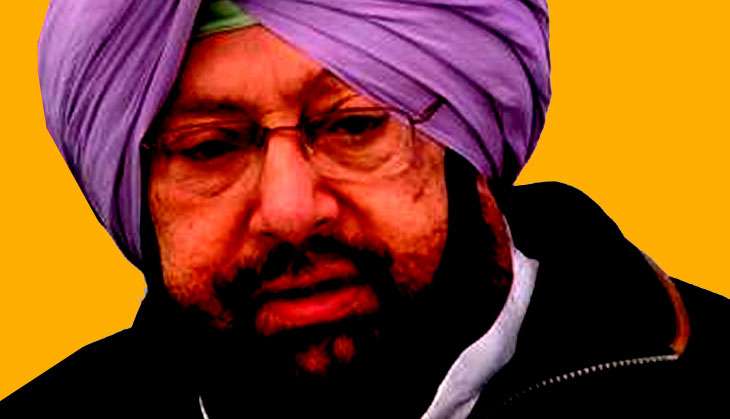 Captain Amarinder Singh has taken up the most challenging battle of his career, by taking on Punjab chief minister Parkash Singh Badal in his pocket borough Lambi.
Is it a tactical error or a master stroke? Whatever be the outcome, this will be the most historic contest Punjab politics has ever seen - as an outgoing chief minister is facing a former chief minister.
Also in the fray is a senior face from the Aam Aadmi Party (AAP) Jarnail Singh.
The debate among political observers at this point is that what drove Amarinder take on Badal in Lambi, where he has been unbeaten since 1997. Even in the last Assembly polls Badal had won by 24,739 votes.
It is being pointed out that Lambi has always shown a unique trait as far as the voters are concerned. The electorate has always been divided vertically over the support to the Badal family. But there is no doubt that Badal has nurtured his home constituency with care.
Both Amarinder and Badal are veterans of Punjab politics. While Badal in his 90th year has been saying that he wants to complete a century working for his people, the 74 year old Amarinder has already declared that this is his last elections and he obviously wants to hang his gloves after emerging victorious in the fight.
Observers feel that the reason why Amarinder has chosen to contest from Lambi is that he wants to take the chance of playing the masterstroke. He is well placed in his home constituency of Patiala where his SAD rival General (Retired) JJ Singh has been getting a lukewarm response from the electorate and the AAP candidate Dr Balbir Singh is being considered a lightweight, despite the hard work being invested by AAP cadres.
But the suspension of AAP MP Dr Dharamvira Gandhi is now taking its toll on the ground. Amarinder's wife and former Union minister Preneet Kaur is effectively holding the fort for Amarinder in Patiala as she remains very popular in the city.
By taking on Badal in Lambi, Amarinder is also being seen as capitalising on the public resentment against the Badals, who are facing two terms of anti-incumbency. Some say that the incident in which a shoe was thrown at the Badals reflects the public anger against them.
It is thing anger which Amarinder wants to exploit.
Observers also feel that by contesting from Lambi, Amarinder would also ensure that Badal remains tied down to his constituency and does not get to move much across Punjab as he fights him on one side and Jarnail on the other. But this would also mean Amarinder himself having to spend a lot of time in Lambi.
But the most compelling reason for Amarinder throwing his hat in the ring in Lambi is said to be an effort to galvanise Congress cadres in the Malwa region. This is the region that decides the winner in Punjab as it has 69 of the total 117 Assembly seats in the state. Having achieved a position of advantage till about a month ago, the Congress squandered it as its leaders camped in Delhi while lobbying for the tickets for themselves, their wards and family members.
This was actually the time to top up their advantage with some more aggressive campaigning. With the campaign left to the lower rung and the IPAC team of strategist Prashant Kishor, the leaders were playing tug of war in the All India Congress Committee (AICC) office. Amarinder is now attempting to infuse a fresh lease of life into the cadres in Malwa.
Amarinder on the offensive
In his latest statement he has come out saying that Lambi is his 'karambhoomi' from where he would teach the Badals a lesson for the atrocities they had unleashed on the people of Punjab for the last 10 years. He qualified it by saying that Patiala is his 'janambhoomi'.
At a public meeting in Chamkaur Sahib on Monday, Amarinder said he would get all cases of religious sacrilege thoroughly investigated and punish the Badals if found guilty.
Saying that the Badals have spent the past 10 years promoting their business interests, Amarinder, asked Badal where he would take all the wealth he had accumulated. "Will you take it with you when you leave this world?" he said.
In an apparent reference to Sukhbir, he said, "The Badals have only been interested in building hotels to boost their personal interests."
Amarinder has also lashed out at AAP's national convener Arvind Kejriwal saying, "He's a liar out to snatch power in Punjab and become the chief minister of the state. He said that AAP is a party with no experience and connect with Punjab. He has also challenged Kejriwal to come and fight him in Lambi if he is really so confident of sweeping the Punjab elections.
SAD president Sukhbir Badal has come out saying that Amarinder would meet his nemesis in Lambi. He has challenged Amarinder to drop Patiala and contest only from Lambi. "Why is he keeping Patiala as a back up? This proves that he knows he can never win from Lambi and is only contesting the seat to project himself as the chief ministerial candidate of the party at a time when the Congress has not declared its chief ministerial candidate," he said.
He further said, "Amarinder probably wants to go down like a martyr. He wants to give the impression to the high command that he lost Patiala because he had to give time in Lambi, where he is sure to suffer a humiliating defeat. The people of Lambi will teach him that they respect those who stay and work amongst them like Sardar Badal and not fly by night operators like him. Amarinder had proudly said that this will be his last election, thinking he was standing as a chief ministerial candidate. After the people of Lambi are through with you, you will not want to fight an election ever again."
The AAP leadership has been playing up its rhetoric of SAD and the Congress being in a secret pact. Addressing a rally at Rajpura on Sunday, Sangrur MP and AAP's candidate against Sukhbir from Jalalabad, Bhagwant Mann, said that both the traditional parties have been bewildered by the growing popularity of AAP and have agreed to form an alliance to keep AAP at bay. Mann said that he has been informed by reliable sources that Badal and Amarinder held a meeting in Delhi and discussed that people of Punjab are well aware about the SAD-Congress alliance and in order to divert the attention of the public the latter may file nomination papers from Lambi in one or two days. He said that both these parties are in panic and their leaders discuss AAP for 38 minutes in their 40 minutes long speeches.
Mann said that "Chaunda Hai Punjab, Captain di Sarkaar" is got written outside the houses of the people especially which fall on roadsides covertly when people go to sleep in their houses. He said that in actual, Punjab wants, "Captain di Haar", lagataar, teeji vaar". He also charged that the campaign expenses of .Amarinder are being borne by Akali leader Bikram Majithia.
AAP leader HS Phoolka has also reportedly said in Amritsar, "If Amarinder is so confident about his popularity, he should contest only from Lambi."