10 things that make Subramanian Swamy the unguided missile that he is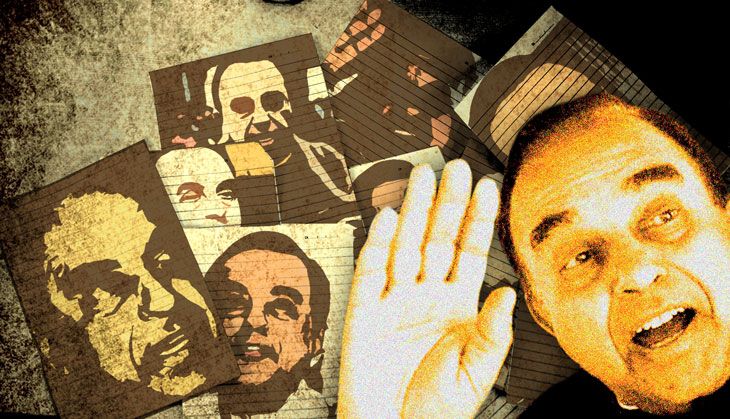 Subramanian Swamy has gotten down to business swiftly. On the very first day of his latest tenure as member of the Rajya Sabha, he initiated what he is best known for - an attack on the Gandhis and the Congress party. His direct naming of Congress President Sonia Gandhi riled the Congressmen so much that they were up on their feet and nearly broke into fisticuffs with the treasury benches.
Read: In just 2 days, Subramanian Swamy proves why BJP brought him to Rajya Sabha
This is the septuagenarian\'s sixth term in Parliament, but it has come after a long electoral vanvaas of 17 years. In this interregnum, he has kept himself busy with judicial activism, filing and fighting a multitude of cases like the 2G spectrum case, the National Herald case and the defamation case against him.
In a bid to come back to the political mainstream, Swamy merged his one-man outfit, Janata Party, with the BJP in 2013 and was eventually rewarded with a seat in the Upper House earlier this week. Lutyens\' rumour mills are abuzz with other rewards waiting for him in the pipeline, including a possible cabinet berth.
As his rehabilitation deepens, it would be worthwhile to take a look back at his life and career. Here is a 10-point list which encapsulates Subramanian Swamy: 
Swamy is an old enemy of the Gandhi family. He has consistently attacked Sonia Gandhi over her Italian origins and looks upon her as the fountainhead of corruption. He reserves the choicest of his barbs for the Congress President. He never attacks Sonia's late husband Rajiv though, and claims to have been his friend. He reportedly believes that Bofors' kickbacks went to Sonia's family in Italy and not to Rajiv. It's the same link he is trying to draw in the AgustaWestland deal as well.
03
Religious diversity in family
Swamy's wife, Roxna, is of Parsi ethnicity. They reportedly met as young students at Harvard. His younger daughter, journalist Suhasini Haider, is married to a Nadeem Haider, a Muslim. Nadeem is the former foreign secretary Salman Haider's son. Swamy also claims that his brother-in-law is Jewish and sister-in-law is Christian. None of that appears to clash with his personal belief in Hindu majoritarianism.
Swamy is a prolific litigant, having filed several cases in various courts and also been at the receiving end of some other cases, due to his penchant for being an unguided missile. Among his earliest judicial adventures was a case he successfully fought against his expulsion by IIT Delhi. Subsequently, he had a major role to play in the 2G scam judgements during the UPA-era, and the ongoing National Herald case against Sonia and Rahul Gandhi. He is also fighting a case for scrapping defamation laws.
05
Nominal inheritor of JP
Swamy was a part of the huge coalition led by Jayaprakash Narayan, that many leaders opposed to Indira Gandhi had stitched together, to fight for the restoration of democracy in the country. It came to be called the Janata Party before the 1977 elections and existed till 1988, when it merged into the Janata Dal. Swamy retained its name and symbol and used to be known as its president till 2013.
Read more- 'BJP's new gift' Subramanian Swamy expunged twice in two days: Congress
06
Expelled MP, anti-Emergency hero
Swamy is one among less than a score-full of MPs to be expelled from either of the Houses in the history of the Parliament. However, this was during the Emergency under which his anti-Emergency global campaign was interpreted as anti-India and made the basis for his expulsion.
07
Rug-puller of governments
Swamy's actions have directly and indirectly led to the fall of two union governments (the first led by V P Singh in 1990, and then the 13 month Vajpayee-government in 1998), as well as two chief ministers (Tamil Nadu CM J Jayalalitha in 1996 and former Karnataka CM Ramakrishna Hegde in 1988).
08
Last among the Hindu hardliners
In an age when even the BJP does not go full blast on its age-old Hindutva issues, Swamy regularly raises Ram Mandir, Article 370 and Uniform Civil Code in public. He had pompously predicted that the Modi-government would delete Article 370 by September 2015. In keeping with the hardliner image, he often displays extreme Islamophobia. He had written an article in the DNA newspaper in 2011, advocating disenfranchising Indian Muslims, which led to a massive uproar.
Swamy is essentially an economist, having obtained his PhD from Harvard at a young age of 24. He claims to have worked with legendary economists like Paul Samuelson and Nobel Laureate Simon Kuznets. However, his controversial public life has relegated his academic knowledge and achievements to the background.
10
Social media powerhouse
Swamy is a prolific tweeter and has over 2.5 million followers on social media. He has crafted his own lingo of acronyms to speak his mind out crisply. Detailed guides have come up on the web listing his acronyms and explaining what they stand for.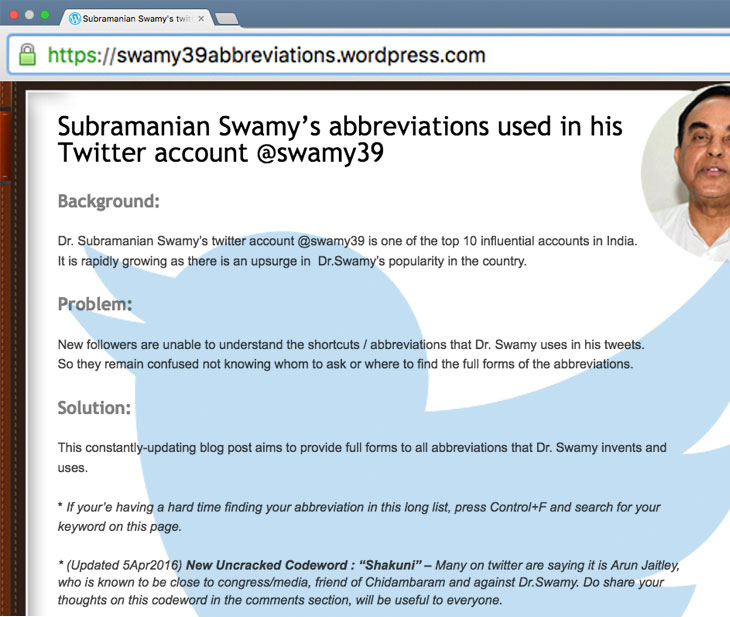 Edited by Anna Verghese
More in Catch:
India gets its own GPS: here's all you need to know about the IRNSS
Red scare: two more Chinese dissents say India revoked their visas
More trouble for Karti Chidambaram: ED questions 'aide' Balaraj
Retail manager Sujoy: "Bengal not communal, want it to stay that way"