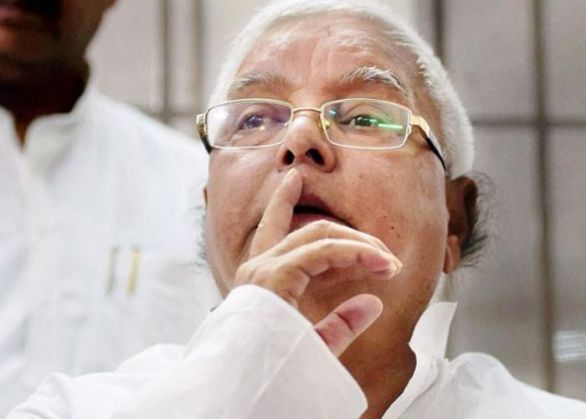 RJD boss Lalu Prasad today rose like the proverbial phoenix from his ashes as he helped script a resounding victory for the grand alliance in Bihar and revived the fortunes of his moribund party.
On the verge of being written off as also ran after his party's dismal performance in the 2010 assembly polls when it was restricted to a humiliating 22 seats in the 243-member Bihar assembly, Lalu pulled off an emphatic victory for RJD, which was all set to emerge as the table topper having won six seats and leading in 72.
Ousted in 2005 after a 15-year stint in power, the 2010 poll defeat sent the man who once lorded over Bihar virtually to the doghouse.
The once seemingly invincible RJD, with its massive Muslim-OBC votebank, was not even eligible for the Leader of Opposition's post as the NDA under Nitish Kumar won an astounding four fifth majority in the 243-member assembly, winning 206 seats and restricting RJD to a paltry 22, its worst-ever tally.
Lalu's conviction in a fodder scam case in 2013 came as a personal blow to him as it led to his disqualification from the Lok Sabha and a ban from contesting an election at least for six years.
The 2014 Lok Sabha election was a crucial test for the backward class leader which he was to lead as a non-playing captain for the first time.
The results came as another jolt to RJD and Lalu, with the party managing to win only four of the state's 40 seats.
The successive defeats, however, carried seeds for a future reunion with friend-turned-foe Nitish Kumar, whose JD(U) had also been humiliated in the 2014 election, managing to win just two seats after parting ways with 17-year-old ally BJP in June 2013 over Narendra Modi's anointment as the party's campaign spearhead for last year's LS polls.
Acutely aware of Prime Minister Narendra Modi's personal charisma and BJP's growing popularity in the state, they began cosying up to each other after the Lok Sabha debacle.
With Samajwadi Party chief Mulayam Singh Yadav playing the role of a peacemaker, the two backward class heavyweights resolved their differences and decided to contest the 2015 Bihar polls in tandem.
Lalu, the wily practitioner of realpolitik, after initial reluctance, agreed to accepting Nitish Kumar as the grand alliance's chief ministerial candidate.
With he himself not eligible to contest elections, his wife Rabri Devi unwilling to return to the hurly burly of politics, and sons Tejaswi and Tej Pratap too young to handle the pressure that comes with the hot seat, Lalu declared Nitish Kumar will be the Chief Minister even if RJD won more seat than JD(U).
When RSS chief Mohan Bhagwat suggested a review of the reservation policy in an interview to Sangh organs Organiser and Panchjanya, Lalu, one of the most enduring mascots of post-Mandal politics, was quick to pounce on it and raise an alarm about a move by the Narendra Modi government to scrap quotas.
-PTI