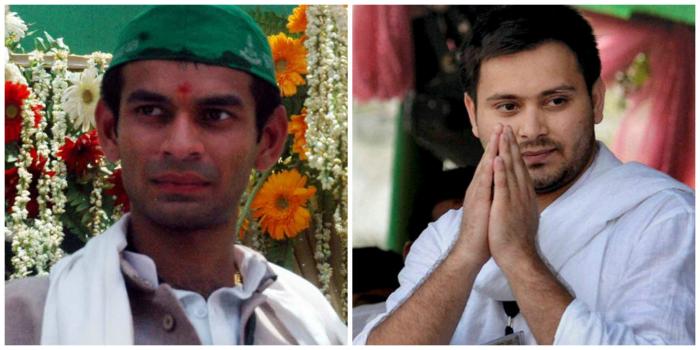 Tejaswi, 26 and Tej Pratap, 27 have been sworn into Bihar Chief Minister Nitish Kumar's cabinet. Tejaswi is all set to hold the key position of deputy chief minister. Tej Pratap's portfolio is yet to be known. But that the two of the youngest members will enjoy unparalleled and envy worthy importance in the cabinet was apparent from the fact that the first time MLAs took oath right after Nitish Kumar and before all other senior members.
Their rise to prominence must be seen in the context of the kind of influence their father might have in their functioning. While, it remains to be seen if the two can come of the shadow of their and become their own persons and ministers, here's what we already know about their nascent political careers.
The two Yadav sons, were embroiled in an age controversy over the filing of their affidavits. Apparently, due to a goof up in their affidafits, Tejaswi, who is actually Lalu's younger son, came across as the older son.
Tej Pratap contested from Mahua and Tejaswi from Raghopur - both Yadav-dominated seats.
Lalu had to bargain hard with Chief Minister Nitish Kumar to secure the seats for his son. Both seats were won by JD(U) leaders in the last elections; so the tickets didn't go to the winning MLA but to greenhorns with an influential surname.
Interestingly, Raghopur -- Tejaswi's seat -- has been his mother Rabri's battlefield on earlier occasions. She lost the seat in the last assembly elections to JD(U).
The duo is markedly different from their father's rustic mannerisms. Both believe in English education and the power of the internet, something despised by Lalu in his heydays.
Younger son Tejaswi is a school dropout. He studied till class 9. He was with the Delhi Daredevils IPL team for four seasons but didn't play any matches. Tej Pratap, 27, was more closely involved with the campaigning and the social media outreach for the party.