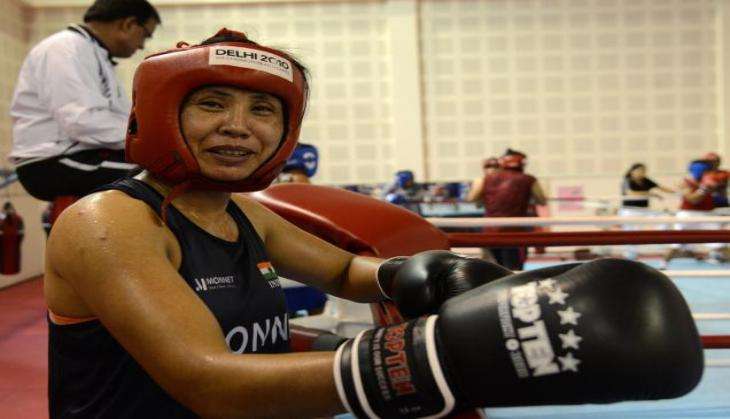 Boxing legend Sarita Laishram Devi has come up with an endeavour to train young talents from her state of Manipur.
Today, many budding boxers are undergoing training at Sarita's boxing academy.
Sarita, a former world champion and four-time Asian champion, has been working hard to sharpen the skills of budding boxers at her academy in Thoubal.
To carry forward her vision of bringing forth more boxing talents from India's Northeast region, Sarita opened a boxing academy in 2012. Her vision is to produce world-class boxers for the country.
"I myself belong from a small village and sportsperson hardly get support in village and they don't get a chance. During my time, I struggled a lot, worked hard a lot. Today, whatever name and fame I have earned through boxing and whatever help I have acquired from the government, I want to utilize for the youth.
I want to motivate the young talents of the village and share my learning experience with them. During my time, many of them didn't get a chance to come forth that is the reason I have opened this academy to help the budding youngsters," Sarita said.
Presently, more than 60 students are being trained under her guidance.
It is worth mentioning that players from her academy have participated in many national level boxing tournaments and have brought laurels to the state.
Well trained coaches have also been appointed in the academy.
Coach Sorokhaibam Dhanabir Singh said, "The kids here are doing well and there have been lot of improvement that I have observed within these two months. We are training them well. Being a coach I feel good. We have SAI centres in Imphal, Khuman Lampak Stadium, National Sports Academy and those who couldn't reach to those centres they can come here in this academy."
Rigorous training is being provided to the youngsters, helping them to carry forward their dreams of being champions.
Bijeta, a student, said, "In the year 2013, I participated in the state-level boxing companionship and I won a bronze, and later in 2014, I won a gold medal. I feel so good and happy winning the medals, even my parents are happy for me."
Priyo, another student, said, "From a very young age, I was interested in boxing. My parents wanted me to concentrate on my studies, but I was more into boxing and Wushu wrestling. After passing my 12th exam, I came to know that Sarita Ma'am is giving training in our locality and that's how I joined this boxing academy."
Sarita aims to produce more boxers under her leadership and make them ready in such a manner so that they are capable of competing on international level.