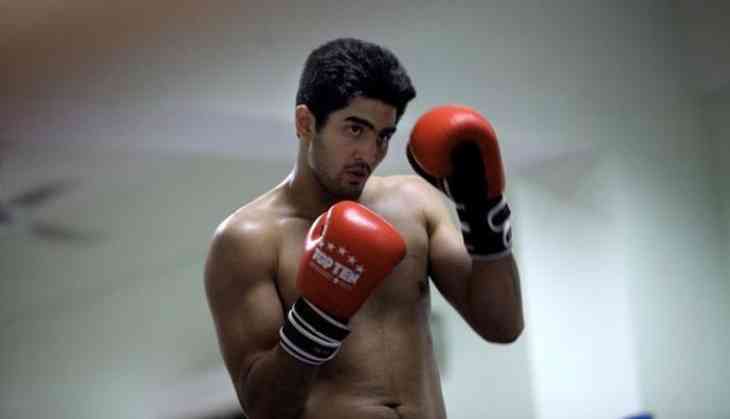 World Boxing Organisation (WBO) has sanctioned Asia's biggest showdown between WBO Asia Pacific Super Middleweight champion and India's knockout king Vijender Singh and WBO Oriental Super Middleweight champion Zulpikar Maimaitiali for the first week of August in Mumbai.
The battle between two of the biggest pro fighters of India and China will decide the ` King of Asia`.
Neerav Tomar, Promoter IOS Boxing Promotions said, "We are happy to know on WBO's decision sanctioning Asia's biggest battle between Vijender Singh and Zulpikar Maimaithiali. The sanction is in place and we can now move forward with Zulpikar's team SECA to finalise terms and locking the date and venue in Mumbai".
Speaking on one of the biggest fight night of Asia Leon Panoncillo Jr., Chairman WBO Asia Pacific said, "After reviewing fight records of both the participants, I am satisfied with their past results and therefore approved this unification bout of the WBO Asia Pacific/WBO Oriental Super - Middleweight titles."
Both the WBO title holders are number one boxers in their respective country's India and China as they both remain unbeaten since the time they made their debut in the field of professional boxing. With this fight both the boxers will put their respective titles at stake and it will be a double title fight. The boxer that wins the bout will take home his defended title along with the opponent's title, by the end of the bout he will have two belts on his name.
Vijender Singh, who recently retained his WBO Asia Pacific Super Middleweight title entered professional boxing in the year 2015. He has 8 wins under his belt with 7 of them being won by KO and 1 by Unanimous Decision. He has played 30 rounds, which puts him a few rounds above his next opponent. Vijender Singh won his maiden title last year in July after defeating Kerry Hope of Australia. Later in the month of December the golden boy of Indian boxing was challenged by Francis Cheka of Tanzania for his title, which he gracefully retained.
22-year-old Chinese boxer Zulpikar Maimaitiali fought 8 bouts with 24 rounds under his belt. Zulpikar has won 7 bouts with no less than 5 KO wins and one draw. The Chinese boxer made his debut in the year 2015, and won the WBO Oriental Title last year in July by defeating Thomas Mashali of Tanzania by TKO. Now, he would be fighting to defend his recently acquired title against Indian boxing sensation Vijender Singh.
-ANI