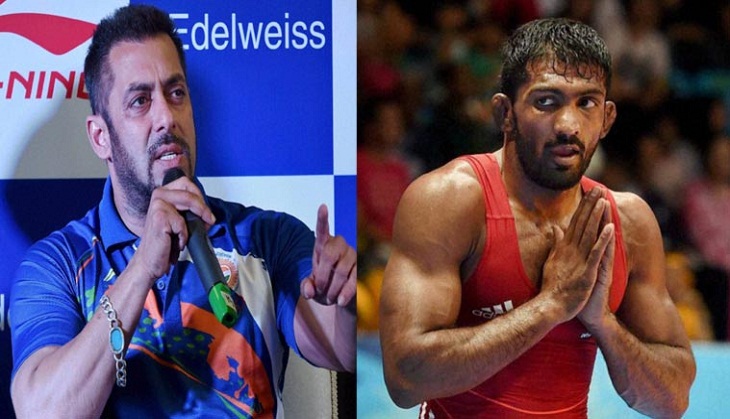 Bollywood actor Salman Khan has been receiving a lot of flak after the Indian Olympics Association (IOA) appointed him as India's Goodwill Ambassador for Rio.
Wrestler Yogeshwar Dutt, who is set to represent the country in the Rio 2016 games, condemned this move and took to Twitter to express his anguish. He questioned Salman Khan's contribution to sports and said that a renowned sports person who has made a tremendous contribution to sports should have been chosen instead of a Bollywood Actor.
Ambassador का क्या काम होता है कोई मुझे बता सकता है क्या. क्यूँ पागल बना रहे हो देश कि जनता को.😡 https://t.co/vtjb0XWdP8

— Yogeshwar Dutt (@DuttYogi) April 23, 2016
Kahi bhi ja Kar apni movie ka promotion kare,Es desh me adhikar hai Lekin Olympic movie promotion ki jagah Nahi https://t.co/ed6vCqNMXT

— Yogeshwar Dutt (@DuttYogi) April 23, 2016
PT Usha,Milkha Singh jaise bade sports star hai jinhone kathin samay me desh ke liye mehnat ki. Khel ke kshetra me Es ambassador ne Kya kiya

— Yogeshwar Dutt (@DuttYogi) April 23, 2016
Minutes after Yogeshwar Dutt lashed out at Salman Khan on Twitter #Salmanforrio started trending on Twitter. Sports Legend Milkha Singh supported Dutt's stand and was quoted by ANI saying, "IOA shouldn't have made a Bollywood person (Salman Khan) ambassador for sports event. Will they make a sports person an ambassador for Bollywood function? Govt must intervene. IOA must reconsider its decision."
Many people took to Twitter to express their disagreement over this decision of IOA. Some even voiced out their unhappiness over the fact that someone with a criminal history will be the Indian face of Olympics this time.
Take a look at some of the Twitter reactions to Khan's appointment as the Goodwill Ambassador.
#SalmanForRio is free easy publicity (any quid pro quo?) for his upcoming film 'Sultan' - rustic freestyle wrestling being its running theme

— hum_bolega (@hum_bolega) April 24, 2016
Quid Pro Quo between Salman and Government!! Just apply some brain and you will understand why #SalmanForRio Hint: Sultaan!!

— Harshit (@hpb86) April 24, 2016
#SalmanForRio is stupid move by IO. What does #SalmanKhan knows about Sports. It is an insult to all sports person of our Country.

— Ravinder (@crocodilecat) April 24, 2016
Milkha Singh n Yogeshwar slam Salman khan as representative fr Olympics. Don't they know he's good at the sport Hit n Run? #SalmanForRio

— Shama (@Smhing_) April 24, 2016
@TimesNow #SalmanForRio is an exmpl of top level corruption of Money power and politics of our country. A killer is ambassador of goodwill.

— Arindam Kanungo (@bobbyatmid) April 24, 2016
Industrialist, politicians run Cricket, an actor is appointed as Olympic Ambassador. We do irrelevant more than relevant. #SalmanForRio

— VAISHALI (@vaishalidbhatt) April 24, 2016
#SalmanForRio - this is the most ridiculous decision ! It's a shame we need to ridicule our athletes this way. Let's respect our athletes!

— P K Kurian (@pkkurian) April 24, 2016
#SalmanForRio oh comon!
hez awsom but thiz-to be a goodwill ambassador,No Man.Sportsman deserve it coz they knw wht it actully mean to be1

— Shashank⭐ (@M_Starlord) April 24, 2016
#SalmanForRio Ridiculous Choice !! Have all our sporting icons taken SANNYAS??? What's the bloody logic??? Completely bizarre !!

— Aditya Khannah (@adityakhannah1) April 24, 2016