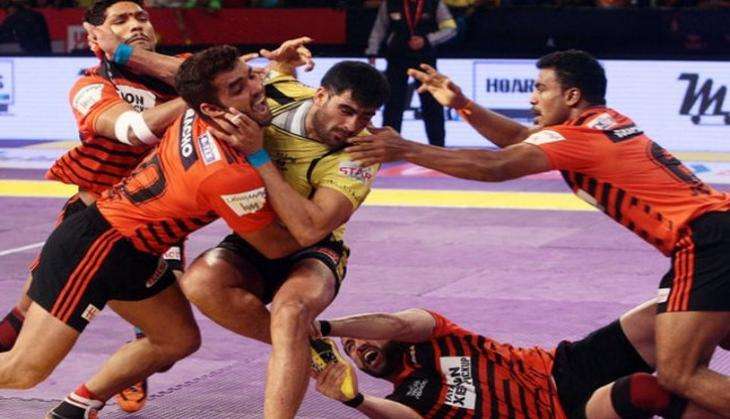 Nilesh Salunke and Rahul Chaudhry of the Telugu Titans scored eight points each to lead the home team to a comfortable 35-30 win over former champions U Mumba at the Star Sports Pro Kabaddi League on 7 July.
After the win, Telugu Titans remained in the sixth position with 14 points from six games, while U Mumba salvaged one point to gain seven points and occupy the fourth position with 17 points after equal number of games.
It was a steady start for both the teams as after five minutes the Anup Kumar led U Mumba trailed 2-3.
Titans raider Chaudhry failed with his first five raids and ended the first half with one point. Titans were escorted by the strong tackle and Salunke's stunning performance gave them a 12-9 lead at the end of the first half.
Chaudhry began the second half with a bang and scored two points within the first minute of the second half. Chaudhry's comeback was backed by Salunke as he scored two points and Telugu Titans inflicted an all out to lead 19-13.
Chaudhry was in stellar form as Telugu Titans imposed another all out in 27th minute to lead 28-16.
Salunke continued to pile raid points with a two-point raid allowing Telugu Titans lead 31-17 after 30 minutes. But Suresu Kumar scored two points as U Mumba trailed 19-31.
Any hopes of a U Mumba comeback were thwarted as Telugu Titans adopted a cautious approach in the last minutes of the game.
Anup Kumar scored two points in the last minute which pushed an all out to cut the deficit to five points but Telugu Titans held on in the end to win 35-30.
U Mumba's Rakesh Kumar scored 11 points but his effort wasn't enough as Telugu Titans emerged as comfortable winners.
Salunke was awarded the best raider of the match while Sandeep Dhull of the same team was adjudged the best defender.
--PTI