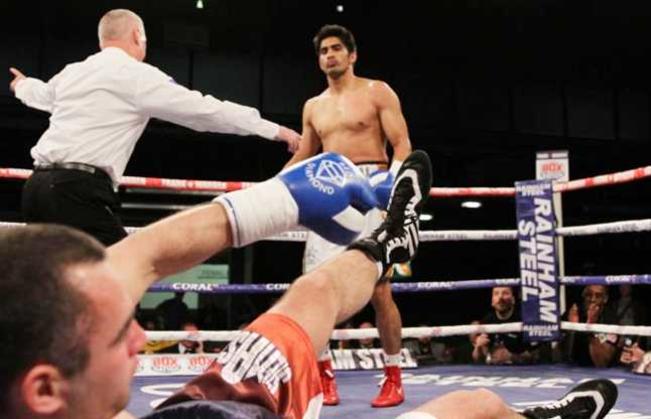 Indian boxing star Vijender Singh registered his sixth straight win by beating Poland's Andrzej Soldra in the third round of the Pro Boxing Championship, via Technical Knockout (TKO) on 13 May.
The match, which took place in Bolton's Marcon Arena, saw a blistering first round start from the champion, as he connected his left jab multiple times before flooring his opponent with a right hook, NDTV reported.
The second and third round of the match saw Vijender dominating his opponent. Soldra fought back in the second round by landing a few punches on Vijender with no results.
Vijender and Soldra came in hot in the third round, swinging hard blows at each other. Vijender, dominated the round yet again, leaving Poland's Andrzej Soldra wobbly as he landed big blows, NDTV reported.
With no response from the other end, Vijender went in for the kill and unleashed a flurry of punches on his opponent. The referee stepped in to stop the match, which was won by Vijender Singh via TKO.
The Olympic bronze medalist has also won his previous five bouts via TKO. He will make his debut in India on 11 June, when he will fight for the WBO Asia belt in New Delhi.