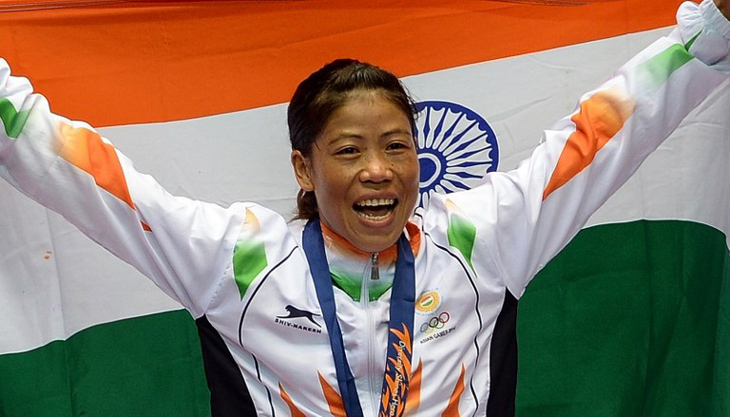 Five times World Champion and Olympic medallist boxer MC Mary Kom has joined the biggest ever boxing show - Singh vs Hope (WBO Super Middle-weight Asia Pacific Championship Title) at Thyagaraj Stadium in New Delhi on 16 July.
Indian star pugilist Vijender Singh will take on Australia's Kerry Hope in his much-awaited first title fight at home.
Mary Kom will organise a special bout for her Mary Kom boxing foundation in the undercards of Vijender Singh. In this bout, two female boxers of her foundation will participate in a three round contest.
Commenting on this association MC Mary Kom said, "I am really excited to be part of Vijender's first title fight. This biggest ever professional boxing show will give big boost to Indian Pro boxing and I am sure this will attract more and more young kids to start playing boxing as a sport. Two female boxers of my foundation will be part of the undercard fight. I would like to wish goodluck to my dear brother Vijender Singh and will be there in Delhi to cheer him."
Welcoming Mary Kom's association with this mega boxing show, Vijender Singh said, "I welcome my sister MC Mary Kom for being part of my title bout. I am sure boxing fans will enjoy the undercard fight of women boxers from Mary Kom foundation."
The craze of the fight has been increasing ever since the first phase of tickets were put up for sale on Book My Show. The tickets of the first phase that gave a discount of 20% were sold out within two weeks of them going up on sale. The second phase of ticket sales, which was started from 23rd June 2016, and goes on till 2nd July 2016, offers a discount of 10%.