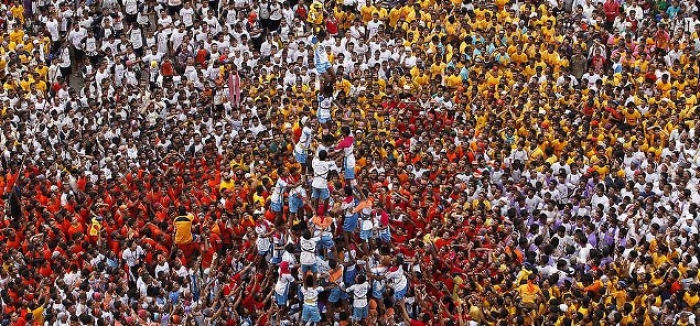 The Maharshtra government on Wednesday, 12 August, accorded the status of 'adventure sport' to the Dahi Handi celebrations, held annually during Janmashtami. The sport involves minors forming human pyramids of 'Govindas'. However, the government said that those below 12 years wouldn't be allowed to participate in it.
Maharashtra Cultural Affairs minister Vinod Tawde today said the government recognised the spirit of unity, team and discipline in this activity, and therefore the decision was taken.
"Those under the age of 12 years won't be able to take part in pyramids. Those (boys as well as girls) in the age group 12 to 15 years will have to obtain permission from parents," the minister said.
Though the pyramids, which sometimes rise upto as many as 10 tiers of Govindas, are integral part of festival, the activity also faces criticism because of the fatal injuries the participants can receive in case of a fall.
"This rule shall apply to every pyramid which has more than four tiers," Tawde said. A government resolution (GR) to this effect had been issued, the minister added.
"The Govinda troupes will be able to register their associations, impart proper training, hold demonstrations, award certificates and awards," he said.
But the adventure sport status will also entail that organisers ensure that medical treatment is provided if a participant is injured, foam mattresses, harnesses, and guards for knee, chest and head are used, and Govindas are insured.
The decision to grant the status was based on a report by a committee headed by BJP MLA Ashish Shelar, he said.
"The sport will not be played only during the Dahi Handi, but at all the sporting events," Tawde said, adding that an apex association would be formed for the sport, to lay down rules and monitor compliance. Violation of rules will lead to penal action.
-PTI