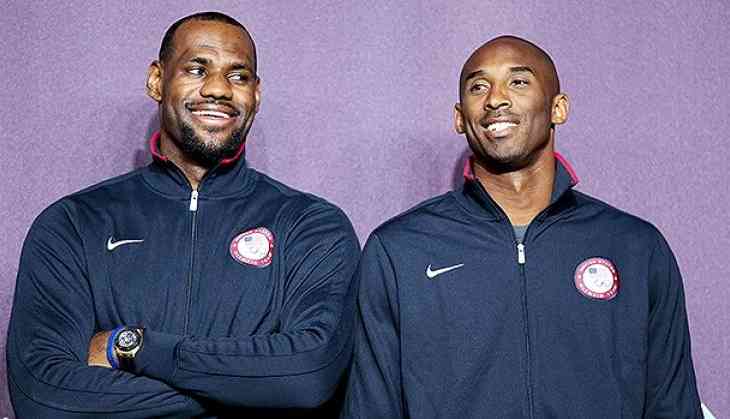 Kobe Brayant's demise gave rise to an outpouring of sorrow and sent shockwaves on all parts of the world. Kobe Brayant, a five time NBA champion with the Los Angelas Lakers, died in a helicopter crash in Los Angeles that also claimed the life of his teenage daughter Gianna and seven others.
Hours after news of Kobe's death, LA Lakers ace LeBron James was seen in tears after his team's plane landed in California on Sunday. In a video, a visibly emotional James is witnessed hugging people and wiping his tears.
While on the subject, Brayant was surpassed by LeBron James for third on the all time NBA scoring list in a Saturday match against Philadelphia 76ers.
Kobe's last post on twitter had been a tweet congratulating James on surpassing him. "Continuing to move the game forward @KingJames," Bryant wrote. "Much respect my brother #33644".
Also Read: Kobe Bryant death in copter crash: From Priyanka Chopra to Kim Kardashian, celebs post condolences
Continuing to move the game forward @KingJames. Much respect my brother 💪🏾 #33644

— Kobe Bryant (@kobebryant) January 26, 2020
LeBron is met with emotional hugs after landing in Los Angeles following the death of Kobe Bryant.

(via NBC4 Los Angeles) pic.twitter.com/Fx9jt2qZVi

— ESPN (@espn) January 26, 2020
Kobe Brayant died on Sunday when a helicopter he was in crashed and blew up in flames, killing all nine on board.
The 41-year-old was travelling with his 13-year-old daughter and seven others an crewwhen their Sikorsky S-76 helicopter slammed into a rugged hillside in Calabasas. There were no survivors.