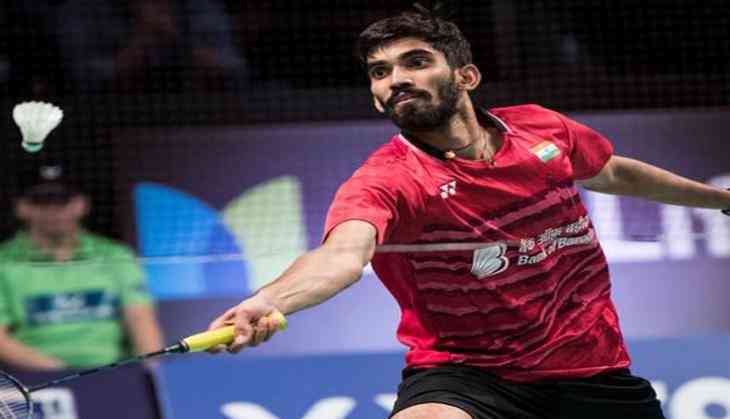 Adding yet another feather to his cap, Kidambi Srikanth have won French Open super series final against Kenta Nishimoto 21-14, 21-13.
Srikanth, a world number 4 took 34 minutes to achieve the feat.
With this win, kidambi became the first Indian win 4 super series in a year.
This is Srikanth's fourth Super Series title of the year, in the wake of having secured the Denmark Open Super Series Premier, the Indonesia Open Super Series Premier and Australian Open Super Series prior in the year.
Presently, he has overall six Super Series titles to his name, including China Open 2014 and India Open 2015.
Srikanth ruled the match as he as he maintained a healthy gap in points throughout the first game.
In spite of, Nishimoto taking a major three-point lead, 8-5 at one purpose of the diversion, Srikanth made a comeback with his trademark jump-smash to make it 11-9 of every a couple of minutes.
With his mix of attacking and net play, Srikanth was able to take the first game 21-14 against Nishimoto in just 16 minutes.
In the second game, Srikanth proceeded with his animosity as he opened up an immense 7-2 lead at an early stage.
The striking part about Srikanth's game was his movement and picking almost everything with comfortable ease.
Srikanth won the second game by 21-12 to put his opponent out of his wretchedness.
Earlier, Srikanth had reached the finals after sweeping aside compatriot HS Prannoy 14-21, 21-19, 21-18 in the semi-final match which lasted over an hour.
Meanwhile, the Badminton Association of India has announced a cash reward of Rs 5 Lakh for Srikanth for his French Open Super Series win.