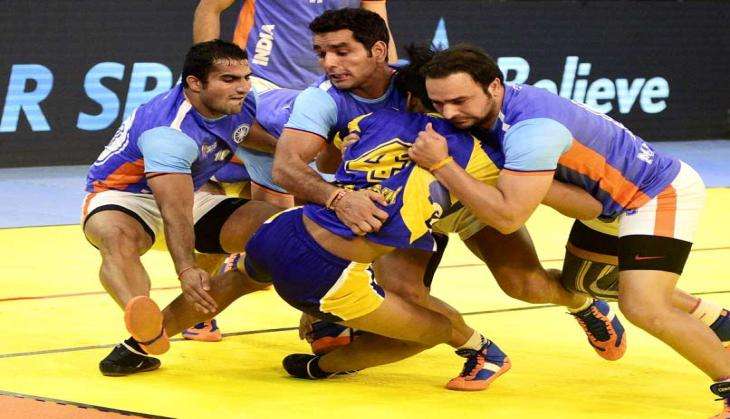 India produced a remarkable performance as they crushed Thailand 73-20 to storm into the final of the ongoing Kabaddi World Cup at the TransStadia Arena on 21 October.
Pardeep Narwal scored 14 points and had a terrific game to lead his team into the final where they will take on Iran.
Skipper Anup Kumar opened India's account with a trademark bonus point in the first minute. Manjeet Chhillar scored his team's first tackle point in the third minute as India led 4-0 after three minutes.
Khomsan Thangkham scored Thailand's first point in the fourth minute. Ajay Thakur and Pardeep Narwal scored two points apiece in the first five minutes as India led 7-1. India inflicted the first all out in the seventh minute to lead 11-2.
Thailand were struggling to match India's intensity and with Pardeep Narwal looking in imperious form, India led 15-3 after nine minutes. Thailand were reduced to just two men in the 11th minute as India took a commanding 19-3 lead. An all out was duly inflicted by India in the 13th minute as India led 23-3.
It was turning out be a fairly one-sided affair as India completely dominated Thailand in the first half. Thailand scored three points in 20 seconds to trail 6-24 in the 15th minute. Pardeep Narwal, however, was looking extremely impressive and scored with his six consecutive raids. His seventh raid in the 18th minute was a super raid as India led 30-6. Such was India's domination that they inflicted three all outs in the first half to lead 36-8 at the break.
Ajay Thakur scored six points while Anup Kumar contributed five points in the first half. Ajay Thakur began the second half for India with a two-point raid as Thailand were staring at another all out. The fourth all out came in the 22nd minute as India led 42-8. India showed their bench strength as Rahul Chaudhari came on as a substitute along with Nitin Tomar and Mohit Chhillar. India were relentless as they scored nine points in a row in four minutes to lead 45-8.
Pardeep Narwal achieved his super 10 in the 25th minute and maintained a 100 per cent strike rate.
Thailand had no answer to India's attack nor could they handle the defence as fifth all out was inflicted in 26th minute. India were cruising and led 51-8 when Pardeep Narwal came up with another super raid in the 28th minute to extend India's lead by a whopping 46 points.
Thailand finally managed to score their first point of the second half after eight minutes. In the next minute, Narwal was tackled for the first time as Thailand hit double figures and trailed 10-55.
Nitin Tomar produced a super raid in the 30th minute as India led 58-10 and were toying with Thailand defence. A sixth all out followed in the next minute as Surender Nada achieved a high five to give India 62-10 lead.
With less than five minutes left on the clock, Thailand scored with a two-point raid to trail 14-68 in the 36th minute. India inflicted six all outs, scored 18 tackle points, 42 raid points in a dominant display as they thumped Thailand 73-20.
(ANI)